Some investors think glove stocks have gone too high for them to bother investing.

But Riverstone Holdings' CEO has stretched his buying in September into this month (October).

Wong Teek Son bought 384,000 shares for S$502,960 in October. Average price: S$3.84.

• A substantial shareholder, the Employees Provident Fund Board of Malaysia, notified the company on 26 October that it had bought an additional 1,046,300 shares for S$3,89 million. Average price: S$3.72. •
And now, UOB KH, ahead of Riverstone's 3Q results release, has revised slightly its target price to S$5.97.

Excerpts from UOB KH report

Analysts: Llelleythan Tan & John Cheong
Cleanroom Gloves Benefit From The COVID-19 Pandemic And Tech Boom
Riverstone is still experiencing surging demand for its healthcare and cleanroom gloves.


Riverstone

Share price:
$3.70

Target:
$5.97
ASPs for both segments have soared and would see a 15% mom hike in Nov 20 (from 10% mom each in Aug-Oct 20).

Riverstone's cleanroom segment has also benefited from the COVID-19 pandemic and tech boom.

We increase our 2020-21 EPS forecasts by 15% and 46% respectively.

Maintain BUY with slightly lower PE-based target price of S$5.97, pegged to 15.9x 2021F PE (previously 23.2x).

WHAT'S NEW
• Second waves of infection have sent ASPs higher. Due to the recent resurgence of COVID-19 in several countries, Riverstone Holdings (Riverstone) is experiencing strong demand for its healthcare gloves.

Its orderbook has stretched to 1H21 with some visibility going into 3Q21.

This indicates surging demand for healthcare gloves even with soaring ASPs.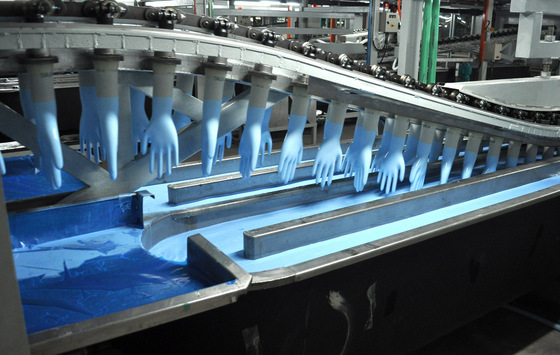 "Riverstone is unable to fulfil any new spot orders until 1H21 as capacity is almost fully utilised.

"ASPs have been on the uptrend, with an upcoming Nov 20 hike expected to increase blended ASP to above US$60/'000pcs."



-- UOB KH report
Some distributors have even offered Riverstone spot prices of US$90-100/'000 pcs.

Although prices of raw materials have increased by 20% from the lows of 1H20, management expects ASPs to continue its strong momentum into Apr 21, negating any significant impact on the bottom-line.

• Cleanroom gloves a surprise winner from COVID-19 pandemic... Riverstone's cleanroom gloves segment has emerged as the main beneficiary from the ongoing COVID19 pandemic.

The segment has seen an impressive 30% yoy sales volume increase for 1H20 and is expected to grow a further 50% yoy in 2H20.

Riverstone's main cleanroom gloves competitors - Ansell and Kimberly Clark - have shifted their cleanroom gloves production lines to healthcare gloves.

As cleanroom gloves production requires intensive technology and high-level specifications, this has led to a shortage in supply, leading to additional cleanroom gloves demand from both new and existing customers.

According to management, much of the additional demand is coming from the technology and manufacturing industries, such as lenses, batteries and semiconductors.

• …with ASPs still on uptrend. ASPs for cleanroom gloves have already increased three times this year. Furthermore, an expected hike in Nov 20 is expected to increase ASP to US$80/'000pcs (usual ASPs pre-COVID-19: US$60/'000pcs).

Management said demand for cleanroom gloves is expected to stay robust going into 1Q21, providing strong support for the soaring ASPs.

Phase 6 capacity expansion almost completed; phase 7 on the way.

New capacity of 1.5b pcs from phase 6 expansion is set to be fully commissioned by Dec 20, expanding total capacity to 10.5b pcs/year.

Management has also guided that plans for phase 7 is being ramped up, with one double line set to be commissioned in Apr 21 and one double line every month from Apr 21 to Sep 21.

This brings total capacity to 12b pieces by 4Q21, allowing Riverstone to absorb more demand with the additional capacity. Also, plans for phase 8 expansion are underway.

EARNINGS REVISION/RISK
• We raise our 2020-22 EPS forecasts, backed by favourable tailwinds. We raise our revenue forecasts to RM1,854.1m (+10.4%), RM2,620.9m (+25.9%) and RM2,030.4m (+19.0%) for 2020-22 respectively.

Our net profit forecasts are RM508.8m (+15.4%), RM854.2m (+45.6%) and RM441.4m (+20.7%) respectively.

• The significant increase to our forecasts is due to higher healthcare gloves ASPs, larger cleanroom sales volume and higher overall gross margin assumptions at 37.3% (+1.5ppt) and 41.6% (+5.1ppt) for 2020-21 respectively.


• Maintain BUY with slightly lower PE-based target price of S$5.97, pegged to a lower 15.9x (previously 23.2x) 2021F PE.

We now based our valuation at -2SD of Kossan Rubber's 3-year forward PE band (previously +1SD).

• We reckon supernormal earnings from the current upcycle in 2021 will eventually normalise in 2022, thus pegging our target price to a lower PE multiple will price this in.

SHARE PRICE CATALYST
• Multiple waves of COVID-19 infections.
• Better-than-expected ASP hike and operating leverage.

Full report here