• ISDN Holdings deploys German product ERSTOTIZER, a functional surface coating that acts as a durable protective shield against resistant germs and the coronavirus, on 130 Singapore's public buses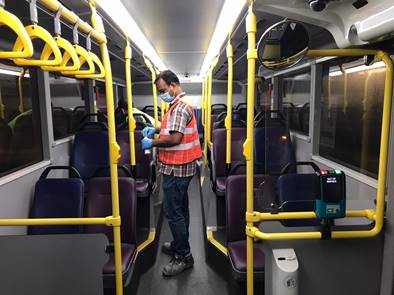 • The effectiveness of ERSTOTIZER has been successfully tested by an independent German laboratory, proving to efficaciously eliminate resistant germs as well as the coronavirus for up to 24 months


• ERSTOTIZER is water-based, inodorous, colourless, and scratch-resistant, making it environmentally friendly and safe to use for humans
Stock price

40.5 c

52-week range

13.4 – 48 c

PE (ttm)

15.6

Market cap

S$174 m

Shares outstanding

429.6 m

Dividend
yield (ttm)

1.0%

One-year return

88%

Source: Yahoo!
ISDN Holdings, a company best known for its industrial automation solutions, said it has completed a 3-day pilot project with an unnamed major local bus transport company, gaining traction for its new business line.

ISDN administered its German-made ERSTOTIZER, an anti-microbial surface coating, on all the high-touch points of 130 buses.

These include single-decks, bendies and double-deckers, which were treated over the past three nights to strengthen anti-COVID capabilities in a cost-efficient manner.

They are a fraction of the four-figure fleet-size of the operator.


Pioneered by ERST Project GmbH, ERSTOTIZER is a long-lasting disinfecting surface coating solution that can be applied on hard and absorbent surfaces via a simple spraying and wiping process.

ISDN said the surface coating reduces bacteria by more than 99.9%, thereby ensuring that various types of viruses, bacteria, and microbes have no chance of survival.

More importantly, while the coronavirus can mutate, ERSTOTIZER is non-mutagenic.

This means that it is impossible for the mutating virus to develop any form of resistance to lessen its efficacy in the long-run.

The coating can last between up to 24 months.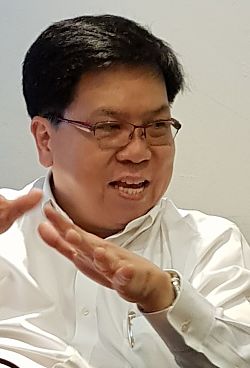 Mr Teo Cher Koon (photo), ISDN's Managing Director and President, said, "As Singapore continues in its phase 2 journey with the constant threat of possible flare-ups, we are pleased to extend our expertise in the surface coating and disinfectant market to aid and enhance disinfectant capabilities in public buses.
"Since entering the Joint Venture in May, we have made good progress in our new business line, supplying these innovative and eco-friendly disinfectant solutions first to the worker dormitories in Singapore and now to public buses."

For more on the disinfectant business, see: ISDN: Q&A with investors post-1H20 results