Trading volume in shares of ISDN Holdings spiked up 6-fold today versus its 3-month average after the company said it landed its first deal for a disinfectant.

The stock closed at 20 cents with 1.2 million shares changing hands versus the daily average of 213,000 in the past three months, according to Yahoo data.

ISDN, which is listed in Singapore and Hong Kong, said that Centurion Corp has purchased its German WATERLIQ disinfectants with humidifiers (photo) to be deployed at its migrant workers' dormitories across Singapore.

This deal looks to be the first major one for ISDN Holdings, a leading industrial automation firm, after it recently formed a joint venture with German company ERST Project GmbH to bring state-of-the-art disinfectant products to Asia.



The products are suitable for use in hotels, residences, workplaces, restaurants, public transport, government offices, hospitals, clinics, airports.





ISDN has been fielding numerous enquiries from potential customers since then.
Stock price

20 c

52-week range

13.4 – 25 c

PE

11.8

Market cap

S$86 m

Shares outstanding

429.6 m

Dividend
yield

3.5%

One-year return

-7%

Source: Yahoo!
Developed by ERST Project GmbH, WATERLIQ is a water-based disinfectant that has proven to be effective against viruses similar to the SARS-CoV-2 virus on hard, porous, and non-porous surfaces, according to microbiological laboratory test reports.

Fine droplets of WATERLIQ can instantly kill 99.9% of pathogens and be used at entrances and exits of local clusters and quarantine locations to disinfect and prevent further spread of the virus.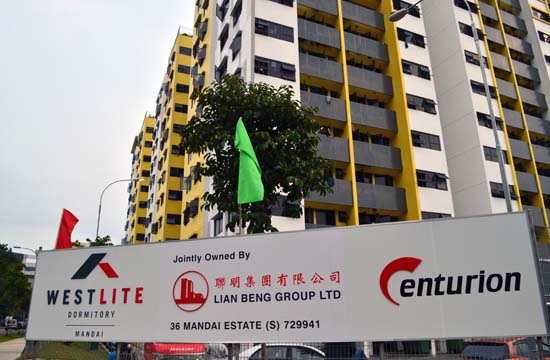 Westlite Mandai: Centurion and Lian Beng jointly own the dormitory for foreign workers.To complement other existing precautionary measures, Centurion is also utilising ISDN's long-lasting disinfecting solutions to all high touch points within the dormitories.

The teams are working to apply the longer-term clear surface coating of ERSTOTIZER & Nomobac on the hard and absorbent surfaces within the dormitories.

The ERSTOTIZER & Nomobac after applied on surfaces will last between 6 to 24 months where various types of viruses, bacteria and microbes will have no chance to survive.


Mr Teo Cher Koon (photo), ISDN's Managing Director and President, said, "As the fight against the Covid-19 virus wages on, we are looking to do our part by extending our expertise to bring German disinfectant solutions to Centurion's foreign workers' dormitories in Singapore. We believe that these high-quality and environmentally-friendly disinfectant solutions will go a long way and be useful for a virus-free environment for migrant workers in a sustainable way. We would also like to sincerely thank Centurion for utilising our products and solutions and we hope that we can work together to contain the virus spread."