After an absence of about 9 months (ie since June 2019), Nordic Group resumed buying back its shares this month (March).

Not surprising, given how the stock market has been hit by bad news about oil price and the Covid-19 viral outbreak.

Nordic's stock price is at its lowest in some three years. But the orderbook of Nordic is now at its highest it's been in that period.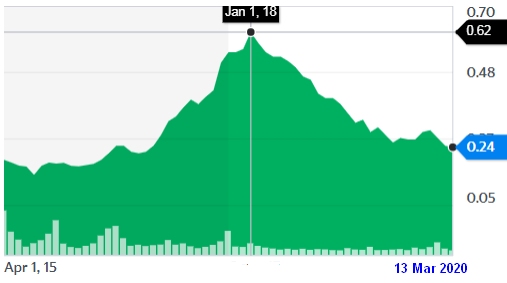 Stock peaked at 62 cents as FY17 net profit soared to $15.3 million (FY19: $8.5 million). Stock price has lost 23% since the start of 2020. Chart: Yahoo!


Stock price

24 c

52-week range

21 – 35 c

PE (ttm)

11

Market cap

S$94 m

Shares outstanding

392 m

Dividend
yield (ttm)

3.5%

1-year return

- 22%

Source: Bloomberg
Nordic bought 573,900 shares for a total consideration (including transaction fees, etc) of $136,958. That works out to 23.9 cents per share.

Nordic has a track record of buying back its shares going as far back as Sept 2015.

The cumulative total purchased is 8.67 million shares.

And the average is 21.6 cents a share, according to Nordic's FY19 results briefing presentation last week.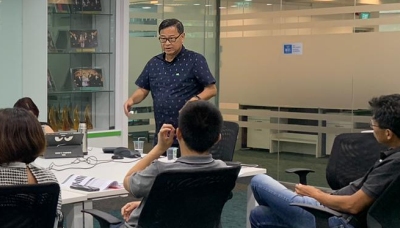 Executive chairman Chang Yeh Hong at last week's briefing. He owns 55.71% of Nordic stock.
Photo by Robin MohThe average buyback price of 21.6 cents is around the level of its FY19 net tangible assets per share of 21.9 cents.

Nordic has ample cash reserves ($43.2 million) for further share buybacks but the stock liquidity will further tighten. Currently, the top 5 insider-shareholders own 76% of the stock.

Fundamentally, the 100% Singapore-centric business is in good shape for 2020.

But the Covid-19 virus outbreak is affecting productivity which likely would lead to a loss of some gross margin.


Orderbook: Nordic is currently sitting on an orderbook of $115.7 million, the highest it's been in recent years.•

It ended FY2019 with $92 million in orderbook, then won a further $30.4 million as announced last week.

The $30.4 million of contracts are with new and repeat customers – comprising of multinational companies and companies in the marine, oil & gas, petrochemical, infrastructure and semiconductor industries.

• Envipure boost: Nordic completed its acquisition of Envipure in Nov 2019, and it has an orderbook of about $20 million, and is earnings-accretive to Nordic.

In line with Nordic leaning towards recurrent and stable income work, most of Envipure's orderbook is filled with maintenance jobs.

And about 80% of the orderbook is from the semiconductor industry, which happens to be on an uptrend.

Clients are of blue-chip quality, mainly top semiconductor companies in Singapore such as Micron Technology, Global Foundries and Infineon Technologies.

Nordic management reckons that Envipure could save $4-6 million in labour costs if work that it has been outsourcing were instead channeled (ie brought in-house) to subsidiaries under Nordic Group, mainly Nordic Flow Control. (For more, see: NORDIC GROUP: Acquires Envipure, one heck of a deal)

• Balance sheet: As at end-2019, Nordic had $43.2 million cash versus $44.1 million in borrowings.

That's a negligible net debt of $869,000, which management expects to

turn into net cash soon.
While a bulging orderbook will keep it busy, Nordic is positioned to win contracts
in the upcoming massive multi-year project called CRISP, an acronym for Chemical and Refining Integrated Singapore Project.
Nordic is currently clarifying technical details on its tenders for project work at CRISP, which will

expand ExxonMobil's clean fuel and lubricant output at its Singapore refinery

.

Nordic management reckons that CRISP will proceed (despite the current low price of oil) as the budget for that has been approved by the oil major and this being a long-term project.



All eyes are on Nordic to see if it can return to an earnings growth path this year.




Dividends: Nordic kept to its 40% payout ratio for FY2019.

| | | | | | |
| --- | --- | --- | --- | --- | --- |
| Dividends | 2015 | 2016 | 2017 | 2018 | 2019 |
| Payout ratio | 40% | 40% | 40% | 40% | 40% |
| Absolute | 1.05 c | 1.2682 c | 1.526 c | 1.132 c | 0.848 c |

The proposed final dividend is 0.419 cent a share (interim was 0.429 cent) for a total of 0.848 cents.

That translates into a yield of 3.5% at a stock price of 24 cents.


The FY19 briefing Powerpoint presentation is here.