Stock price

20 c

52-week range

5.5 – 21 c

PE

8.3

Market cap

S$260 m

3-month Avg Volume

55.2 m

Shares outstanding

1.29 b

Dividend
yield

--

1-year return

90%

Source: Yahoo!
The share price of Rex International rose 17% (+2.9 cents to close at 20 cents) today after the company gave an update on its oil drilling in the sea off Oman.

The stock has flirted with this level since Nov 2019 on market anticipation of Oman first oil -- and has gained 90% from 12 months ago.

The news: A well that its 86.37% subsidiary, Masirah Oil Limited, had drilled since late Dec 2019 has yielded first oil.

Masirah released a (highly technical) statement today that it has completed the Yumna 1 well and flowed first oil into a floating storage and offloading vessel (photo below).



In 2014, Rex had made the oil discovery in the 17,000 sq km Block 50 -- which validated its proprietary Rex Virtual Drilling technology based on computer algorithms that extract information about liquid hydrocarbons from conventional seismic data.

The discovery was the first offshore discovery east of Oman, following more than 30 years of exploration activities in the area.


Masirah Oil press release:
"The well was spudded on 26 December 2019 and is located in Block 50, 30km offshore east Oman.

"The well came in as prognosed and confirms the updated reservoir model.

"The Yumna 1 well has tested at a production rate of 11,843 stock tank barrels of oil per day through a 1 inch choke, with a crude oil gravity of 42 degrees API.

(Note: API refers to American Petroleum Institute gravity, a measure of how heavy or light the oil is compared to water. If API degree is greater than 10, the oil is lighter and floats on water; if less than 10, it is heavier and sinks.)

"The Yumna Field is being further appraised with an extended early production test.

"Further data evaluation and testing will be done and the findings will be released when completed."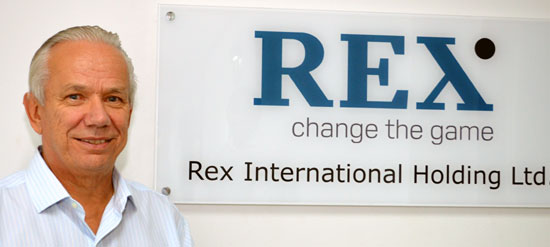 Mr Dan Broström (photo), Executive Chairman of Rex International Holding, said, "We are very happy with the successful results from the Yumna 1 well and are pleased to play a part in opening up a new frontier offshore, east of Oman.

"We expect the high level of activity to continue as we move forward in the block. We thank the Ministry of Oil & Gas in Oman for their support and help in this endeavour."


For highlights of UOB Kay Hian's initiation report (Dec 2019), see: REX: Stock surges, what do 2019, 2020 profitability look like?