Excerpts from CGS-CIMB report

Analyst: ONG Khang Chuen


Better times ahead


■ 3Q19 results disappointed slightly due to weaker topline growth. 9M19 net profit came in at 70%/72% of our/Bloomberg consensus full-year estimates.


Riverstone Holdings

Share price:
$0.93

Target:
$1.25
■ We expect sequentially stronger earnings ahead, with cleanroom gloves demand picking up and competition in the healthcare gloves segment easing.

■ We deem the current valuation, at 40% discount to peers, as undemanding.

Maintain Add, with a higher TP of S$1.25 (17.0x CY21F P/E).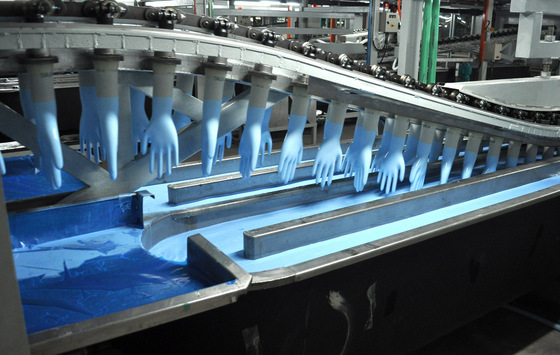 Riverstone is driving the growth of its niche cleanroom glove segment as it has a higher profit margin. NextInsight file photo
RSTON's 3Q19 results were a slight disappointment
3Q19 revenue grew 4.9% yoy, weaker than we expected, as lower healthcare glove ASP (-c.10% yoy) offset volume growth.

GPM expanded 1.2% pts yoy due to a shift in product mix and enhanced production efficiency; this resulted in a net profit increase of 10.9% yoy.

We deem 9M19 results as slightly below expectations, with net profit coming in at 70%/72% of our/Bloomberg consensus full-year forecasts.

Focus on the reacceleration of cleanroom segment growth
We believe investors should focus on the stronger sales growth of its cleanroom segment in 3Q19 (+15% qoq, +10% yoy).

Management noted stronger demand for corrosive resistant gloves from customers dealing with sensors, smartphones and tablets.

Given the higher margin profile of the segment (30% revenue; 52% GP contribution in 3Q19), a reacceleration of cleanroom revenue growth could drive further GPM expansion.

Sequentially stronger earnings ahead
Management noted that pricing competition for healthcare gloves has also eased compared to 1H19, and RSTON is a beneficiary of the global supply chain shift as customers relocating to Southeast Asian countries place more orders.

RSTON's utilisation rate in 3Q19 remained healthy at c.90%.

Given the easier comparison base of 2H18 (which was plagued by volatile raw material price movements and labour shortage), we forecast 4Q19F net profit of RM37.8m (+6.2% qoq, +14.8% yoy).

To target higher value, niche glove products
We understand there is a slight delay to RSTON's upcoming 1.4bn capacity expansion (+15.6%) to 1Q20 (planned: end-FY19).

Management is developing new products to target higher value markets in the non-cleanroom segment, including gloves for use in surgical, slaughterhouse and food processing applications.


Maintain Add rating with higher TP of S$1.25
Maintain Add. We cut our FY19-21F EPS by 2.5-3.9% to factor in delays in its capacity expansion.

Our TP rises to S$1.25 as we roll over our valuation to end-FY21F, still based on 17.0x P/E (RSTON's 5-year historical mean).

We deem RSTON's current valuation, at a 40% discount to its Malaysian peers, as undemanding.

Potential re-rating catalysts include stronger than-expected volume growth of cleanroom gloves.

Key downside risks include intensifying pricing competition leading to a fall in healthcare gloves' margins.


Full report here.