Getting a diamond ring for an engagement, a marriage, an anniversary -- or even a birthday -- just got more affordable.

Lab-grown diamonds are being introduced here by SK Jewellery Group targeting mainly millennials.

Branded as the Star Carat line, the diamonds are priced as much as 50% lower than their mined counterparts, mainly because of savings from mining expenses and shorter supply chains.

The versions born out of labs are chemically, optically and physically identical to diamonds originally dug from the earth.

They can be distinguished only by special equipment.


SK Jewellery is believed to be the first listed jeweller in Asia to offer lab-grown diamonds.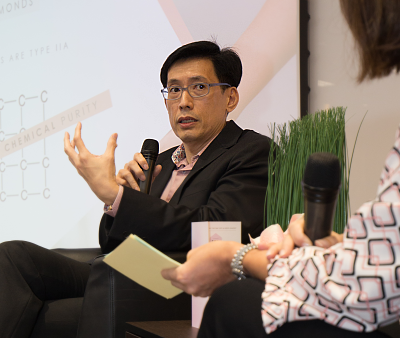 CEO Daniel Lim taking questions from the media at the launch of Star Carat. Photo: CompanyIn recent years, such diamonds have gained popularity particularly in the US, one of the world's biggest markets for mined diamonds.

Instead of mined ones, more people are likely to buy lab-grown diamonds as prices drop with greater volume of production.

This is being boosted by De Beers, the world's leading diamond seller by value, which started selling lab-grown diamonds from September 2018.


"The lab-grown diamond jewelry market was worth US$1.9 billion this year (2018) and is forecast to grow 22 percent annually to US$5.2 billion by 2023 and US$14.9 billion by 2035."

-- Reuters Dec 2018 report
In the lab, diamonds can be produced within weeks or months, depending on the carat size.

Deep in the earth, diamonds are formed after billions of years of tremendous pressure and temperature.

Aside from relatively attractive prices, lab diamonds appeal to buyers who question the environment impact and sustainability of diamond mining, reckons Daniel Lim, CEO of SK Jewellery.

Will these diamonds be a business threat to mined diamonds?

"It's not. It's opening more doors and enabling us to connect with an emerging group of consumers," he said during today's launch of Star Carat.

He added that it's too early to project revenue contribution from such diamonds to SK Jewellery.




To browse online for the diamonds, go to its online shop here.

Or head to its showroom (picture above) in the SK Jewellery headquarters at 7, Changi Business Park Vista.

The Star Carat line will soon be available in its SK Jewellery branded outlets and its Love & Co outlets.


Stock price

9.5 c

52-week range

8.9 – 13 c

Market cap

S$53 m

PE (ttm)

9.5

Dividend yield

5.3%

Year-to-date
return

-22%

Shares outstanding

562.5 m

Source: Yahoo!
Though the country of origin of the diamonds is being kept confidential, the diamonds are sold with international certifications.

That includes authentication by one of the world's leading diamond grading labs -- the International Gemological Institute.