Roxy-Pacific Holdings, a property and hospitality group with an Asia-Pacific focus, reported $139.9 million in revenue and $9.3 million in net profit attributable to equity holders for 1H2019.
Pre-tax profit increased by 98% to S$11.7 million if the

S$9.9 million fair value gain from 117 Clarence Street in Sydney in 1H2018 is excluded.
117, Clarence Street is a freehold commercial building which Roxy-Pacific and its JV partner has sold for A$153 million, which represents an 89% gain in two years.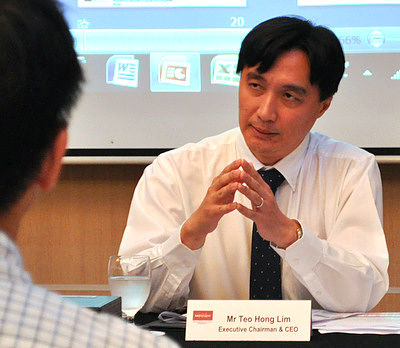 Executive chairman Teo Hong Lim.
NextInsight file photo.Executive chairman Teo Hong Lim said, "Our strategy to diversify our revenue streams across geographical markets and asset classes has started to deliver positive results. We have commenced revenue recognition for our development in Sydney, The Hensley, which has contributed significantly to our revenue in 1H2019."

With property development projects spanning Singapore, Malaysia and Australia, Roxy-Pacific has $620.6 million in pre-sale revenue that has yet to be recognised.



S$620.6 m pre-sale revenue yet to be recognised

Project name

Total units in project

Units sold

Attributable revenue recognised up to 30 June 2019 ($'m)

Balance attributable revenue
(S$'m)

Singapore

1.

The Navian

48

98%

$45.6

$11.7

2.

Harbour View Gardens


57

100%

$15.9

$57.8

3.

120 Grange

56

80%

$7.9

$67.0

4.

Bukit 828

34

26%

--

$8.4

5.

Arena Residences

98

64%

$4.3

$37.1

6.

RV Altitude

140

23%

--

$50.9

7.

Fyve Derbyshire

71

18%

--

$25.8

8.

Wilshire Residences

85

5%

--

$2.7

9.

Dunearn 386

35

9%

--

$4.6

10.

VIEW AT Kismis

186

16%

--

$21.3

Malaysia

11.

Wisma Infinitum- The Colony

Wisma Infinitum- The Luxe

423


300

75%



47%

$19.9


$10.2

$35.8



$19.7

Australia

12.

Octavia, Killara

43

98%

--

$41.7

13.

West End Residences,
Tower 1 (Foundry)
West End Residences,
Tower 2 (Art House)


140



91


91%



89%

--



--

$143.0


$93.1

Total

1,807

$103.8

$620.6

In Singapore, it launched five developments this year. In July, it launched Dunearn 386 followed by View at Kismis, both located in the prime district of Bukit Timah.

NEU AT NOVENA is scheduled as the next launch.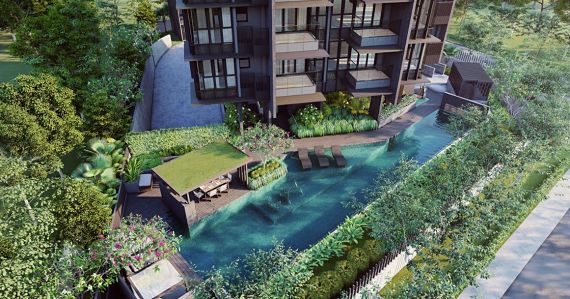 87 residential units will be available at Neu at Novena: Artist's impression
Property development aside, Roxy-Pacific is seeing stronger recurring income from its hotel ownership segment as newer assets under its self-managed hospitality brand, Noku hotels, mature and stabilise.

The Group's officially opened its upscale resort in Maldives, Noku Maldives, in August 2018, and the Group's second resort asset in Thailand, Noku Phuket, is targeted to be operational in 2021.

Additionally, Roxy-Pacific signed a management deal with Park Hotel Group to open Park Hotel Melbourne in 2022, marking Roxy-Pacific's maiden entry into the Australian hospitality sector.


Roxy Pacific

Stock price:
38 c

Adjusted net asset value:
75.24 c
The Group's flagship is Grand Mercure Singapore Roxy hotel. Notably its net book value is S$55 million but its valuation (at end-2018) was $525.6 million.

This is the most significant factor why Roxy-Pacific's NAV is 37.83 cents per share while its Adjusted NAV, 75.24 cents.


The Board has declared an interim cash dividend of 0.195 Singapore cent per share (unchanged from 1H2018), representing a dividend payout ratio of 27%.

For more info, see the Powerpoint material here.
DBS analyst report is here.