Company Overview
Stock price

75.5 c

52-week range

67.1 - 83 c

Market cap

S$652.4m

PE (ttm)

13.9

Dividend yield

3.3%

P/B (ttm)

2.2

Shares outstanding

860.7 m

Float

14.7%

12m Ave Daily Trading Vol

$29,742

Source: Bloomberg (26 July 2019)
Founded in 2002, Straco Corporation Limited, is a leading developer and operator of aquatic-related facilities and tourism-related assets. The Group has been one of the first few foreign-owned companies that built up a significant presence and influence in China's tourism industry. Straco's main operating assets include the Singapore Flyer, Shanghai Ocean Aquarium, Underwater World Xiamen, and Lixing Cable Car.

Link to StockFacts company page.

1. What are some of Straco's competitive strengths and how does it plan to maintain its competitive edge?

• Focused business model: Our focus in the development and operation of tourism-related assets has allowed us to build a depth of knowledge in areas such as investment appraisal, facility design, operations management and visitor experience.

The Group acquired the Singapore Flyer in 2014, competing against other bidders that included Merlin Entertainment Group, owner of the London Eye. This was made possible by our experience, proven track record and convincing bid quantum supported by our balance sheet strength.

• Future-Proofing our business: We consistently build on our industry knowledge and capabilities through continual, incremental upgrades at our attractions, including implementation of new concepts such as the Flyer 360+, an in-capsule experience at the Singapore Flyer. Visitor surveys are also conducted regularly to understand consumer demands, allowing us to stay relevant for future upgrades of our exhibits.

• Prudent, disciplined management: For Straco, fundamental business performance is built upon disciplined investment, robust internal controls, and a cost-conscious company culture. By adhering to these first principles, we will build up the resources to seize the best opportunities when they arise.


2. How does Straco ensure the attractiveness of the Singapore Flyer?

• Our mid to long term development plans are in place; we will share these once the necessary approvals are given by the government agencies.

• In the coming months, visitors can look forward to the debut of the Time Capsule, which is an immersive multimedia gallery that tells the Singapore story, as part of the nation's bicentennial celebration.


• Future experience offerings will remain centered on the Singapore theme as we aim to provide a compelling visit for tourists, while serving the recreational needs of Singaporeans.

3. How would you describe the tourism industry/landscape in China and how does Straco remain competitive in this space?

• Market Size: The domestic tourism market in China remains one of the largest in the world and continues to grow at a steady rate.

The rapid growth in this industry is backed by China's exploding middle class population, which McKinsey projects to reach 550 million by 2020. The availability of high-speed rail networks and accessibility to tourism products via online platforms further boost the industry growth.


@ Shanghai Ocean Aquarium. NextInsight file photo• Growing Importance of Millennials: We believe the emergence of Millennials (those born between 1980s to 2000s) provides a higher ticket yield to attraction operators like Straco as they prefer to plan their own rather than join conventional tour groups. Notably, their expectations for experience quality, product differentiation and service levels are also significantly higher.

• Focus on Location: We recognize that location is a key success factor for tourism and as such our projects are in central locations with high tourist traffic while drawing on the unique cultural attributes of each locality. This bespoke approach helps distinguish ourselves from other players.

• Threats vs Opportunities: We view new attractions in our operating locations as opportunities if their offerings differ from us. For instance, the opening of Shanghai Disneyland in June 2016 enhanced the overall attractiveness of the city as a leisure destination and the Group benefited indirectly from a spillover of tourists.

4. How does Straco increase visitor traffic to its attractions?

• To stay relevant, the Group has re-engineered some of our processes and embraced more collaborative partnerships. We increased our engagement of online travel agents, and adoption of mobile payments across our attractions, while retaining conventional channels such as train station advertisements in China, and tourism brochures in Singapore.

• In terms of sales channels, the transition from tour agencies to online travel platforms such as Ctrip and Klook is evident. To build on this momentum, we are increasing our number of online partnerships in line with this market trend towards independent travellers.

5. What are some risks in this business or industry and how does Straco manage its risks?

• Operational Risk: We give utmost priority to both visitor and employee safety; all safety and maintenance measures at our operating locations are strictly abided by the team, with yearly endorsements by the relevant authorities. While the technical issue at the Singapore Flyer on 25 January 2018 was sudden, it put our contingency and crisis management protocols to the test. Our team was quick and effective in resolving the issue, and operations resumed on 1 April 2018.

• Geopolitical Risk: The impact on our current markets remains minimal due to Singapore's neutral and principled diplomacy, as well as the scale and strength of the Chinese market.

• Economic Risk: Our strict investment criteria at project inception ensures a very low probability of catastrophic failure. We mitigate short-term fluctuations due to government policies, by implementing tactical initiatives such as targeted promotions.

6. The tourism industry is more cyclical in nature, how does Straco ensure business sustainability?

• As a leading Singapore developer, operator and investor of premier attractions and tourism-related projects, we leverage on our 20 years of experience and unwavering commitment to excellence. Our in-house culture encourages us to challenge the status quo, be adaptive to evolving trends and to constantly look for the right talents who share the Group's vision and values.

• For any new investments, we remain consistent in applying our strict assessment criteria, and only venture into projects with long-term growth potential as well as sustainable development.

7. Describe Straco's revenue mix/profitability over the past few years.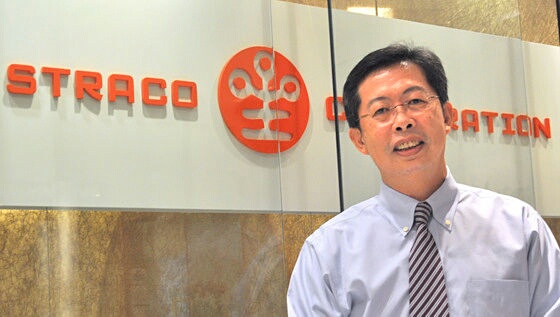 Amos Ng, CFO of Straco: Joined the company in 2000. NextInsight file photo

• Between 2013 to 2017, our Group revenue had grown from $72.84 mil to $128.44 mil, representing a CAGR of 12.01% over 5 years. Our net profits had also grown from $34.097 mil to $47.739 mil, achieving a CAGR of 7% over the same period.

• Although the higher level of fixed costs for the Singapore Flyer moderated our net profit margin, it maintained at a healthy level of 37%. The Group's 2018 financial result can be considered as an aberration due to the unexpected ride suspension in the first quarter of 2018.

• Most of the Group's revenue is derived from ticket sales which accounts for 90% of the total revenue, while retail, food and beverage, and rental makes up the remaining 10%. Before 2015, our 2 aquariums in Shanghai and Xiamen were the main source of revenue for the Group, accounting for more than 90% of the Group revenue. From 2015 onwards, their contribution was reduced to 65% with the Flyer's revenue accounting for 30% of the Group's revenue.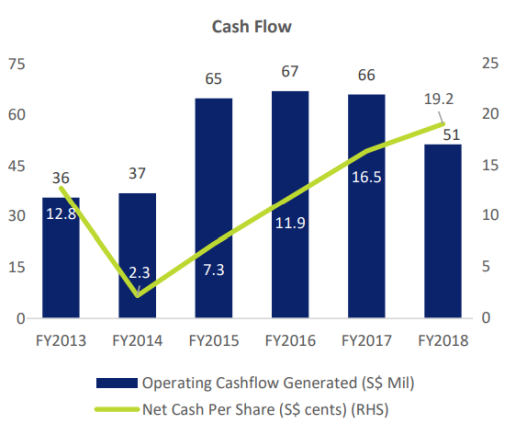 Source: Company data, AGM Presentation 2019

8. For FY2018, Straco paid out almost 50% of its operating cash flow as dividends. How sustainable is this payout ratio and will this affect Straco's ability to fund future projects?

• Since 2006, total dividend declared and paid out amounted to 19.25 cents per share. Our business models allow us to generate healthy and sustainable operating cash inflows. We remain committed to generate favorable returns for our shareholders, while balancing our cash requirements for new projects, asset renewal and enhancements.

• Our net cash per share as at 31 December 2018 was 19.15 cents. The net operating cash flow in 1Q2019 accounts for S$10.03 mil, which represents an increase of 178% from S$3.61 mil in 1Q2018.

• The development of Time Capsule attraction at the Singapore Flyer and Chao Yuan Ge would indeed raise our capital expenditure, but the enhancement of these assets will amplify overall attractiveness to potential visitors, and we believe may further increase the operating cash flow for FY2020 onwards.

9. What is Straco's M&A strategy? How does the Group decide what assets to acquire or potentially divest?

• Straco is constantly sourcing for prime tourism assets to acquire in the region, to further tap into the expected tourism boom in Asia. The potential assets should have a quality core product that can be further developed into a tourism venue, as opposed to a real estate asset.

• We evaluate targets on the state of the economy in each locality, such as projected future growth along with the average spending power of visitors.

• We acquire assets with the mindset to develop them over the long run and harness their full potential. The Group is satisfied with our current portfolio of assets and any adjustment to it must be motivated by the objective of enhancing shareholders' value.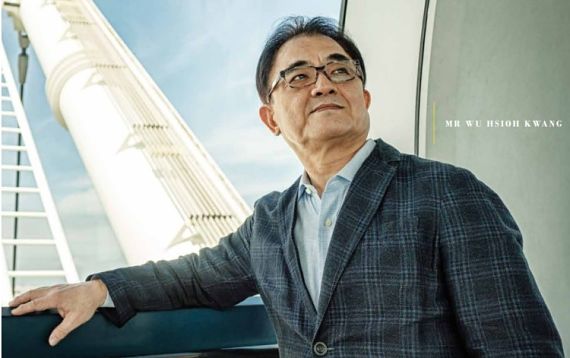 Founder and executive chairman of Straco Corp, Wu Hsio Kwang: In 2016, he received the Public Service Medal at the Singapore National Day Awards, and in the same year, he was awarded the Nanyang Distinguished Alumni Award by Nanyang Technological University (Photo: NTU).


10. What is Straco's value proposition to its shareholders and potential investors? What do you think investors may have overlooked about its business?

• Straco will continue to build on our strong foundation and adopt a multi-pronged approach in generating value through effective corporate governance, innovation and quality investments.

• When assessing us as a company, shareholders and potential investors can examine our resilient business model, the quality of our current portfolio of assets and the underlying opportunities in the tourism sector.

• We expect the market outlook for China's domestic tourism to remain favorable with the introduction of new regulatory measures and fiscal policies by the Chinese government. In Singapore, we believe the year-long bicentennial celebration in 2019 will also augur well for the local tourism industry.



First published on SGX website
10 in 10 – 10 Questions in 10 Minutes with SGX-listed companies
Designed to be a short read, 10 in 10 provides insights into SGX-listed companies through a series of 10 Q&As with management. Through these Q&As, management will discuss current business objectives, key revenue drivers as well as the industry landscape. Expect to find wide-ranging topics that go beyond usual company financials. This report contains factual commentary from the company's management and is based on publicly announced information from the company.
For more, visit sgx.com/research
For company information, visit http://www.stracocorp.com/index.html
Click here for FY2019 1st Quarter Earnings Announcements