Capital World, a SGX-listed property developer, announced that it had on 10 July 2019 entered into a term sheet with Mr. Yuan Zhiwei (袁智伟) and Mr. Chng Chor Tong (collectively, the "Investors") relating to a proposed issuance of new ordinary shares of the Company.


Stock price

2.5 c

52-week
range

1.2 – 6.2 c

PE (ttm)

7.5

Market cap

S$46 m

Shares outstanding

1.83 b

Dividend
yield (ttm)

--

1-year return

-58%

Source: Bloomberg, Yahoo
The proposed subscription involves an issuance of 916,047,277 new ordinary shares at S$0.020, representing a 13.04% discount to the volume weighted average price of S$0.023 on 5 July 2019, being the latest full market day where shares were traded before the term sheet was signed.

This would allow Capital World to raise gross proceeds of about S$18.3 million for the development of the Capital City Project, partial repayment of existing loans and borrowings and for working capital purposes.

In December 2018, Capital World had raised S$9.28 million by issuing 265 million new shares at S$0.035 apiece to Malaysia-listed manufacturing and property group PRG Holdings.


Upon completion of the proposed subscription, Mr. Yuan will hold a 28.11% stake in the enlarged share capital of Capital World, emerging as a controlling shareholder.

Mr. Chng will hold 4.84% of the enlarged share capital.

Mr Yuan is a Singapore Permanent Resident and is currently a Director and shareholder of Guizhou Honki Real Estate Development Company Ltd. (贵州鸿基房地产开发有限公司) and Shen Zhen South Honki Investment Co., Ltd. (深圳南方鸿基投资有限公司), specialising in property development, property investment, and property management.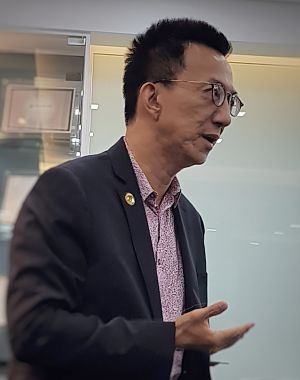 "This transaction not only strengthens the Group's balance sheet but also attests to our proven business model. We are pleased to have a prominent real estate player in China as our shareholder. We believe the Group will be able to draw on Mr Yuan's extensive industry experience and expertise in the future."."

-- Siow Chien Fu (photo),
Executive Director and CEO of Capital World
Mr Yuan founded Guizhou Honki in 1993. After more than twenty years of development, the small and medium-sized real estate firm has transformed into a real estate conglomerate supplemented by diversified businesses in construction, property management, advertising, entertainment and etc.

Today, Guizhou Honki has become a well-known regional real estate development enterprise in Guizhou with presence in other provinces and cities such as Guangzhou and Shenzhen.

Due diligence will be carried out by the investors and will be completed within two months from the date of the term sheet, subject to extension as mutually agreed.

The proposed subscription is subject to shareholders' approval at an Extraordinary General Meeting to be convened at a later date.

For more info on the proposed subscription, click here.