Date: 23 April 2019
Venue: Grand Mercure Roxy Hotel


1. Accounting changes: In a corporate presentation prior to the start of the AGM, executive director Koh Seng Geok pointed out that two major items affecting the FY18 financial results arose from changes in accounting standards.

Borrowing costs of S$3.0 million relating to property development properties that were ready for sale had to be expensed in FY2018.

• Showflat and sales & marketing expenses of S$6.5 million incurred on development properties in FY2018 were also expensed (instead of being capitalised, ie recognized over a period of time via amortization). These expenses were incurred for 10 projects -- ie, 2 TOP projects, 6 launched projects and 2 projects to be launched in 2019.•
Thus, Roxy-Pacific reported S$21.3 m in net profit attributable to shareholders, compared to S$31.7 million in FY17.

(The FY17 results have been restated to take into account of the retrospective effect of adoption of SFRS (I) and cessation of capitalisation of borrowing cost for certain development loans).


2. Aussie projects: While those costs and expenses hit the income statement earlier than otherwise, the recognition of revenue and profit for an Aussie development project of Roxy-Pacific was deferred even though the TOP was obtained on 20 Dec 2018.

Revenue for The Hensley residential project in Sydney could only be recognised from Jan 2019 when buyers paid up in full.

An estimated revenue of S$55.2 million and profit before tax of S$6.6 million will be recognised in 1Q2019.


If all Aussie project revenues are recognised this year … they will far surpass Group's FY2018 revenue of $133 m

In Sydney

Type

Units sold

Revenue to be recognised

The Hensley, Potts Point

Residential

Shop

98%

100%

S$64.1 m

S$1.0 m

Octavia Killara

Residential

98%

S$41.8 m

West End Residences, Tower 1 (Foundry)

Residential

89%

S$126.8 m

West End Residences, Tower 2
(Art House)

Residential

86%

S$81.5 m

Total

S$315.2 m
3) Strong 2019: The expensed borrowing costs and showflat and sales & marketing expenses may be water under the bridge -- but they obviously will have a positive effect on the current year results.

"We got hit last year but in future, we would benefit from the fact that we have already expensed it off," as Mr Koh said.

An even more impactful contribution this year will be the potential recognition of revenue and profit from three Aussie projects.

For perspective, the potential revenue from the Aussie projects total more than 2X the entire group revenue in FY2018 (see table).

4) Singapore projects: The company's 7 current residential projects have achieved incremental sales from the last reported figures in Feb 2019.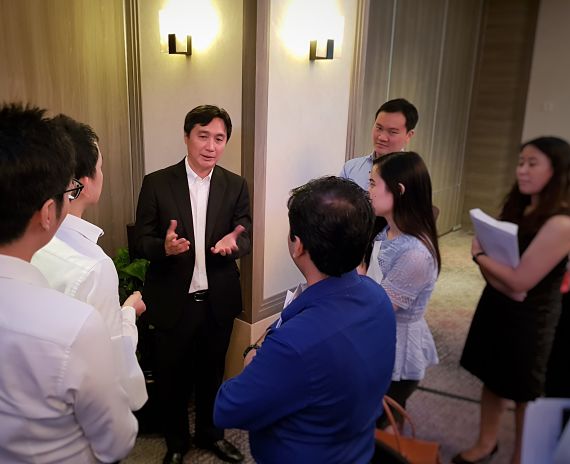 Executive Chairman Teo Hong Lim. NextInsight file photo

Executive chairman Teo Hong Lim said four more projects offering 393 residential units in total will be launched over the next couple of months.

5) Malaysia project: Roxy-Pacific's 47% project, Wisma Infinitum, has sold over 400 residential units or about 60%.

"In Kuala Lumpur, this project is considered one of the best-sellers," said Mr Teo.

There is a plan to convert a number of unsold units into serviced apartments, said Mr Teo.

6) Hotel segment: Executive director Chris Teo expects Grand Mercure Roxy and the two Noku hotels in Japan to continue to do well in the robust tourism markets of Singapore and Japan, respectively.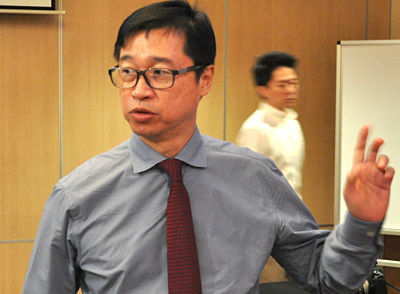 Executive director Chris Teo.
NextInsight file photo.
Noku Maldives is expected to do better this year after starting full operations at the end of 2018. Noku Phuket is expected to open in 2H2020.

Boosting its portfolio of assets with recurring income, Roxy-Pacific is developing its first hotel in Australia on the site of Melbourne House.

This is a 937sq m site on Little Bourke Street, in Melbourne, which it paid A$33 million for at end-2017.

Construction will start 4Q this year and the total development cost is expected to be A$135 million, said Mr Koh.

Opening in 2022, the 23-storey Park Hotel Melbourne will be managed by Park Hotel Group.


The AGM Powerpoint Presentation material can be viewed here.