Excerpts from ISDN Holdings' newly-released FY18 annual report. Message from Teo Cher Koon (photo), MD and President:





While this is something we do not have much control over, I think the stock's underperformance is due partly to the market's lack of understanding of our business.

I am mindful of complaints by some shareholders that our stock price continues to trade at a deep discount to our net asset value.
Stock price

24 c

52-week range

18.5 – 26.5 c

PE


8.6

Market cap

S$101 m

Shares outstanding

422 m

Dividend
yield


2.9%

Net asset value/share

46.2 c

Source: Yahoo!
The A-B-Cs of ISDN
To address this, allow me to provide an overview of our business, the potential ahead and how we intend to grow further.

I will illustrate by using the first six letters of the alphabet:


A: Automation, specifically industrial automation. This is an area we have been focused on for the last 32 years.

The motion control solutions we offer are used in fully automated or semi automated products, equipment and production lines, all of which can be found in a slew of industries, such as semiconductor, smartphone, medical devices and equipment, defence, packaging, textile, and food and beverage.

Countries worldwide, both developed and developing nations, require industrial automation to boost the productivity of their industries and move up the value chain.

B: Blockchain, Worldwide, blockchain will increasingly be used to decentralise business transactions in order to improve transparency, efficiency and productivity. We are looking at ways to use blockchain for our renewable energy business.

C: China, We have been operating in China for more than two decades now. While this market accounts for the lion's share of our yearly revenues, what we have achieved so far is miniscule considering the sheer size of China and the enormous growth potential it offers.

We are currently streamlining our entire organisation to become more nimble and cost-effective so that we can better tap opportunities in China, where we have offices in 49 locations.

D: Debt, Debt, if used responsibly, can be a great tool for a business to fund expansion. Unfortunately, many companies – listed and privately-held – have overleveraged themselves and are struggling to stay afloat as a result. We are mindful of what debt can do. Managing debt well will always be one of our priorities.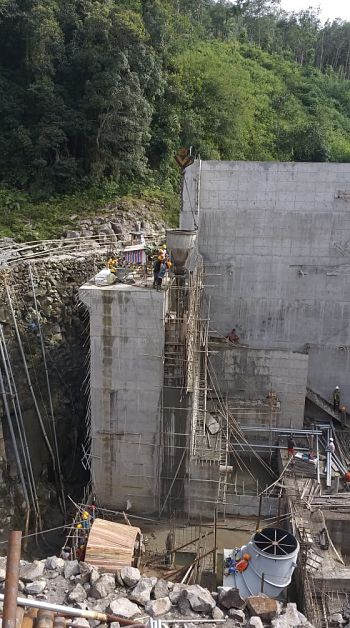 Photo: Company

"In Indonesia, we intend to add another 60 megawatts of production capacity after our first three mini-hydropower plants come on stream.

"New hydropower plants for the additional 60 megawatts will likely be rolled out at a quicker pace as we would have achieved some economies of scale and our learning curve would be less steep by the time our first three plants are up and running within these two years."

-- Teo Cher Koon,
MD & President, ISDN Holdings


E: Energy, specifically hydropower and solar energy. As I had alluded to earlier, we have a one-megawatt solar power plant at the Wujiang Industrial Park in Suzhou.

Soon, we will set up a small facility there to showcase our energy storage capability.

We have a stake in an energy storage company in China, CoTrust Energy System Research And Development Co., Ltd which will work with us to explore opportunities for energy storage, particularly for lithium batteries for China's electric vehicle market.

Lithium battery prices have been falling over the years and have become more affordable for end-users.

F: Funding, We are working with Emmett Capital, a corporate finance advisory firm in which we own a 50% stake, to set up a fund to invest in renewable energy projects.

As we are dual-listed in Hong Kong, we intend to reach out to the investment communities in Hong Kong and China.

Ultimately, we hope to attract international funds to invest in projects in China and encourage investors in China to explore opportunities in renewable energy around the world.