Excerpts from CGS-CIMB report

Analyst: Colin Tan


4Q18: Cost pressure on margins


■ FY18 net profit below expectations at 93%/96% of our/consensus' forecasts.


Riverstone Holdings

Share price:
$1.10

Target:
$1.22
■ Upbeat on productivity gains through more efficient processes and new glove products to mitigate cost pressure weighing on margins.

■ Maintain Add but with a lower TP of S$1.22 amid labour cost pressure and stronger RM against US$.

FY18 net profit up a mere 1.6% yoy on higher operating costs
4Q18 net profit was flat at RM33m, which brings total FY18 net profit to RM130m, below expectations at 93%/96% of our/consensus' full-year forecasts.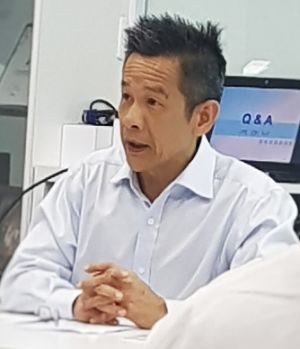 Wong Teek Son, executive chairman of Riverstone Holdings, at the FY18 results briefing. NextInsight photo. Revenue gained 22% yoy to RM257m for the quarter on the back of an expanded annual glove capacity, now 9bn as at end-2018.

No surprises in dividends with a final DPS of 5.7 sen declared, which brings total FY18 DPS to 7.0 sen (representing a 40% payout).

Higher operating costs weighed down on margins
Operating costs were higher than expected amid a 10% yoy increase in labour costs (c.15% of total costs) in the lead-up to the minimum wage increase effective Jan 2019 in Malaysia.

ASPs for both its cleanroom and healthcare gloves were largely sustained on US$ terms for the quarter. As a result, 4Q18 gross margin slid to 18.9% as compared to 19.3% in 3Q18 (4Q17: 24.4%).

Looking to productivity gains and new glove products for uplift
Management is upbeat on productivity gains that could be realised in FY19F through more efficient production processes to mitigate cost pressures.

New glove products may also be rolled out in RSTON's offerings that could include specialty healthcare gloves and gloves that will allow easy double gloving in anticipation of heightened demand in the lead up to the USP 800 standard that will come into effect in Dec 19 in the U.S.

More robust growth from healthcare compared to cleanroom
The split between healthcare and cleanroom gloves in its FY18 volume output was 83:17, indicating its healthcare gloves enjoyed robust volume growth of well over 20%.

Cleanroom gloves, on the other hand, saw slower sales volume growth in the single-digit range amid a shrinking hard-disk drive market and declining smartphone sales shipment.

RSTON is on track to expand annual capacity by another 1.4bn or 16% by end-2019.


Maintain Add with a lower TP of S$1.22


Colin TanWe retain our Add call as we look to stronger earnings growth ahead on the back of capacity expansion amid stabilising margins.

We cut our FY19-20F EPS forecasts by 14- 17% to reflect higher cost assumptions in our forecast period.

Our TP is pegged to 16.7x FY20F P/E, representing a 14% discount to its Malaysian peers' average of 19.4x, as we roll over to FY20F.

At 17x 12-mth forward P/E, RSTON is trading at a 23% discount to peers.

Key re-rating catalysts are recovery in margins. A sharp increase in raw material costs remains a key risk.

Full report here.