UOB KAYHIAN

DBS VICKERS

Property – Singapore

Thoughtful Choices

1H19 GLS Programme has seen residential supply cut by 19.5% hoh, with the government's consideration of the significant 45,000-unit supply pipeline, about 28,000 vacant units, as well as declining transaction volumes and developers' appetite post-cooling measures in Jul 18. Another notable addition is the hotel site at Sims Avenue (575 rooms), after a prolonged five-year absence of hotel sites from 2014-1H18. Our OVERWEIGHT call on the sector is under review. CapitaLand and Ho Bee Land are our key picks.

Keppel-KBS US REIT

Once in a blue moon opportunity

Catch the next wave.

We maintain our BUY call and a revised TP of US$0.78 for Keppel-KBS US REIT (KORE). We continue to believe that KORE offers investors the opportunity to catch the next leg of the US office market upturn. KORE's 12 freehold office assets are located in seven key regional markets in the US which are seeing positive dynamics and should also benefit from tenants seeking cheaper rents and the flow of capital as investors pursue markets where asset prices have yet to rally as much as some gateway cities. This thesis has been borne out with KORE exceeding its IPO forecast since its listing a year ago.

DBS VICKERS

AIMS AMP Capital Industrial REIT

A new chapter

Attractive and resilient yields.

Being predominantly focused on Singapore, we like AIMS AMP Capital Industrial REIT (AA REIT) for its diversified asset portfolio and attractive exposure to indemand properties such as business parks and modern ramp-up facilities. Supported by master leases with built-in rental escalations, AA REIT offers investors a higher degree of income certainty ahead of the sector's anticipated recovery in 2020 with attractive dividend yields of 7.7-7.9% p.a. over FY19F-21F.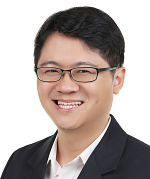 Check out our compilation of Target Prices