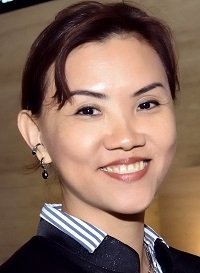 This article by Jennifer Tan (left, Director, Research & Products, Equities & Fixed Income, at the Singapore Exchange) was published in SGX's kopi-C: the Company brew series. The article is republished with permission.



One of Myanmar's most well-known tycoons, and dubbed "Mr Clean" for his business dealings, Serge Pun finds magic in creating something from nothing.



"I love the challenge of building something from scratch, like taking a barren tract of land, and sculpting it into a sprawling golf course or a beautiful residential estate," said the Executive Chairman of SGX-listed Memories Group Ltd.

"I consider myself something of an earth sculptor," he quipped.


The real estate mogul is no stranger to adversity. Born in Yangon into a middle-class Chinese family, Pun fled Myanmar after General Ne Win's socialist coup in 1962 for China, only to land smack in the middle of Mao Zedong's Cultural Revolution months later.

Following the closure of schools in Beijing, the 12-year-old was separated from his family, drafted into a Red Guard work unit, and sent - with thousands of other children - to work the fields in rural Yunnan.

"Those years in China were really hard - there was very little to live on, and we had to learn how to survive," he recalled.

When a brief window of opportunity opened in 1973 for Pun to leave China, he beat a hasty exit to Hong Kong, where he found himself with only HK$5 in his pocket. To get by, Pun began working various odd jobs, including delivering ship supplies and selling air sanitisers door to door.

His fortunes finally took a turn for the better some months down the road, when he found employment at a property consulting firm run by a German entrepreneur.

Fast-forward a decade to 1983, and Serge Pun & Associates Ltd (SPA) - focusing on real estate brokerage and development - was founded in Hong Kong. Pun eventually returned to his country of birth - in 1991 - to establish SPA.

"Nothing in life comes easy," the 65-year-old pointed out.

"It's not about how smart or well-educated you are, or how many social connections you have, or the cash in your bank account. Don't kid yourself that success will just fall into your lap - you need to work hard and put in the hours," he added.


"Because of our listing on SGX, we've been approached by many local tourism operators offering their assets in exchange for a stake in Memories Group, which in turn offers them wider exposure and professional management expertise."
-- Serge Pun
Today, Pun's sprawling business empire focuses on six key industries - real estate, financial services, consumer, healthcare, automotive and tourism.

SPA's primary businesses are held through three flagship holding companies - First Myanmar Investment Co Ltd, established in 1992, was the first company to list on the Yangon Stock Exchange in 2016; diversified conglomerate Yoma Strategic Holdings Ltd listed on SGX Mainboard in 2006, while Myanmar tourism services provider Memories Group completed its Catalist listing in January this year via a reverse takeover of SHC Capital Asia Ltd.

Acquisition Trail
Memories Group, with a current market capitalisation of over S$60 million, operates an integrated tourism platform that comprises the three core businesses of Experiences, Services and Hotels.

The Experiences segment consists of Balloons Over Bagan - one of Myanmar's most iconic tourist attractions and the largest commercial hot-air balloon business operating out of Bagan and Inle Lake region - and Bagan Land. The latter is a proposed hospitality development that allows visitors to explore the ancient city of Bagan, famous for its gold-leaved stupas and spires.

Its Services segment - under Asia Holidays Travel & Tours Co Ltd - customises tourism services and manages travel logistics for travel agents and individuals. It also organises meetings, excursions, conferences and exhibitions.

Its Hotels arm consists of Hpa-An Lodge - a 19-room luxury boutique hotel nestled in the foothills of Mount Zwekabin in the southern state of Karen, as well as Pun Hlaing Lodge - a 46-room urban resort located in Yangon's Pun Hlaing Estate that has an 18-hole golf course designed by legendary professional golfer Gary Player.

The Group has also made a slew of acquisitions over the last few months. In March, it acquired Burma Boating, which offers premium cruise experiences on luxury yachts in southern Myanmar's Mergui Archipelago, noted for its unspoiled beauty.

Remotely located in the Andaman Sea, the Mergui Archipelago consists of more than 800 islands of various sizes, and has been earmarked by the government as the country's third tourist destination, after Bagan and Inle.

In May, Memories Group purchased the 26-key Kayah Resort in Loikaw, Kayah State, which has been repositioned as an upscale resort under the Group's four-star Keinnara brand.

In July, it also acquired the development rights of three islands - Bo Ywe Island, Nga Mann Island and Kyun Pila Island - along with Awei Pila, a five-star beachfront hotel on Kyun Pila Island. This provides the opportunity to develop resorts and host eco-friendly activities, including trekking, bird-watching and nature study tours, on the islands.

That same month, the Group also purchased a three-star, 72-room business and leisure hotel - Suggati Mawlamyaing in Mon State - which is scheduled to begin operations by year-end.

"From hot-air balloons to luxury resorts and yachting, our fast-growing integrated tourism platform now has a presence in seven of Myanmar's most visited tourist destinations," Pun said.

The Group targets growth by augmenting its asset base and increasing income streams through the acquisition of good properties.

"We want to boost our bottom line in the shortest possible time frame. This means M&A will be a major tool, and our preferred strategy of expansion in the near term," he added.

To this end, the Group's listed status has been a boon. "Because of our listing on SGX, we've been approached by many local tourism operators offering their assets in exchange for a stake in Memories Group, which in turn offers them wider exposure and professional management expertise," Pun said.

"It's a win-win situation for everyone."

Burgeoning Potential
Meanwhile, the outlook for the country's tourist arrivals remains bright. According to official statistics, Myanmar's travel and tourism sector contributed about US$1.97 billion in 2017 to the nation's GDP, compared to US$3.2 million in 2011. This more than 600-fold increase over the years proves that tourism is a large growth driver for the country, Pun noted.

Myanmar's tourist industry is also expected to rank second out of 184 countries for long-term growth by 2026, according to World Travel and Tourism Council data. According to the Ministry of Hotels and Tourism, the country was estimated to have received 6 million tourists in 2016, with this figure forecast to rise to 7.5 million by 2020.

Recognising this, the Myanmar government has developed a Tourism Master Plan 2013-2020 that sets out various strategies to develop and manage the industry on a sustainable basis.

This is to ensure that the current natural environment is preserved, while it gears up to list Bagan as a UNESCO World Heritage Site. Inle Lake was Myanmar's first UNESCO listing under the World Network of Biosphere Reserves list, while Pyu Ancient Cities was named a UNESCO World Heritage Site.

Essentially, the country's uninterrupted coastline of 1,930 km along the Bay of Bengal and the Andaman Sea, together with its treasure trove of archaeological and natural attractions, stands it in good stead.

"This makes Myanmar a perfect fit for the prevailing trend of personalised, authentic and experience-driven travel, with the younger, more sophisticated and affluent travellers willing to spend more for once-in-a-lifetime experiences," Pun noted.

"This is an industry that you don't have to bet too much on. It will definitely grow, and the potential is enormous."

Nonetheless, Myanmar - described by some as Asia's final frontier economy - faces significant challenges.

"Apart from upgrading the country's infrastructure to accommodate the growth of tourism, another issue is to consolidate the democratic process that we've fought so hard to achieve, and continue maintaining the needed rule of law," Pun said.

In November 2015, Aung San Suu Kyi's National League for Democracy (NLD) party achieved a sweeping victory in Myanmar's watershed election, following overwhelming popular support to end decades of military rule. But since then, minority groups have been disappointed that the NLD-led government has failed to meet demands for greater autonomy and tame aggressive army activities in their territories.

In by-elections that took place earlier this month, the NLD took seven of the 13 seats up for grabs, in what is seen by some experts as an early test ahead of a general election in 2020.

Rules of Engagement
Over the past year, Myanmar's human-rights record has been dented by the Rohingya crisis, as well as the recent jailing of two Reuters journalists investigating the killing of Rohingya villagers by security forces in the western Rakhine State.

At the 33rd ASEAN Summit and related meetings hosted by Singapore earlier this month, Suu Kyi - Myanmar's de facto leader and Nobel Peace Prize winner - faced criticism from several world leaders on her handling of the Rohingya issue.

In early October, the World Bank downgraded its growth projection for Myanmar's economy to 6.2% from an earlier forecast of 6.8% for the fiscal year ending 31 March 2019, citing factors such as floods, inflation and the Rohingya crisis. Nonetheless, over the medium term, domestic growth is expected to gather pace on the back of several investment-friendly laws that have been passed, it added.

"It's quite evident that, with regards to Myanmar, the world is divided into two camps - the first talks a lot about human rights and lofty democracy ideals, and they want to punish Myanmar with a big stick," Pun said.

"The second comprises nations who recognise that, regardless whether Myanmar has done right or wrong, and despite its faults, the country is in an embryonic stage of democracy and growth, finally opening up after decades of isolation and military rule. And this camp believes that engagement, rather than hammering or browbeating, is the most constructive approach."

While the first camp is dominated by a number of strident voices, it is the second group - with its pragmatic focus - that is critical to the country's future, he added.

Overall, Pun is sanguine about the nation's prospects. "I'm not fearful that Myanmar might go belly up - far from it. Myanmar is not a country or state that has lost its direction - we know where we need to go, and we will continue along that road," he said.

"The only issue is the speed by which we arrive at our goals."

And essentially, it is this upbeat spirit that defines Pun. "Optimism is totally indispensable in life," he emphasised.

"I have yet to see any pessimistic person achieve real success. This is because he would be ready to give up any measure of a win - without being aware of it, and even though it was already in his grasp - because of his negative attitude."

And for the shrewd businessman who ranked 35th in Forbes' 2017 list of Singapore's 50 Richest people, the journey is just as important as its destination.

"It's a well-known fact that the more difficulties you encounter in your past, the higher the probability of your achieving success in life. And conversely, the easier your life has been, the higher the probability of failure, because chances are, you wouldn't work as hard," Pun said.

"At the end of the day, being passionate about what you do, and putting in both the time and effort, will take you to levels of success you could not have imagined."

Financial Results
Year ended 31 Mar
(US$ '000)

2018

2017

Change %

Revenue

8,842

6,156

43.6

(Loss)/Profit before income tax

(6,224)

1,421

n.m

(Loss)/ Profit attributable to
owners of company

(6,429)

1,038

n.m
Quarter ended 30 Sept
(US$ '000)

2QFY19

2QFY18

% Change

Revenue

255

3

n.m

Gross loss

(73)

(39)

n.m

Net loss attributable to owners of company

(1,669)

(713)

n.m
Source: Company data

Outlook
Tourism in Myanmar had been affected this year due to the Rakhine issue, most notably with a reduction of tourists from Western countries. According to the Myanmar tourism statistics for the year to September 2018, visitors from China rose by approximately 33.63%, and the Group is targeting this growing market segment.

Historically, Myanmar's tourism peak months typically commence at the beginning of October and end in March. This year, however, due to climate changes, the peak season has been pushed back as heavy rains continued during the month of October. As such, the peak season started in late October, and is expected to extend into April, as was the case during the 2017-2018 season.

Hotels Segment
• Awei Metta (picture below, originally called Pun Hlaing Lodge) is scheduled for soft opening in mid-December and will be fully operational in January 2019. Pre-booking of rooms have already been accepted for December 2018.




• Keinnara Hpa An (originally called Hpa-An Lodge) has secured healthy bookings for the current peak season. Unfortunately for several days in October, guests were unable to access the lodge due to heavy flooding in the area. Flooding has since ceased.

• Keinnara Loikaw (originally called Kayah Resort) has completed requisite renovations and is ready to receive guests. Further renovations are planned during the low season next year.

• The acquisition of Awei Pila was completed on 26 October 2018, and the soft opening of this luxurious beach resort is on track for December 2018.

• The acquisition of Hotel Suggati in Mawlamyaing was completed on 26 October 2018 and its soft opening is on track for December 2018.

• In addition to acquiring hotel assets to boost its brand portfolio, the Group is actively looking for more hotel management contracts, specifically targeting quality lodges and boutique hotels countrywide that match its quality standards.

Experiences Segment
• The operations of Balloons Over Bagan commenced in October as per past season, but was affected by inclement weather during the first two weeks of the month. The Group is also seeing competition from new balloon operators, but expects the demand for its balloon rides to remain healthy, given its well-established reputation in the market.

• The bookings for Burma Boating for the current season started a little later than usual as the Group had to reorganise the business after its acquisition. Burma Boating is a strategic acquisition, and is expected to offer synergetic services to complement the Group's existing operations.

Services Segment
• The Group will continue its sales and marketing strategies to target travellers from its traditional European market. A new brand "Memories Travel" has been created to undertake new initiatives to capture the Asian market, and the Company is exploring partnerships in China, Japan, Korea and ASEAN that will help promote Myanmar tourism.

Memories Group Ltd
Memories Group is a leading tourism company in Myanmar that operates an Integrated Tourism Platform, synergistically connecting its Experiences, Services and Hotels segments to provide seamless, one-of-a-kind travel experiences that would create lasting memories for its clients.

Its businesses include: (i) the Balloons Over Bagan, an iconic Myanmar tourist attraction that operates hot air balloon flights in the Bagan and Inle Lake regions; (ii) Burma Boating, an operator and organiser of premium cruises on luxury yachts in the Mergui Archipelago in Southern Myanmar; (iii) Bagan Land, which the Group intends to develop into a proposed commercial and tourism-related hospitality development located in Nyaung U Township, Bagan; (iv) a destination management company branded under Asia Holidays Travel & Tours Co Ltd (Memories Travel); (v) Keinnara Hpa An, a luxury 19-room boutique resort hotel located in the foothill of Mount Zwekabin in Hpa-An Township of Karen State, (vi) Awei Metta, a 46-room unique urban resort located within Pun Hlaing Estate in Yangon when completed; and (vii) Keinnara Loikaw, a 26-key boutique resort in Loikaw, Kayah State.

The company website is: investors.memoriesgroup.com