33% to 5.7 cents in afternoon trading after the company said it has entered into a memorandum of understanding to enable PRG Holdings Berhad to acquire a stake of up to 29.9% of Capital World.

Capital World will issue new shares to Bursa Malaysia-listed PRG at an as yet undisclosed price.

Shares of Singapore-listed Capital World surged as much as
Capital World stock price

5.5 c

52-week
range

3.1 c – 10.1 c

PE (ttm)

2.8

Market cap

S$72 m

Shares outstanding

1.32 b

Dividend
yield (ttm)

--

1-year return

-40%

Source: Bloomberg
The funds raised will go to support existing and new development projects, including the mega Capital City.

This is an integrated property project comprising a retail mall, indoor theme park, hotel and serviced suites and serviced apartments in Johor Bahru.

PRG is a Malaysia-based company principally engaged in, among others, property development and construction.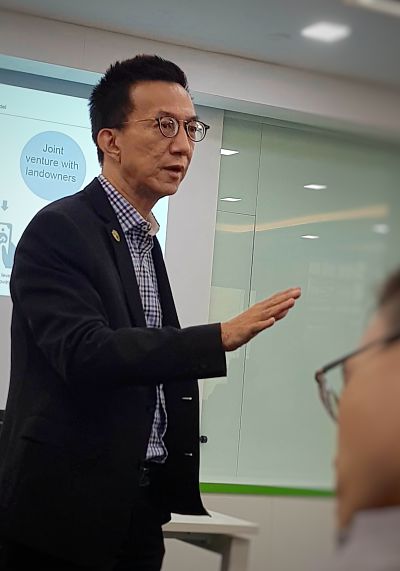 "We are delighted to have PRG as an investor and strategic partner who believes in our vision. An endorsement from an industry player shortly after the completion and opening of Capital City Mall marks a significant milestone for the Group. The new financing will be used to fund existing development as well as expedite the launch of new pipeline development projects."
-- Siow Chien Fu (photo),
Executive Director and CEO,
Capital World
PRG developed key projects such as Picasso Residence, a 38-storey, 472 units residential project in the heart of Kuala Lumpur.

It has teamed up with Jiangsu Provincial Construction (M) and Mingfa Group (Global) Investments Holdings to undertake RM5.0 billion worth of affordable housing projects from Syarikat Perumahan Negara Berhad.

In January 2018, PRG made a foray into the healthcare and wellness business by acquiring S P Chin Healthcare Sdn Bhd that is in the business of providing healthcare and wellness solutions products and services and Esther Postpartum Care Sdn Bhd that is involved in postpartum care.

Dato' Lua Choon Hann, PRG Group MD, commented, "The proposed investment is part of PRG's overall strategy to continue building up our Property Development & Construction Division to become one of the significant property players in Malaysia.


PRG stock price

RM0.77

52-week
range

76 c-$1.01

PE (ttm)

214

Market cap

RM238 m

Shares outstanding

310 m

Dividend
yield (ttm)

--

1-year return

-23%

Source: Bloomberg
"We realise that there is tremendous synergy between both groups and we look forward to growing hand in hand with Capital World Limited. Immediately, we can collaborate by introducing the medical and wellness elements in Project Capital City and future development projects which will enhance the appeal of Capital World Limited's product offering."