In Singapore: Roxy-Pacific Holdings currently has seven development sites which will yield 702 homes.

It said it plans to launch one site for sale in 4Q2018, bringing the total for the year to 5, and another three in 1Q2019.

The table shows its landbank:

Location /
Description

Proposed Residential Development

Approx
Land Area (sqf)

Approx Attributable Land Cost

1

RV Altitude

140 units

28,793

S$110.0m

2

Arena Residences

98 units

26,454

S$28.3m

3

Dunearn 386

35 units

19,203

S$36.3m

4

Fyve Derbyshire

71 units

18,506

S$73.9m

5

15, 17 & 19 Lorong Kismis

186 units

100,336

S$78.5m

6

22 Farrer Road

85 units

39,130

S$39.5m

7

27 Moulmein Rise

87 units

22,198

S$53.0m

Total

702 units

254,620

S$419.5m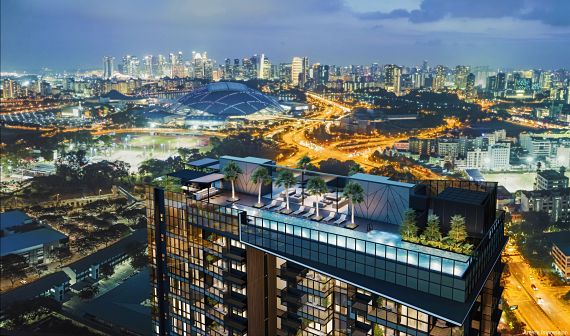 Arena Residences: View of the Sports Hub and city skyline from the rooftop of Roxy-Pacific's project which will be launched tomorrow (2 Nov).
In Australia: Furthering its significant business Down Under, the Group has recently entered into an agreement to acquire a property in New South Wales, which comprises a mix of warehouse and office space.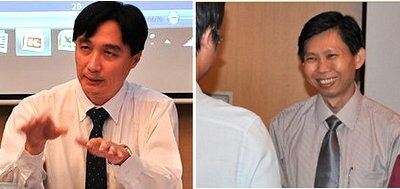 CEO Teo Hong Lim and CFO Koh Seng Geok. NextInsight file photos.This marks the Group's first foray into Australian industrial investment, which the Group plans to develop light-industrial warehouses and self-storage units at the site on Mavis Street in Revesby.

Sold units in S'pore, Australia: As at 22 October 2018, based on units sold from ongoing development projects, the Group has total attributable pre-sale revenue of $593.0 million, the profits of which will be recognised from 4Q2018 to FY2021.


S$593 m pre-sale revenue yet to be recognised

Project name

Type of development

Units sold

Balance attributable revenue (S$'m)

Singapore

1.

Straits Mansions

Residential

100%

$3.4

2.

The Navian

Residential

88%

$42.4

3.

Harbour View Gardens

Residential

98%

$72.2

4.

120 Grange

Residential

77%

$70.8

Malaysia

5.

Wisma Infinitum- The Colony

Wisma Infinitum- The Luxe

Residential

Residential

69%

38%

$35.5

$17.2

Australia

6.

The Hensley,
Potts Point

Residential
Shop

95%
100%

$67.3
$1.1

7.

Octavia, Killara

Residential

98%

$46.8

8.

West End Glebe,Tower 1 (Foundry)
West End Glebe,Tower 2 (Art House)

Residential

Residential

89%

79%

$142.1

$85.0

Total $593.0
Roxy Pacific

Stock price:
38 c

Adjusted net asset value:
75.43 c
3Q18 results: Roxy-Pacific reported revenue of $18.8 million, 69% lower y-o-y. This was mainly due to lower revenue from the property development and property investment segments, partially offset by higher revenue from hotel ownership segment.


Stock price

38 c

52-week range

38 – 54 c

PE (ttm)

22

Market cap

S$496 m

Shares outstanding

1.31 b

Dividend
yield (ttm)

2.36%

1-year return

-27%

Source: Bloomberg
Gross profit margins of business segments in 3Q2018:

• Property development: 29% (3Q2017: 21%), excluding an adjustment for over-provision of project cost and annulled unit.

• Hotel ownership: 48% (3Q2017: 53%), mainly due to lower RevPar from Noku Osaka in 3Q2018 arising from the cancellation of room reservations due to a typhoon.

• Property investment: 77% (3Q2017: 70%) due to adjustment of 2017 cost on 59 Goulburn Street in 3Q2018.

Net profit attributable to shareholders rose 175% to $4.4 million.

This was aided by $2.8 million in "share of results of associates" (3Q2017: $603,000) arising mainly from a write-back of tax provision for an associate.

The 9M2018 net profit attributable to shareholders was lower at S$17.9 million (9M2017: S$22.4 million).

For more info, see here.