"The first value creation goal set by the Company's management and Board would be to recover to the Company's original IPO value."
- Dan Broström,
Executive Chairman of Rex International Holding
(Press release, 27 Aug 2018)
Rex International Holding, having previously announced that it was looking to farm-out a substantial equity interest in Block 50 Oman (in which it holds a 92.65 per cent indirect stake), is now considering to maintain a high equity stake in the licence.

The change of strategy comes as a result of the Group's completion of feasibility and concept studies on its discovery well, GA South#1.

The feasibility study is based on reprocessed seismic data which were re-analysed with an updated version of its Rex Virtual Drilling (RVD version 4) and substantial conventional interpretation.

Following the completion of the feasibility study which further validated the earlier studies, the Group -- a new-generation technology driven oil company -- plans to achieve production in the second half of 2019.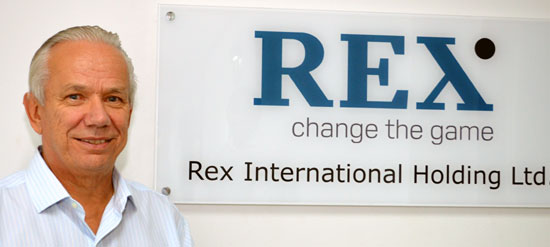 "The results of the feasibility study are very encouraging and we are of the view that the GA South#1 discovery well is a very valuable asset.
"Although we had previously planned to farm out a larger interest in the concession to reduce our holding risks, we believe that there are merits in maintaining a high equity stake in the block to reap potential benefits of more upside and cash flow when there is production.

"In the meantime, we are looking at other non-dilutive financing options to help fund oil production costs."
-- Dan Broström,
Executive Chairman of Rex International Holding
(NextInsight file photo).


The GA South#1 discovery was made in 2014, and is the first ever offshore discovery east of Oman. The Group targets to achieve first oil production in Oman in the second half of 2019.

The Group currently holds indirectly a 92.65% stake in Masirah Oil Ltd, which holds a 100% interest in the almost 17,000 sq km Block 50 Oman concession.

Masirah Oil Ltd's final plan and execution thereof are subject to government approval.

The prospective resources (gross mean unrisked) in the entire concession were estimated to be about 4.7 billion barrels of oil by Aker Geo and Pareto Asia (28 February 2012).


PROSPECTIVE AND CONTINGENT RESOURCES
Resources are viewed as potentially recoverable depending on either technical developments or a more favourable position.

♦ Prospective resources are hydrocarbons which are potentially recoverable. For a prospective resource to mature into a contingent resource, exploration wells must clearly prove to contain hydrocarbons and allow for a refined estimate of potential recoverability.

♦ Contingent resources have been discovered but not yet mature enough for commercial development due to one or more contingencies. These are further categorised in accordance to the level of certainty associated with estimates.
RESERVES
Reserves are quantities of oil that may be commercially recoverable in future.

For more, see REX factsheet.