GSS Energy's wholly-owned subsidiary, Giken Sakata, has entered into a JV with GPCC Korea to establish I-Motor Asia.



I-Motor Asia will be working with Giken's precision engineering facilities in the manufacturing and assembling of both gasoline and electric models in the 125cc and 150cc categories and three-wheelers ("tuk-tuk") in South East Asia markets, India and Taiwan.GPCC Korea is a leading manufacturer of electric two-wheelers, three-wheelers and four-wheel low speed electric vehicles.

NextInsight had an email Q&A with GSS Energy:

Q: What parts (of vehicles) will GSS be manufacturing?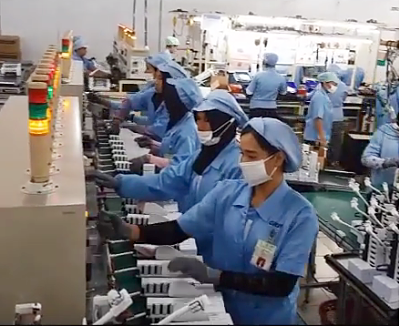 Batam factory of GSS Energy produces precision parts for electronic goods, etc. NextInsight file photo.A: GSS will first focus on the assembly of the vehicles as well as parts that our factories can produce.

Q: Will all of these parts be produced in GSS' Batam plant? Or in your China plant as well?
A: At this point, they will be produced at our Batam factory focusing on the Southeast Asia markets.


GSS Energy

Share price:
12.5 c

Target:
22 c

Source: RHB Research
Q: What parts will not be produced by GSS?
A: The main parts will initially be outsourced/procured until critical mass is reached.

Q: What are the production targets for vehicles in 2018, 2019 and 2020?
A: At this point, we do not want to give a forecast.

Q: What would be the top 3 markets for the vehicles? Starts with Indonesia?
A: Thailand, Vietnam and India will be the first 3 markets for us to look at.

Q: What's the expected revenue and profit from this vehicle JV for this and next year?
A: At this point, we do not want to give a forecast.


| | |
| --- | --- |
| Stock price | 12.5 c |
| 52-week range | 12-19 c |
| PE (ttm) | 23 |
| Market cap | S$62 m |
| Shares outstanding | 496 m |
| Dividend yield (ttm) | -- |
| 1-yr return | -21% |
Q: What core competence is needed that the JV partners do not have. How do they plan to acquire it?

A: Our JV was established on the partners' complimentary expertise and skillsets. Our core competence has always been:

(i) manufacturing and assembly capability & efficiency, having operated on Japanese standards.

(ii) Our more than a decade of technical innovations and design competence in the electric vehicles space, with Italian, Japanese & Korean experience &

(iii) being able to tap on a well-known global brand name that spells quality, efficiency and prestige.

We are now building up the distribution network to complete the competency.

Q: For GSS Energy, this diversification will shift management attention away from its current precision engineering (PE) and oil & gas segments. What is the potential impact?

A: The diversification fits well within the PE structure and its business development strategy. Existing PE business will not be affected. This will be an add-on to the operation.

There are no effects on the oil and gas business as their operations are operated independently of the PE business.