Nordic Group achieved a very respectable 1H2018 earnings growth of 19%. But it didn't surprise anyone.

Investors have become accustomed to seeing Nordic not just grow but do so at a respectable clip.

That rate is about 20% which the management has publicly said, in Aug 2017, is its internal target for growth.

For many years already, that growth rate has been achieved or even exceeded, making Nordic's track record a postcard-perfect picture of growth, as the chart shows -->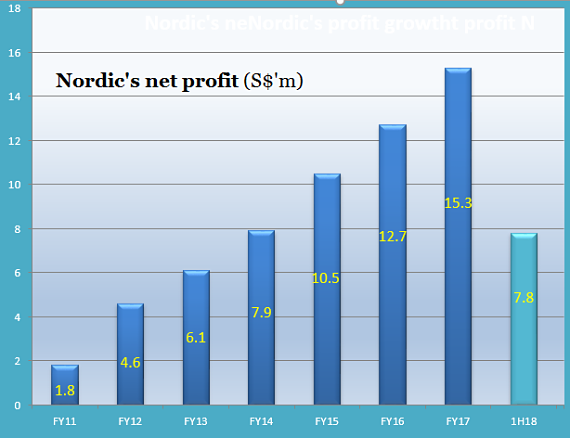 To meet its 20% growth target for the full year, Nordic needs to achieve an average of $5.25 million net profit in each of the two quarters

of 2H18

.

That's about $850,000 more y-o-y for each quarter, on average, which may be aided by client projects which had been deferred from 1H18 to 2H18.

Let's count the chickens before they hatch:

• Assuming Nordic achieves 20% earnings growth this year, that's EPS of 4.66 cents and a current-year PE of 10.5X (on current stock price of 49 cents).

• Assuming 20% earnings growth next year, and EPS of 5.59 cents, the forward PE is 8.8X.

What, in part, enables Nordic to project -- quite confidently -- its future earnings is the relative stability and recurring nature of its maintenance contracts.

These contracts revolve mainly around scaffolding, insulation and engineering services, mainly for petrochemcial MNCs in Jurong and Bukom islands, Singapore.

Because Nordic has proven to be able to deliver on safety and other KPIs, as well as manage its costs, it has grown its share of the pie.

Stock price

49 c

52-week range

41 – 63 c

PE (ttm)

11.7

Market cap

S$193 m

Shares outstanding

393 m

Dividend
yield (ttm)

3.4%

1-year return

21%

Source: Bloomberg
Organic growth is incremental and not sufficient to enable its profit to grow at 20% y-o-y.

Instead, acquisitions of earnings-accretive businesses have been key, and Nordic has made three (Multiheight Scaffolding in 2011, Austin Energy in 2015 and Ensure Engineering in 2017).

Soon, Nordic needs another acquisition to help get its earnings up 20% in 2019 and support growth in the years ahead. Is any in sight?

Nordic's executive chairman Chang Yeh Hong, responding to this question at the 2Q18 results briefing, said: "We have many targets. Do we have any that we can close? Not yet."

For more, see: NORDIC GROUP: Lays Building Blocks for Growth
Two key figures in 2Q18 results: Better than they look

♦ 2Q18 gross profit margin: It dropped 6 percentage points from 33.5% to 27.5% but it is not reflective of any margin squeeze in its operating business.

This was, instead, due to the sale of S$3.8 million of "carbon allowances" on which Nordic recognised S$173,000 in gains. These are one-offs.

Excluding the effects of the "carbon allowances" transactions in 1H17 and 1H18, Nordic's gross profit margin stayed stable at 31.3% in 1H18, or just a 2.2 percentage point dip.

♦ 2Q18 gearing: This rose to 20% from 13% as at end-2017. This was due to a drawdown of $10 million for the purchase of property at 2 Tuas Ave 10 to consolidate the operations of Nordic, and for working capital.

Nordic said its gearing will drop to 3.9% -- translating into about $2 million of net debt for Nordic -- when it sells off two properties (in Kwong Min Road and Benoi Place) in the near future.

Nordic has one more property, 133 Tuas View Square (held under Ensure Engineering), which it plans to dispose. Its market

value is $3.1 million.



(As at end-June 2018, Nordic held $40.46 million in cash and had borrowings of $50.68 million).

For the Powerpoint materials, click here.