Singapore-listed Miyoshi Limited is seeing the first sign of hot demand for the electric cars to be produced by its JV partner in China.





A total of 2,800 orders, with deposits plonked down, were made by distributors of cars of Beijing Automotive Group Co., Ltd (BAIC),

the state-owned manufacturer which ranks up there with BYD in China's electric vehicle industry

.The partner, Core Power, rolled out 10 prototypes, in different colours, at an exhibition in Jinan, Shandong, this week (20 Aug).



, Jiangxi Changhe,

has contracted Core Power to produce 50,000 cars over the next three years. BAIC's subsidiary



Miyoshi

currently has a 15% stake in Core Power,

making it

probably the only SGX-listco to have direct exposure to China's booming electric car sales.

And that stake is set to increase to 32% early next year (See: MIYOSHI: Raises $7m, mainly to up stake in China's electric-car boom)



That would be a new growth engine for Miyoshi, whose long-time business includes metal stamping, fabrication of parts and components of machine tools, electroplating and surface treatment.



Core Power's cars produced for BAIC are expected to retail at RMB50,000-60,000 after generous government subsidies.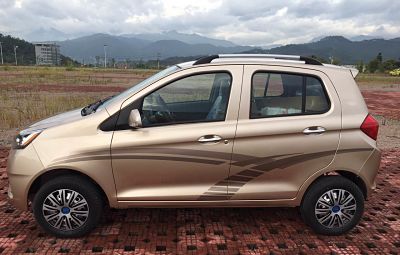 The BAIC Ideal electric car to be produced by Core Power: Safety is enhanced with the installation of rear safety belts, airbags, front and rear bumper reinforcement bars, side impact protection beams, among other measures.Production will start in mid-October 2018 after upgrades to its production facilities, including spray-painting and oven systems, fixtures for welding lines, robots and automation.

The total cost of the upgrades is estimated at S$7.5 million, said Miyoshi CFO Mark Khoo.


Stock price

5.5 c

52-week range

5.0–8.9 c

PE (ttm)

9.2

Market cap

S$34 m

Shares outstanding

609 m

Dividend
yield (ttm)

7.3%

Price-to-book

0.5

Source: Yahoo!
Between Oct and Dec this year, about 2,000 cars are expected to be produced, and are likely to take priority over Core Power's own self-branded electric cars (using lead acid batteries) which began production in 2017.

On what is probably a stronger business outlook, CEO Andrew Sin has been buying his company stock.

He now has an interest in a total of 161,830,500 shares (a 26.6% stake in Miyoshi), up from 153,686,900 shares at the start of this year.


Corporate Governance & Transparency Index -- Miyoshi's rank

2018

#46 of 589

82 points

2017

#164 of 606

60 points

2016

#443 of 631

39 points

2015

#623 of 639

17 points

2014

#634 of 659

12 points
Meanwhile, Miyoshi is faring well in another area: corporate governance and transparency.

In the Singapore Governance and Transparency Index 2018, it climbed again in the ranks -- to No.46 out of 589 listed companies.


Watch this video of our visit to Core Power in 2017. At 330,000 sq m, the sprawling grounds of the Core Power plant are the equivalent of about 50 football fields -->