Roxy-Pacific Holdings reported 1H2018 revenue of S$83.3 million, a 42% decline from S$143.2 million in 1H2017.

This was mainly due to lower revenue from the property development and property investment business segments.


Roxy Pacific

Stock price:
44.5 c

Adjusted net asset value:
74.45 c
On the bright side, the hotel ownership segment grew 18%, thanks to higher contributions from self-managed hotels, Noku Osaka and Noku Maldives.

Excluding the effects of the fair value gains in both periods, the Group would have reported a 25% increase in profit before tax in 1H2018 of S$13.2 million compared to S$10.6 million a year ago.

Overall, the Group reported a 35% decrease in net profit attributable to equity holders of S$13.4 million in 1H2018, compared to S$20.7 million a year ago.

Roxy-Pacific has accumulated total attributable pre-sale revenue of S$605.0 million, the profits of which will be progressively recognised from 3Q2018 to FY2021. T

he Group expects to be profitable in FY2018.



S$605 m pre-sale revenue yet to be recognised

Project name

Type of development

Units sold

Balance attributable revenue (S$'m)

Singapore

1.

Straits Mansions

Residential

100%

$6.5

2.

The Navian

Residential

85%

$45.6

3.

Harbour View Gardens

Residential

96%

$70.6

4.

120 Grange

Residential

71%

$65.4

Malaysia

5.

Wisma Infinitum - The Colony

Wisma Infinitum - The Luxe

Residential

Residential

68%

35%

$50.5

$22.8

Australia

6.

The Hensley,
Potts Point

Residential
Shop

95%
100%

$69.4
$1.1

7.

Octavia, Killara

Residential

98%

$48.3

8.

West End Glebe, Tower 1 (Foundry)
West End Glebe, Tower 2 (Art House)

Residential

Residential

87%

74%

$142.9

$81.9

Total $605.0
Stock price

44.5 c

52-week range

41 – 55 c

PE (ttm)

26

Market cap

S$582 m

Shares outstanding

1.31 b

Dividend
yield (ttm)

2.0%

1-year return

-5.2%

Source: Bloomberg
The Government recently raised Additional Buyer's Stamp Duty ("ABSD") rates and tightened Loan-to-Value limits to cool the property market and align price increments with economic fundamentals.

Analysts believe that the measures are unlikely to dampen the market psychology severely as the market is still in the nascent stage of recovery and the adjusted property prices may still be affordable to buyers.

Notably, a majority of Roxy-Pacific's buyers are first-timers who are less affected by the cooling measures in terms of ABSD hikes, discounting the slight reduction in borrowing.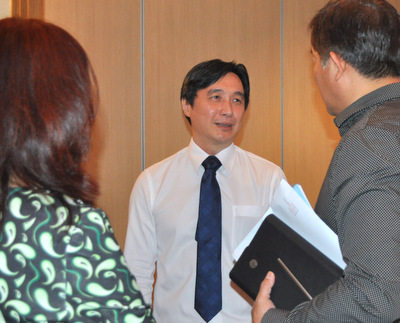 "We've always aimed to be nimble, and our strategies are a testament of this – we've over the years diversified our revenue streams, both geographically and across asset classes. We also have a preference for smaller projects, which allows for quicker execution and adaptability to emerging market conditions. The merit in such a strategy can be seen in our recent launches – Straits Mansions and Harbour View Garden – that are 100% and 96% sold, respectively."
-- Teo Hong Lim (photo),
Executive Chairman and CEO,
Roxy-Pacific.
Following Roxy-Pacific's acquisition of a freehold site at 27 Moulmein Rise in May 2018, it currently has eight development sites, of which five are planned to be launched for sale in FY2018.

"We've replenished our sites relatively early into the cycle, before the en bloc fever, at very reasonable prices. Our track record of successful sales launches in Singapore demonstrates our ability to launch projects that are well-differentiated," said executive chairman Teo Hong Lim.

For the Australian residential sector, the price index for properties for the weighted average of eight capital cities rose 2.0% to the March quarter 2018 on a year-on-year basis. It was a 0.7% decline on a quarter-on-quarter basis.

On a quarter-to-quarter basis, Sydney and Brisbane registered a decline of 0.7% and 0.6% respectively but on a year-on-year basis, they registered a 2.0% and 6.2% growth respectively.

Notwithstanding a slower market, Roxy-Pacific's residential development projects in Australia have been warmly received.

The Hensley and Octavia in Sydney are left with only two units and one unit for sale each, while the West End Glebe project that was launched in two phases is currently overall 80% sold.

Roxy-Pacific plans to redevelop the newly-acquired freehold commercial and retail building, Melbourne House, in Melbourne's central business district into a mixed-use development comprising hotel and retail units.

In the hospitality business, Mr Teo commented, "Our self-managed hospitality brand, Noku Roxy, with operating assets in Kyoto, Osaka and Maldives, continue to perform well and contribute recurring income to the Group as we continuously fine-tune our business model to optimise yields in its niche upscale segment.

"Meanwhile, our flagship hotel in Singapore, Grand Mercure Singapore Roxy, continues to enjoy healthy occupancy. We look forward to the launch of Noku Phuket in 2019."

For more info, see here.