Excerpts from DBS Bank's report


Stock

% of Sales
In US$

% of Cost in US$

Amount of loan in US$

Sensitivity Analysis
% chg in net profit / 10% rise in US$

Riverstone Holdings

80%

35%

n.a. (Net Cash)

+6%

Riverstone Holdings -- Generates a surplus in USD - every 10% depreciation of the MYR vs USD could boost earnings (in MYR terms) by c.15%.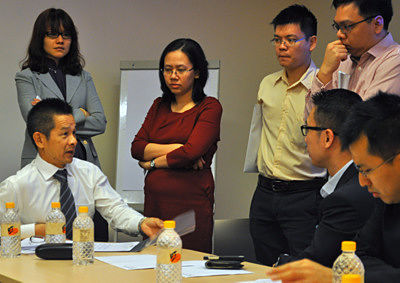 Executive Chairman Wong Teek Son.
NextInsight file photoBulk of revenues are denominated in USD but raw material costs only represent 30% of revenues, on average.

However, we believe that the actual impact might be smaller and closer to 6% as the current competitive landscape among glove manufacturers might entail Riverstone to share more of its forex gains with customers through lower ASPs (in USD terms) in the event of a strong USD rally.


Stock

% of Sales
In US$

% of Cost in US$

Amount of loan in US$

Sensitivity Analysis
% chg in net profit / 10% rise in US$

Yangzijiang
Shipbuilding

80%

50%

US$450m

+20%
Yangzijiang is a beneficiary of stronger USD as bulk of receipts are in USD while reporting currency is in Rmb.


Yangzijiang

Share price:
88 c

Target:
$1.82
Bulk of the net exposure, c.40% of revenue, was unhedged as of end-2017.

Yangzijiang has prudently made a provision of Rmb1.2bn for its outstanding contracts, assuming rate at Rmb6.15/USD and higher steel cost.

Hence, strengthening USD by Rmb0.10 would result in writeback of approximately Rmb300m. We have already assumed higher USD of Rmb6.60 in our earnings forecasts.
Full report here.