Excerpts from Maybank Kim Eng report.
Analyst: John Cheong, CFA

A Soft Start; Outlook Remains Positive.

Temporary drag from forex and higher gas costs
1Q18 core earnings were in line at 22% of our and consensus FY18E. Core earnings fell 6% YoY and gross margin declined 4ppt to 22.3%, mainly due to the weaker USD/MYR, which has fallen around 12% YoY.


Riverstone Holdings

Share price:
$1.00

Target:
$1.22
In addition, there has been a 23% rise in gas input prices. Despite the temporary setback, the outlook remains positive as the FX and extra costs should be able to be passed on to customers.

Phase 5 expansion, which will raise capacity by 18% to 9b gloves pa is on track and should start commissioning in Sep 2018. In addition, customer demand and production utilisation rates remain healthy.

Maintain BUY and TP of SGD1.22, based on 18x FY18E EPS (+1SD to mean due to healthy EPS growth and ROE).


Positive outlook on better USD/MYR and demand.

Stock price

$1.00

52-week range

96 c – $1.19

PE (ttm)

17.6

Market cap

S$741 m

Shares outstanding

741 m

Dividend
yield (ttm)

2.35%

1-year return

-4%

Source: Bloomberg
Management expects 1Q18 to be the weakest quarter this year as the USD/MYR has regained a firmer footing. In addition, customer demand for both cleanroom and healthcare gloves remain healthy.

Several new customers for cleanroom gloves have been secured that operate in the manufacturing of flat panel displays and automotive sensors. As the indicated customer demand remains healthy, especially in Vietnam and China, management expects cleanroom glove volume to meet its growth target for FY18E.

On the other hand, demand for healthcare gloves remains healthy as well, and supply should remain tight due to the government's order to close PVC glove factories in China to prevent air pollution.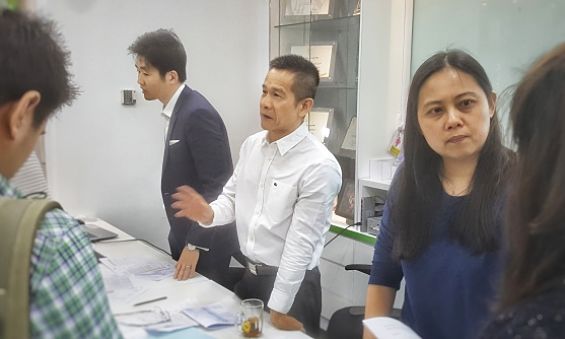 Executive Chairman & CEO Wong Teek Son (centre) speaks with analysts after a briefing. CFO Tan Wang Thing is on the right. NextInsight file photo.

Phase 5 expansion on track.
Phase 5 expansion, which will raise capacity by 18% to 9b gloves pa is on track. The lines should start to be commissioned in Sep 2018.

Management highlighted that the existing customers alone could take up all the new capacity. Beyond this, the phase 6 expansion will add another 16% of new capacity to 10.4b gloves, targeted for completion by FY19.


Watch video of our visit to Riverstone's factory in 2016 -->


Full report here