Time & date: 10 am, 6 April 2018
Venue: Grand Mercure Roxy Hotel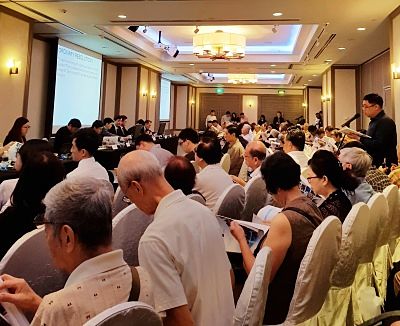 Big turnout: Shareholder Desmond Lin kicks off the Q&A session. NextInsight photo
Part 1 yesterday was: @ ROXY-PACIFIC's AGM: Busy year with S'pore project launches

Here are edited excerpts of selected questions and answers from the AGM.


Q: Which on-going development projects face impairment losses or revaluation losses in the last financial year? I'm asking because on page 128 of the annual report there is an "impairment on investment in associates" of $5.197 million.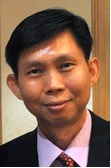 Deputy CEO Koh Seng Geok (photo): None of the projects with pre-sales revenue is subject to impairment. We have an impairment on our investment in a joint venture to develop a Marriott Hotel in Perth.

Perth went through a mining bust over the last few years, and if we were to proceed to complete the hotel, the total development cost would be higher than the market value of the hotel.

We decided that we should freeze the project and at the same time look at options for divesting the land. The impairment was well absorbed because in the same year we recorded $24 million of gain from the sale of our investment property in Goulburn Street.

Q: Roxy-Pacific owns five hotels and a number of investment properties. Has any of these face negative rental reversion or revaluation loss?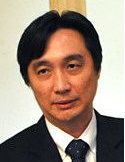 Executive Chairman & CEO Teo Hong Lim (photo): A lot of these properties are quite new and don't face any revaluation losses.

As for Grand Mercure Roxy, we don't mark to market. The land was bought in the 1970s and we hold the hotel at a book value of $80 over million but it is now valued substantially higher.

Our two hotels in Kyoto and Osaka are relatively new acquisitions and the market is relatively stable, so we don't have any valuation drop. For Maldives also we don't face that. Our Phuket hotel is under development.

Our Maldives hotel has a remaining lease of 30 over years but the government has a policy that if you pay US$5 million, you can get another 49 years, so there has never been a concern for most hotel owners.

Q: I look at two financial ratios of Roxy-Pacific, return on assets and return on equity, they have been declining. Can you help me understand why?

Teo Hong Lim: We have to do a comparison against comparable companies in the same industry as well as look at what's happening in the market.

Yes, 10 years ago, margins were better for residential development. In the last four to five years when the government implemented measures to control the residential market, many developers were affected.

But for Roxy, we were not stuck, we didn't pay ABSD, most of our projects closed with a profit. Hopefully, we now can ride the sudden recovery in the market. I think the the margins of yesteryears will be difficult to repeat but we will try our best.

Q: I realise the revenue to be contributed from the overseas market will become a big portion in the future. Can you give comments on the difference between overseas markets and Singapore market? Is the company concentrating again on Singapore or are the overseas markets better?

Teo Hong Lim: A key question is whether we should go on recurring income or just be very focused on lumpy development profits.

A good thing is the accounting treatment for Singapore development profits is based on construction progress. The eight sites we will launch in Singapore can generate about $1 billion in sales revenue and if we can successfully sell them in the next one over year, it will probably be recognized over the next four years.

Lumpy profits will be from the development properties in Australia and overseas. Our experience in Australia covers only four, five years compared to Singapore where we have decades of experience -- we know the contractors, we know the product that buyers want, and so on.

But now that the Singapore residential market is coming back, we should not drop overseas projects. The market is still there but we are tilting towards Singapore again because this is the market we are most familiar with.

But there's not a lot of sites in Singapore for sale -- at acceptable prices. In our strategy, we are still evaluating Australian investment and residential properties. We are evaluating Auckland investment properties also but we don't want to do residential there because of a lack of contractors.

So we continue to evaluate but we have to be financially prudent. We always leave some capital for rainy days.

The Powerpoint presentation materials for the AGM are here.