Recently, we wrote about DISA's anti-theft technology that has wow-ed Walmart, the biggest company (and retailer) in the world by revenue.

An early adopter, Walmart, in early 2017, integrated DISA's solution into the point-of-sale systems in all its 4,500 stores throughout the US.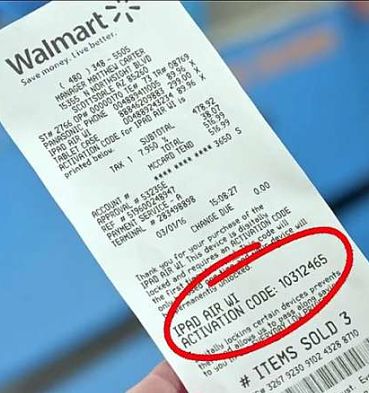 At Walmart's point of sale, after a product is scanned, an activation code is downloaded from DISA's server and printed on the receipt.
Photo: DISA"I went to a Walmart suppliers' event in the US a few months ago. Walmart's introduction was: 'We'd like you to meet DISA, the next big thing in retail,' " recalls Eddie Chng, CEO of DISA, in a meeting with NextInsight.

DISA's solution has a catchy name, POSA, which stands for Point-of-Sale Activation.

When a object is paid for at a point of sale in a retailer, the POS system "talks" to DISA's server which then retrieves an activation code that is unique to that specific gadget.

To get the gadget working, the buyer keys in the code when he powers it up.

(See: DISA: S'pore innovation boosts Walmart's sales, security).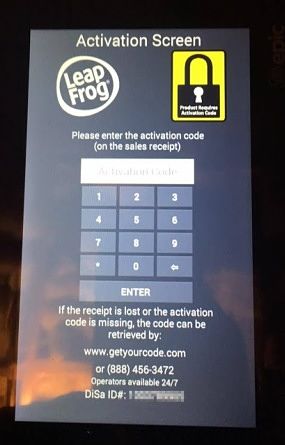 Above: Screen of a LeapFrog electronic gadget sold by Walmart. An activation code is needed for the gadget to work. Photo: InternetDISA's business model: Sell codes -- millions of them, one for each gadget that comes off the production line -- to the product suppliers/brand owners. Each code sells for a few cents.

Walmart has started directing, in batches, its suppliers to digitally lock their products with DISA's solution at the point of manufacture.

The revenue has trickled in .... a small stream still (going by DISA's result for the quarter ended Sept 2017) ... which could rapidly become a flood of cash profit and then there's no turning back.

Other big-name retailers in the US have obviously taken notice, and DISA "is actively following up with interested US retailers on their adoption of the award winning PoSA technology," said DISA in its 1QFY18 results announcement.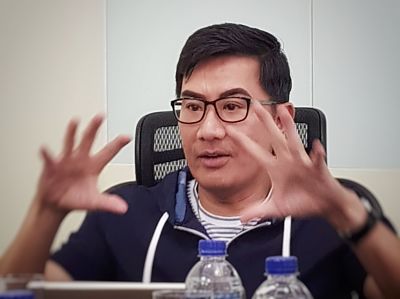 "Our business is unique and very scalable -- we don't have inventory, we don't have cost of goods sold. We are a platform, suppliers come to our portals to download codes and pay for them. The incremental cost for us to scale up our business is minimal.

"What we are doing for the retail industry has never been done before. Our solution helps retailers to reduce return fraud, reduce shrink, and more importantly we help them to sell more."



-- Eddie Chng,




CEO, DISA.
An extension of POSA is "serialisation" -- which has a far wider application and potentially can bring in revenue for DISA that is many multiples of POSA's contribution.

It labels products with bar codes carrying unique serial numbers after the normal UPC (unique product code) commonly stuck on products.

To appreciate the significant relevance of "serialisation" in US retail, one needs to understand what "return fraud" is, something that is practically non-existent in our experience.

At many US retailers, the friendly customer policy is to accept the return of goods by customers, even without proof of receipt. That has emboldened fraudsters to steal products off the shelf, walk to the return counter and claim a refund.


Stock price

1.5 c

52-week range

1.1 – 3.7 c

PE (ttm)

--

Market cap

S$151 m

Shares outstanding

10 b

Dividend
yield (ttm)

--

1-year return

-38%

Source: Bloomberg
Retailers try to counter such fraud by taking down the personal particulars of the customer and checking to see if he has any record of similar claims for refund. Individuals are allowed a certain frequency of such claims.

"Return fraud" is a major problem, contributing to the US$3 billion a year that Walmart has said (see Forbes article) it has lost to employee theft, shoplifting and return fraud.


This is how DISA helps reduces the problem:
1. Supplier of products accesses a DISA online portal to download unique serial codes.
2. At the point of manufacturing products, supplier prints out bar codes and sticks them to the products.
3. When a customer returns an item at Walmart, it will be scanned, prompting DISA's server to indicate if the product has even been sold in the first place.

At Walmart alone, there are billions of products that can be so labelled in a year. Herein lies the deep revenue potential waiting for DISA.

Beyond saving money, Walmart (and other retailers who adopt DISA's technology) ...

♦ ... saves on countless manhours.

If you go to a Walmart store, you can see returned items piling up in trolleys behind the return counters. These items have to be sorted and, likely, returned to their suppliers (ie, they are not put back on the shelf if they are said to be defective or undesirable in some way.)

♦ ... preserves the integrity of its inventory system.

When "return fraud" happens, an item is stolen and returned to Walmart and then returned to the supplier. All this time, the inventory system indicates that it is still sitting on the shelf.

A dramatic reduction in return fraud, shoplifting and employee theft appears to be inevitable at Walmart as more of its suppliers get the DISA solution.

Then a small fry of a company in Singapore will live up to its billing as "the next big thing in retail".