UOB KAYHIAN

OCBC

SATS (SATS SP)

Key Takeaways From Luncheon

We hosted a luncheon for clients and came away impressed with SATS' long-term plans. The bulk of clients' queries centered on the rationale behind the formation of a JV with AirAsia in Malaysia and prospects for growth via the partnership with Turkish Airways. Clients were also concerned as to whether the new investments could dilute returns. However, SATS maintained that future growth will be underpinned by JVs and associates. Maintain BUY and target price of S$6.00.

Singapore REITs: Improving fundamentals but valuations stretched

All the 24 S-REITs under our coverage reported 3QCY17 results which met our expectations. Looking ahead, although we see a mild 0.8% dip (simple average) in DPU for the current financial year for our coverage list, we are projecting a 2.8% DPU growth for the next financial year period. Delving into the various sub-sector outlooks, we believe the office sector is poised to see the strongest recovery in rents. Nevertheless, we believe these positives have been priced in by the market. Despite improving fundamentals, we are cautious on the S-REIT sector's valuations, which appear stretched, in our view. However, we believe selective opportunities remain. We retain Frasers Centrepoint Trust [BUY; FV: S$2.40] and Frasers Logistics & Industrial Trust [BUY; FV: S$1.25] as our top picks for 2018. We remove Keppel DC REIT [BUY; FV: S$1.50] on valuation grounds and close our tactical idea on OUE Hospitality Trust. Finally, we add Mapletree Greater China Commercial Trust [BUY; FV: S$1.28] and Mapletree Logistics Trust [BUY; FV: S$1.35] as our third and fourth preferred picks, respectively. Overall, we maintain NEUTRAL on the S-REITs sector.

RHB

MAYBANK

APAC Realty

The Dawn Of a New ERA


We initiate on APAC Realty – a holistic real estate services provider focused mainly in Singapore – with a BUY and a DCF-derived SGD1.20 TP (36% upside), implying 15x FY18F P/E. Its brokerage service, operating under the ERA brand, is a residential segment market leader in Singapore (37.5% market share in 2016). We believe APAC Realty offers the best proxy for investors looking to tap into the surging residential volumes in Singapore, as earnings are predominantly volume-driven. We forecast a 14% increase in FY18F net profit after a 54% surge in 2017, on the back of the residential boom. The stock also offers an attractive dividend yield of 4.4% (FY18) and its net cash position provides room for inorganic growth.

Singapore Medical Group (SMG SP)

Gaining market share and growing overseas

Gains in Singapore, Vietnam, and Indonesia We hosted SMG's CEO, Dr Beng in a NDR. Key takeaways: 1) SMG targets further gains in market share and the consolidation of five key specialties in Singapore, including obstetrics & gynaecology (O&G), oncology, health screening, paediatrics and aesthetics; and 2) overseas markets have shown good progress, with Vietnam achieving a larger scale than Singapore in terms of the no. of doctors. Indonesia is also showing healthy progress and has broken even recently. Maintain BUY and TP of SGD0.78 based on 27x FY18E EPS (average of 2-year forward mean of small-cap healthcare peers in Singapore).

DBS VICKERS

Manulife US Real Estate Inv

Ticking the right boxes

REIT that delivers.

We maintain our BUY call with a revised TP of US$0.99. Hallmarks of a successful REIT include a management team delivering on their promises and properties which it owns having strong fundamentals. Since MUST's listing 1.5 years ago, MUST has delivered with DPU exceeding IPO forecasts, property values increasing by 10% and the ability to identify DPUaccretive acquisitions. Post our recent visit to MUST's properties in Atlanta, Los Angeles, New Jersey and Orange County, as well as meetings with various property brokers, we believe MUST continues to be an attractive investment as its original investment thesis of rising rents and prospects of improving capital values remain intact.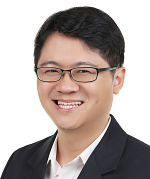 Check out our compilation of Target Prices