Nordic Group's orderbook reached a record high just over a month ago, as we reported (NORDIC GROUP: 1Q profit up 21%, orderbook at record high).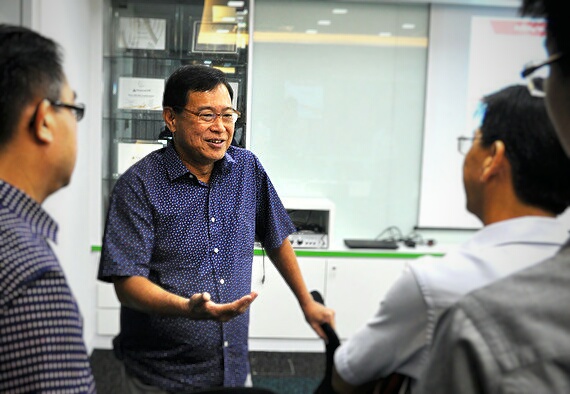 Chang Yeh Hong, chairman of Nordic Group, with investors.
NextInsight file photo.Yesterday, Nordic said it had secured $9.6 million worth of new contracts with new and repeat customers – comprising multinational companies and companies in the marine, oil & gas, infrastructure and petrochemical industries.

This quantity looks significant.

Nordic didn't say what its updated orderbook is but just over a month ago, it stood at about $74 million, which is roughly 2x the ongoing orderbook of Nordic in past years.


Stock price

38 c

52-week range

20.5 - 41 c

Market cap

$149 m

Price-earnings ratio (ttm)

11 x

Year-to-date return

52%

Dividend yield

3.3%

Source: Bloomberg
This $74 million figure doesn't include maintenance contracts as they are contracted at unit rates and do not have an upfront contract value.

Briefly, the latest bunch of contracts secured by its subsidiaries are:

1. Austin Energy (Asia) secured a maintenance contract from a new customer of approximately S$0.8 million for insulation works.

2. Multiheight Scaffolding secured ad-hoc projects with repeat customers of approximately S$1.2 million.

3. Nordic Flow Control and Avitools Suzhou secured capital projects of approximately S$3.0 million with repeat customers for the supply of valve remote control and tank gauging systems and machining and mechanical assembly.

4. Ensure Engineering secured maintenance contracts from repeat customers of approximately S$4.6 million. One contract is for provision of logistics services for the management of aircraft spare parts, components and tools. The other contract is for supply of activated carbon.

The above contracts are not expected to have material impact on the consolidated net tangible assets per share and earnings per share of Nordic for the current financial year.

Details in press release.