Singapore-listed GSS Energy stock rose as much as 0.4 cents today before weakness among small-caps caused it to close unchanged at 16.3 cents.

Heavy volume traded: 6.9 million shares.


GSS Energy

16.3 cents

52-week range

4.2-19.8 c

Market cap

S$81 m

PE (ttm)

7.3

Dividend yield

-

1-year return

167%

Source: Bloomberg
The initial stock strength likely derived from a report in the Jakarta Post on Saturday that its JV would start drilling for oil in August.

This development is the biggest milestone since Nov 2016 when a 15-year contract was awarded to PT Sarana GSS Trembul, the JV, by Pertamina (see our recent story: GSS ENERGY: New oil field contract is "low-hanging fruit").

The striking thing about this venture -- in which GSS has an 89% economic interest -- is the cost of production being in the low teens, which means it is set to be highly profitable.

Furthermore, this is a KSO scheme whereby revenue from the guaranteed oil sale to Pertamina will first be used to pay for the cost of production.


The following are excerpts from the Jakarta Post report which came out on Saturday:


PT Sarana GSS Trembul will start drilling activities at two oil wells in Trembul in August.

The firm is carrying out drill site preparation as a part of rig installation process and hopes to begin production at two wells in September.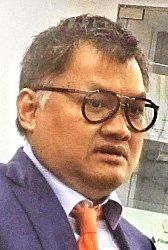 Suyulianto Badung Tariono. NextInsight photo"We will implement a three-year program worth of US$7.6 million," GSS Energy executive director Suyulianto Badung Tariono said in Blora on Friday. "The fund will be used to drill four wells and seismic acquisition activities."

Trembul Operation Area has 24 wells in total that were initially explored by Nederlandsche Koloniale Petroleum Mij (NKPM), a subsidiary of Standard Oil Company of New Jersey, now ExxonMobil, in 1917.

The area has approximately 40.1 million barrels of oil reserve, but NKPM only drilled out around 307,000 barrels.