| | | |
| --- | --- | --- |
| RM'm | 3QFY17 | 9MFY17 |
| Revenue | 74.6 | 120.3 |
| Gross profit | 55.1 | 92.6 |
| Gross profit margin | 73.8 | 77.0 |
| Net profit | 38.4 | 62.3 |
| Net profit margin | 51.5% | 51.8% |
Rarely do businesses enjoy 50% net margins. And property development is rarely among this rare breed of businesses.

No longer. Capital World has just reported 51% or so net margins for both its 3QFY17 and 9MFY17 results (see table).

Capital World, which listed on Catalist on 5 May 2017 following a reverse takeover of Terratech Resources, is a young company with a capital-light approach to property development.

FY2015 was its first year of profitability after its maiden (and massive) project in Johor was launched for sale in 2014.

Revenue has been rising since, and is booked according to the percentage-of-completion method.

The business model of this Malaysian-based developer has a clear positive: There are no borrowings to pay for landbank. (It has only RM96,000 borrowings and this is for vehicle hire purchase).

Without financing cost, which typically is heavy, a project can be hugely profitable from launch, as Capital World shows.


Details:



1. Instead of paying outright for land -- which developers usually do through their cash reserves and through bank borrowings -- Capital World seeks to enter into joint ventures with landowners. Only a small initial payment is made to the landowner.



2. Upfront, the total land cost and payment period are agreed upon between buyer and seller.

Capital World pays the land owner progressively, using an agreed percentage of the proceeds from development units sold. (There is no fixed formula and terms vary from project to project).



3. Capital World uses the balance proceeds as working capital to pay for construction, etc.

Capital World currently has a single -- but massive -- project called Capital City in Johor. The landowner is a Bursa Malaysia-listed company, Gadang Holdings.

Capital City is an integrated development: Its retail mall is expected to open in early 2018 while its hotel, in 2019, followed by its serviced suites and apartments in 2020.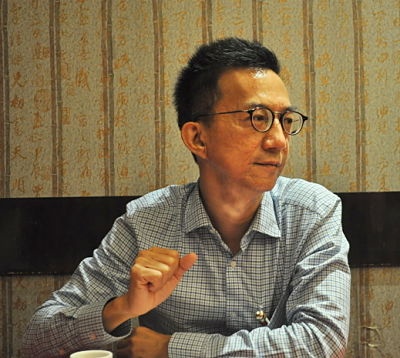 Siow Chien Fu, CEO of Capital World.
NextInsight file photo.At 209,216 sq m, the gross floor area is one and a half times bigger than VivoCity in Singapore.

Capital World has unbilled revenue of RM186 million.

Recently, it secured two new development projects in Malaysia -- namely in Austin, Johor, and in Sitiawan, Perak. Both projects are also on a joint venture basis with the landowners.


Stock price

13.0 c

52-week range

12.8 – 24.0 c

PE (ttm)

--

Market cap

S$165 m

Shares outstanding

1.27 billion

Dividend
yield (ttm)

--

Year-to-date return

- 24%

Source: Bloomberg
Preparations for the initial stages of development of the projects have started.

Given its capital-light business model, which is attractive to landowners who currently find it hard to find buyers able to pay 100% of the land cost upfront, Capital World is seeking to scale up by forming more JVs with landowners in Malaysia.

As more JVs are secured and sales start, the financial figures of Capital World could become even more sparkling.

For the 3QFY2017 presentation slides, click here.

See also: Siow Chien Fu: Ready to list property development business through RTO