Following AusGroup's turnaround in 2QFY2017, the natural resources infrastructure services provider has kept up its earnings momentum. It widened its 3QFY2017 net profit to A$3.3 million quarter-on-quarter. Net margin expanded by 2.1 percentage points to 3.1%.


| | | |
| --- | --- | --- |
| AusGroup | 31 March 2017 | +/- since FY2016 |
| Net debt | A$170.6m | -12.7% |
| Cash reserves | A$27.9m | 26.1% |
| Order book | A$286.3m | 19.4% |
This is great improvement compared with the much smaller net profit of A$1.1 million in the previous quarter in 2QFY2017. It had incurred a net loss of A$24.2 million a year ago in 3QFY2016.


Its stock price has surged by about 20% over the past 3 weeks from a recent low of 4.7 cents on 24 April to 5.6 cents on 15 May.

Results from management restructure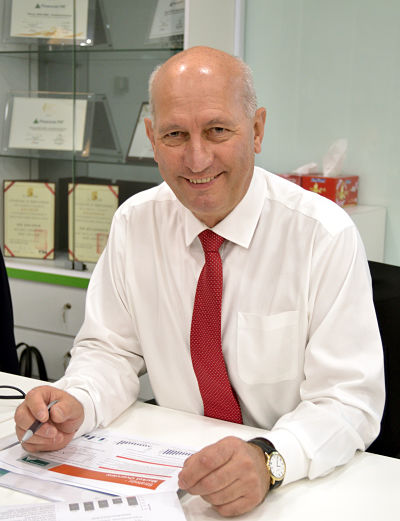 "We rationalized the parts that were profitable and discontinued those that did not show promise for profitability over the short to medium term."

- Simon High
CEO
AusGroup
(Photo by Sim Kih)
"Over the past year, we spent a lot of time simplifying the company," said AusGroup CEO Simon High at the Group's results briefing on Monday (15 May).

"We rationalized the parts that were profitable and discontinued those that did not show promise for profitability over the short to medium term," he said.

Mr High was formerly the Managing Director and CEO of ASX-listed Southern Cross Electrical Engineering.

He has over 40 years' experience in many aspects of the oil & gas, mining & industrial and infrastructure industries globally.

During this time, he established a track record in organizational turnaround, development of high-performance teams, and operating in depressed and highly competitive economic environments.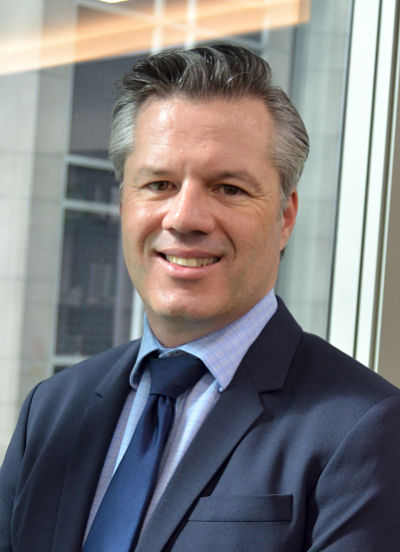 Christian Johnstone joined AusGroup on 1 August 2016 as its Chief Financial Officer. (Photo by Sim Kih)Mr High was appointed as the CEO of AusGroup's Engineering Services business unit in January 2016, when the Group was most affected by the global tightening in capital spending on oil and gas related activities.

In February 2016, the Group posted a 2QFY2016 net loss attributable to shareholders of A$69.4 million. Following his appointment, the Group restructured by shifting its focus to maintenance services.

At the meeting on Monday, Mr High provided insights into AusGroup's business and strategy post-restructuring.


♦ 3 main business segments
AGC Industries focuses on maintenance of infrastructure, as well as construction and manufacturing.

AGC targets the LNG market, which has characteristics which are quite different from the oil & gas market. The LNG market has long-term LNG sales contracts with operational plants which have long (over 40 years) lives. On the other hand, the oil & gas market is a spot market. Much of AGC's business has to do with painting, insulation, and maintenance - in particular, cryogenic insulation for LNG clients.


MAS provides scaffolding and rope access. This has been a very profitable part of AusGroup's business over the past 4 to 5 years. It is now expanding into the provision of deck crew and crane operations.


NT Port and Marine used to be Ezion Offshore Holdings. It owns Port Melville, a fully regulated and operational port, primarily used for cargo operations and fuel distribution.

It has the potential to be developed into a logistical hub for the LNG industry in addition to its current activities. It is currently used mainly for the export of woodchips to Japan.

The business is predominantly located in Northern Territories, Australia. Rebranding it as a local Northern Territory business projects an image that is much more attractive to the Northern Territory government than the image of a business that is controlled from overseas.

Its ports and marine services business is still loss making.

The management plans to continue to stabilize the company this year. This includes right-sizing its management and cost structure, reducing operational complexity, selling off non-core assets, and improving cash flow so that it can pay down debt.


Stock price

5.6c

52-week range

3.5c - 10.7c

Market cap

S$41.5m

PE

-

Source: Bloomberg / Company
"Over the last 18 months, we have significantly reduced our overheads from 15% of revenue to 6%. We had too many senior management members, silos, and duplications that were not focused on the core business," said Mr High.

3QFY2017 operating expenses, including administrative, marketing, and other costs, came down by 40.6% year-on-year to A$7.9 million.

"At the same time, we made sure our ability to operate hasn't been jeopardised," he said.

"We are a much more efficient company now.

"Port Melville is a good facility, with a good operating track record, good people, and is well-maintained. As it is not a core business now, we may sell it if there is a good offer.

"Historically, we have focused on the mining industry for iron ore and coal. LNG is the most dominant part of our business now," said Mr High.

For more info on its 3QFY2017 financial results, click here.