Excerpts from Phillip Securities Research report

Analyst: Soh Lin Sin


Key Takeaways (from visit to company in Israel)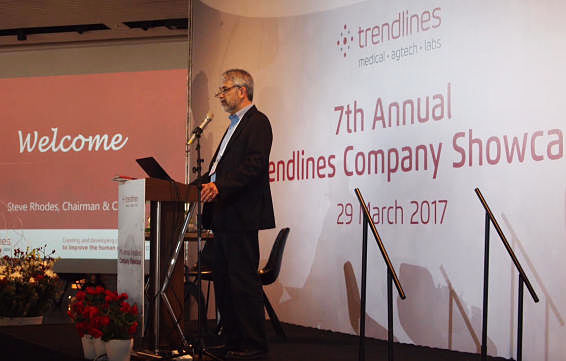 Steve Rhodes, Co-Chairman of Trendlines Group.
Photo by Soh Lin Sin * Two portfolio companies will enter into revenue stage by end-2017 and two more by 2018. Portfolio values of these companies may increase as they meet certain developmental milestones in 2017/18. As at 31 December 2016, the Group has completed six exits, and taken two companies public; while 16 out of 46 of its portfolio companies are in revenue stage.


atTerm Medical is developing the OBSPRING, a novel device that is positioned around the uterine cervix and behaves like a shock absorber. It allows transient shortening and dilation of the cervix during contractions while restoring the cervix to its initial state when contractions subside.
* atTerm Technologies, one of the technologies developed by Trendlines Labs, is estimated to have more than US$2 billion market potential in developed countries alone. However, the technology accounts for zero value in Trendlines' total portfolio value as they are developed in-house. Successful realization in investment would boost the Group's revenue.

* Continuous effort to expand portfolio value:
(i) add more than 30 companies to its portfolio over the next three years;
(ii) provide support to accelerate the development of the portfolio companies;
(iii) explore opportunities to expand into new markets, in particular Singapore, China and German; and
(iv) grow Trendlines Labs to increase royalties' income which will provide steady income streams to smoothen out the lumpy revenues arising from the volatile portfolio values.


Price to Portfolio*

Allied Minds (LSE: ALM)

1.20

Touchstone Innovations (AIM:IVO)

1.54

IP Group (LSE: IPO)

1.57

PureTech Health (LSE:PRTC)

1.17

Average Price to Portfolio

1.37

Trendlines Price to Portfolio


0.65

*Based on market cap on 4 April 2017, divided by last available Portfolio Value
Peer Group as identified in DBS Vickers report of 11 Feb 2016
* Undemanding valuation. Trendlines' Price-to-Portfolio Value and Price-to-Net Asset Value are trading at c.53% discount to its peers (see table)

Potential catalyst: Exit from portfolio companies

Risks
* Risk of facing cash flow problem. Realization of investment in its portfolio companies is unpredictable and volatile, and there is no assurance as to the occurrence of timing of actual exits or realizations to meet its cash needs.

* Difficult to value individual portfolio companies accurately. Main source of earnings is derived from net realized/unrealized gain in the value of its portfolio companies, which is unpredictable and volatile.

* Subject to inherent risks associated with investing in early-stage, high-risk technology companies.

* Regulatory changes, which could have adverse impact on operations, licensing and government loans and grants.

*Exchange rate risk. Functional and reporting currency is US$, but a significant portion of its operating expenses are in NIS (principally, facilities lease expenses, salaries and related personnel expenses).

Full Phillip Securities Research report here.