Real estate group CWG International's recently-released 2016 annual report carries a 4-page Q&A with its CFO and executive director, Chua Hwee Song. Excerpts:

The Company has delivered a set of strong financial results for FY2016, what kind of growth are we looking at for FY2017 and beyond?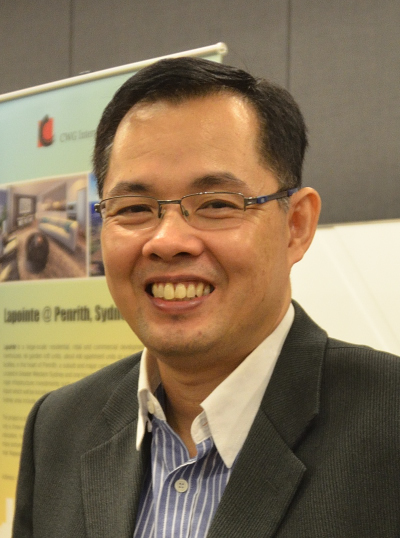 "In the longer term, we have set an internal target of annual earnings growth of 30-50% over the next few years. This will mainly be driven by our business within China, to achieve presales receipts of RMB40.0 billion by 2021. We believe that CWG is poised to be a strong growth company."



-- Chua Hwee Song,
Executive director & CFO
(NextInsight file photo)
The Group also achieved healthy pre-sales of RMB4.6 billion for our ongoing projects in China and Australia. Pre-sales GFA for the Group's China projects increased 15.0% yoy to approximately 435,119 sqm in FY2016 with an aggregate consideration of RMB4.3 billion. This was achieved despite the cooling measures imposed by local governments throughout China in Q42016. Our Australia projects were also pre-sold with a total aggregate consideration of AUD60.0 million (RMB300.0 million) in FY2016.

Going forward into 2017, we will focus on two key strategies which include: i) Scaling within China; and ii) Expanding the fund management business beyond China. In China, we remain focused to scale up and tap into cities that are still growing. We are positive about the prospects in these growth cities and are targeting to achieve RMB10.0 billion in advanced receipts in 2017. With respect to our fund management business, we intend to expand its activities beyond China which will allow us to more effectively grow beyond our property development business.


The Company's earnings are lumpy, how is the Company intending to address this?

We plan to establish an investment property holding arm which generates recurring income streams from both management fees and property rental to provide earnings stability to the Group.

To date, we have achieved good progress in the expansion of our fund management platform. Our fund management subsidiary, Richmont Capital, has successfully launched a total of eight funds, with a total fund size in excess of USD100.0 million, with the proceeds of four of these funds going to support our international expansion.

In 2017, we will continue to expand and scale our fund management business beyond China, and transform our property development business into a fee-based business by capitalising on external funds for our property development projects, particularly in the international markets.

In the educational asset class, we are also making good progress. We believe that our expertise in the education sector, where we have a strong track record of building education campuses and international schools in China, will provide us with a competitive advantage. We are currently reorganising our educational assets across the broader group into a single platform so that we can invite investments to scale up further. We hope to complete this within FY2017, subject to regulatory approvals.


For 5 other topics covered in the interview with the CFO, check out the CWG 2016

annual report

:
• Your gross profit margin has improved to 19.2% for FY2016, why is this so? What kind of margins can we expect going forward?
•

What are your views on the Group's relatively high gearing ratio? Is this any cause for concern and would we be expecting this to get even higher in view of the Group's aggressive expansion strategy?
•

The Company acquired five new land parcels in Hubei and Jiangsu, what is the outlook of the real estate market there and what is the Company's strategy for land acquisition?
•

Which are the projects that are up for launch and delivery in 2017?
•

Can you tell us more on your internationalisation strategy and who will be driving this?