For a long stretch of time in Craft Print's 40-year existence, its factory at 9, Joo Koon Circle was bustling with the printing, binding and packing of books, magazines and the like.

But last week, when a bunch of investors dropped by, the vast 102,000 sq ft grounds was empty and forlorn. The printing machinery were all gone, the factory was dimly-lit, and it was a surprise to know that even a handful of finance staff were working on the second floor of the admininstration building.

They must be hoping earnestly that they could move out soon to somewhere like the CBD, close to financial institutions which they deal with day in, day out in connection with the company's trading business.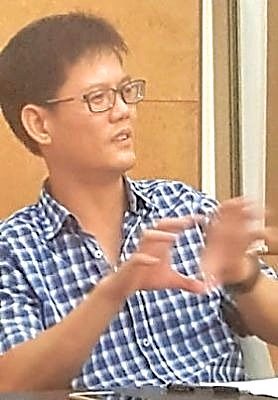 Sam Kok Yin, MD of Abundance International: Was a corporate lawyer in Singapore before turning investor and running companies. From Feb 2011 to Dec 2011, he was the Deputy Chairman and CEO of Sun East Group (renamed CEFC International), a Singapore listco. He has also acted as an independent director of several listcos.
Photo by Leong Chan TeikThat in fact is the plan, as we learnt from the MD, Sam Kok Yin.

Craft Print has been consigned to history after its printing business -- which has bled red ink for at least the past five years -- was drastically scaled down in 2016.

The new business the listco has moved into is chemical trading out of China, starting Jan 2016.

And, of course, new controlling shareholders are driving the renamed listco, Abundance International.

Mr Sam, who has a total direct and deemed stake of 16.4% in Abundance, says the factory, which is fully paid up, was recently put up for sale. Its book value is $20 million versus a market cap of $47 million of the listco.

His stake and that of two other new substantial shareholders were built up through a series of corporate actions (for more, see: ABUNDANCE INT'L: New chemical business to give new lease of life?)


Total
Interest

Percentage

Directors

Shi Jiangang (exec chairman)

238.4 m

37.09%

Sam Kok Yin (MD)

105.4 m

16.40%

Substantial Shareholder

Jiang Hao (GM, Orient-Salt Chemicals)

117.6 m

18.30%
The trio not only control 72% of the company in aggregate but hold 79% of the 642.8 million outstanding warrants which can be converted into shares only in Jan 2021.

Meanwhile, the company is scaling up its chemical trading business which is carried out through Orient-Salt Chemicals (OSC), initially a JV company but it was fully acquired last year by Abundance.

OSC is run out of Shanghai with a staff of nearly 40 headed by a substantial shareholder, Mr Jiang Hao, who sold his 49% stake in OSC in exchange for a stake in Abundance.


• Insights into chemical trading business
Several takeaways from a discussion with Sam Kok Yin:


1. The executive chairman of Abundance is

Shi Jiangang

, who controls Jiangsu Feixiang Chemical Group which owns a number of chemical manufacturing plants, including one of the largest ethanol-producing plants in China and in the world.

Page 9 of a Craft Print circular in 2014 said that Mr Shi built up another company by the name of Feixiang Chemicals (Zhangjiagang) Co. Ltd, a leading manufacturer of amines and surfactants, and sold it to Rhodia in or around 2010 at an imputed enterprise value of US$489 million.

Mr Shi also incubated other chemical businesses that became sizeable. For example, polyamide producer Hipro Polymers and sebacic acid leader Casda Biomaterials grew rapidly. In or around 2011, both companies were sold to Arkema at an imputed enterprise value of US$365 million.


The OSC Group (a wholly-owned subsidiary of Abundance) achieved revenue of US$109 million and a profit after tax of US$700,000 in 2016.

Revenue of the OSC Group for FY2017 is expected to be higher as compared to FY2016 due to:

- full year contribution from OSC Shanghai;
- the availability of trade facilities; and
- the completion of the Compliance Placement and Rights Issue, which significantly improved the Company's cash flow position and allowed it to give financial support to the OSC Group as and when deemed necessary.

-- Abundance press release
(28 Feb 2017)
2. Chemical trading -- the core business of Abundance -- yields low gross margins, especially in back-to-back transactions but these are of very low risk.

Sometimes, to earn better margins when the price trend appears in its favour, Abundance would keep stock for a few weeks before selling at, hopefully, higher prices.

3. Abundance buys in bulk from large suppliers such as Mitsubishi and Sumitomo and sells to clients such as state-owned enterprises in China, and vice-versa.

4. Last year was a challenging one: Abundance had incorporated a company to do trading but without an audited financial report, bank credit lines were hard to come by. Abundance turned to its paid-up capital and borrowed from substantial shareholders.

In Sept 2016, a bank granted a trade line of up to S$14 m (but required the factory to be put up as collateral). Now that it has a full financial year of operations, several banks have signalled their interest to explore extending trade lines to OSC.

Abundance has the potential to do more business and achieve higher revenue with larger credit lines.

5. In future, Abundance may go into the trading of specialty chemicals (lower volume, higher profit margins) as well as go upstream into chemical manufacturing.