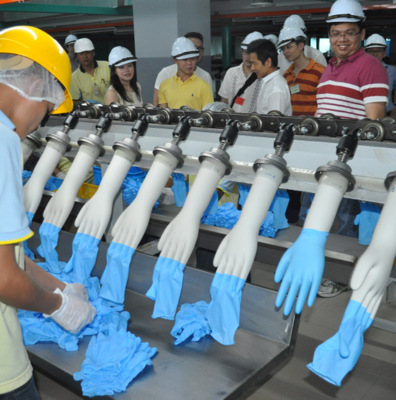 Riverstone's revenue has risen as its production capacity increased. Above: glove stripping line. (NextInsight file photo) Riverstone Holdings has posted a FY2016 revenue growth of 16.9% year-on-year to RM 654.9 million, helped by demand from its new markets (the U.S. and Japan), as well as by its addition of production capacity by a billion pieces of gloves last year.

The leading manufacturer of cleanroom and healthcare gloves is adding capacity for another billion gloves this year, which will bring its capacity to 7.2 billion gloves by year-end.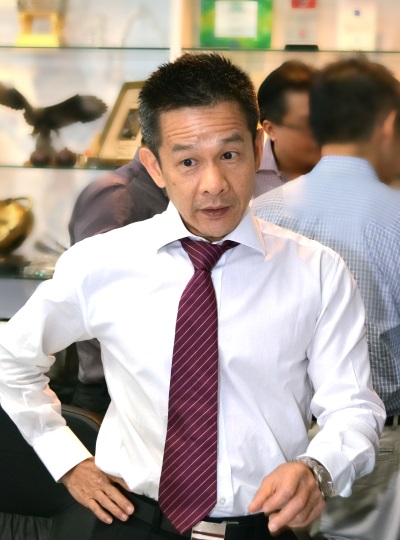 "The hike in raw material prices resulted in an industry-wide increase in glove prices. This actually helped us to gain market share because our gloves are recognized to be of higher quality."


- Wong Teek Son
Executive Chairman
(NextInsight file photo)
Challenged by hikes in raw material prices, an increase in overall production costs, and competition from other glove manufacturers, the Group's FY2016 net profit attributable to shareholders slipped by 4.9% year-on-year to RM 120.4 million.

The Group has proposed a final dividend of 1.65 SGD cts (5.19 sen), amounting to a total dividend of 2.06 SGD cts (6.49 sen) for FY2016.

FY2015 dividends amounted to 2.05 SGD cts (6.45 sen) per share.

In view of its upcoming capital expenditure requirements, and in line with its internal guideline, Riverstone aims to have a dividend payout policy of about 40%.

Highlights for FY2016:
Gross profit margin declined to 26.4% (FY2015: 31.2%).
Strong positive operating cash flow of RM119.0 million.
Strong net cash position of RM103.2 million.
Capacity expansion for phase 4 on track for completion by year-end.
For more information, refer to its FY2016 results media release here.

Below is an excerpt of the questions raised at the Group's results briefing on Thursday (23 February), and the replies provided by Executive Chairman Wong Teek Son and CFO Tan Wang Thing.


Q: Why is your final dividend lower versus last year?

Ms Tan: The FY2016 dividend payout ratio becomes 38.4% when it is calculated using EPS which is affected by the weighted average number of shares outstanding in 2016. Our share capital increased in February 2016 when we had a 1:1 bonus share issue. The payout ratio is 40% when it is calculated using net profit divided by revenue.


Stock price

91c

52-week range

82.5c - S$1.03

Market cap

S$670.7 million

PE (ttm)

16.8 x

Dividend yield

2.39%

Source: SGX StockFacts
Q: Do you have plans to raise your payout ratio?

Mr Wong: Changes to the payout ratio will depend on our needs. We currently have high capital expenditure needs.


Q: How much was the increase in raw material prices between 1Q2016 and 4Q2016?

Mr Wong: The hike was about 50%. This was mitigated by currency gains. The USD recently strengthened from less than RM 4.20 to over RM 4.40.

During the previous hike in prices of raw materials in 2011 to 2012, our cost rose from RM 3,000 to RM 3,200 per ton. The price level of raw materials at that time was generally higher because there were fewer suppliers. There are more suppliers for synthetic latex now and this has led to more competitive pricing.

The current price hike is partly due to a shutdown by some latex plants for maintenance.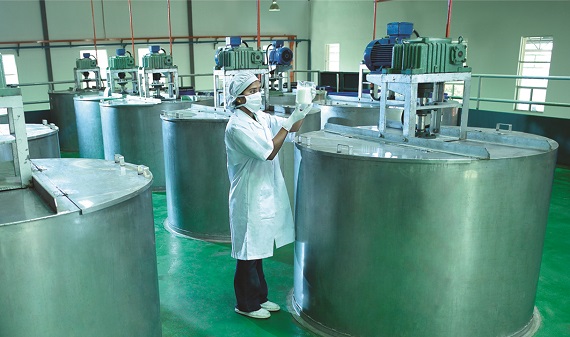 Compounding of raw materials at Riverstone's factory.
(Photo: Company)

Q: Do you have a production target for cleanroom gloves?

Mr Wong: Our target is to increase production of cleanroom gloves by 10% per annum. We expect the additional demand to come from market growth.

Q: Where is your current R&D focus?

Mr Wong: We are focusing on halogen-free cleanroom gloves used in the manufacturing of mobile tablets. Its special properties include being free from halogen derived chemicals and resistance to corrosive chemicals. Such gloves are already in the market. It is a big market. We are improving on the existing prototypes.

We need to constantly roll out new products to maintain our gross profit margin. Selling the same product range over time leads to margin erosion.

Watch video of our visit to Riverstone's new factory -->