We are very blessed that in this downturn of the oil & gas business, we have the precision engineering side. Look at the numbers -- it's a blessing, right?"
--

Sydney Yeung, CEO of GSS Energy

.
(Photo by Leong Chan Teik)
GSS ENERGY, depending on your expectations, could be considered a reasonably, or under priced stock that comes with a "free option".

GSS Energy has two business segments -- precision engineering (which is doing fine) and oil and gas (which suffered a sharp setback in 2015 (see previous report) and contributed no revenue in 1H2016.

At the current price level of 6 cents, the stock is arguably reflecting just the valuation of its precision engineering business -- rather cheaply.

It accords no value to the oil and gas segment as it has yet to find a new lease of life. And when it does, the stock could enjoy a strong re-rating.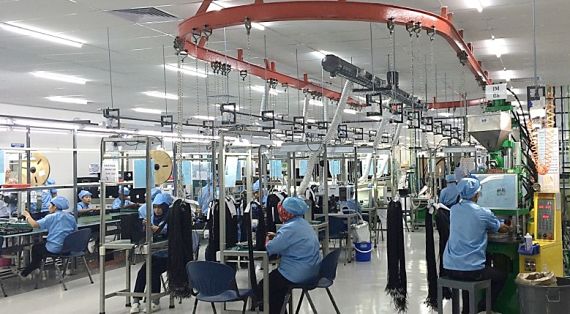 PCBA (printed circuit board assembly) line in GSS Energy's factory in Batam. Photo: Company
A quick run-through of GSS Energy's recent financial results: GSS Energy reported total revenue of S$35.2 million for 1H2016, which was entirely from the precision engineering business.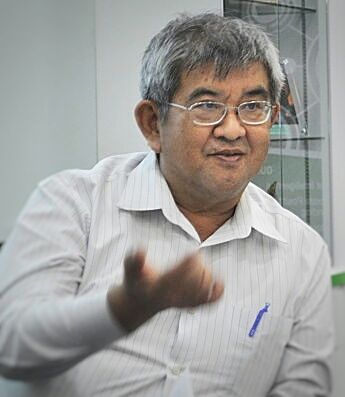 Ng Say Tiong, CFO of GSS Energy.
Photo by Leong Chan TeikRevenue from the precision engineering business -- which produces a wide range of products and parts for mainly the consumer MNCs -- increased about 17.7% from S$29.9 million in 1H2015. The increase is attributable to larger orders placed by existing customers.

The precision engineering segment's net profit amounted to S$6.95 million in 1H16 versus S$3.11 million in 1H15.

The Group's 1H16 net profit was S$6.95 million, compared to a S$20.6 million net loss in 1H15 due mainly to an impairment loss on its oil & gas business.

This time, GSS benefitted from "other income gain" of S$3.3 million (pre-tax) from the Changzhou Government State Land Office, being the second tranche of compensation under a land acquisition agreement.

GSS Energy

5.8 cents

52-week range

4.2-12.6 cents

Market cap

S$28.8 million

PE (ttm)

3.2

Dividend yield

-

Net asset value

6.9 cents/share

Source: Bloomberg, Company
(On the oil & gas side, there was an accounting gain of S$3.2 million from the disposal of subsidiary Cepu Sakti Energy).

Assuming the precision engineering segment delivers profit similar to last year's S$7.6 million, GSS Energy thus trades at about 4X PE.

Ex-net cash of S$14.7 million, the PE is about 2X.

The oil & gas business is the wild card.

In its 1H16 financial statement, the company said "we will continue to actively source for new growth and valued opportunities selectively" in the oil and gas industry.

Its press release said: "Discussions on several operations in the O&G sector are ongoing satisfactorily."

GSS Energy, in a 2015 RHB analyst report, is said to be working to convert one of its four oil fields contracted with state-government corporations in Indonesia to a standard joint operation contract (KSO).

A key feature of a KSO arrangement is it allows full cost recovery. The deal typically spans 20 – 30 years and allows all economically recoverable reserves to be recorded as reserves.