WHEN COMPANIES buy back shares in interesting quantities, that could signal that the stocks are undervalued.


Boh Tuang Poh, executive chairman of AsiaTravel.com, at a recent EGM. NextInsight file photo.Among those are Courts Asia, GSH Corporation and Centurion Corporation which, though being small-caps, have bought more than $1 million's worth of shares in the past three months.

Asiatravel.com is also an interesting case, though its purchases totalled less than $1 million. Last month (June) was the first time in four years that the online travel company has bought back its shares.

One striking thing all four companies have in common is their share prices are trading at close to rock bottom, or just off recent multi-year lows.

In other words, they have been neglected by the market -- and that's largely because of their less-than-inspiring business performance. The question then is, have their stock prices overshot on the downside? And will the stock re-rate anytime soon?


$ spent on share buyback

Year 2016

June

May

April

Mar

Total ($)

Courts Asia

1,082,385

50,432

99,360

518,256

1,750,433

GSH Corp

442,038

1,093,691

--

--

1,535,729

Asiatravel.com

646,334

--

--

--

646,334

Centurion

229,602

2,577,736

--

935,668

3,743,006

Source: SGX
Courts

GSH

Asiatravel.com

Centurion

Recent stock price

39 cents

26 cents

17.4 cents

36 cents

52-week range

30.5 – 40.5 cents

19.8 – 33.0 cents

14.2 – 28.0 cents

32.5 – 50.5 cents

PE (ttm)

10.5

25.9

--

7.98

Market cap

$207.6 million

$512.4 million

$67.6 million

$266.4 million

Dividend yield
(trailing)

3.27%

0.19%

--

5.56%

Source: Bloomberg

Some notes:

» Courts Asia is held up as a potential privatisation play by DBS Vickers. Businesswise, Courts has been facing a retail environment that everyone knows is struggling.

» GSH's executive chairman, Sam Goi, owns nearly 50% of the company and he too has been buying GSH shares in recent times.

» Asiatravel.com has received part of the promised S$100 million cash injection by Zhong Hong, a Chinese hospitality play. (See: ASIATRAVEL.COM: Overnight has S$100 million to fight for market share ). To appreciate how tough business is, consider that Asiatravel.com has been suffering losses for the past five years.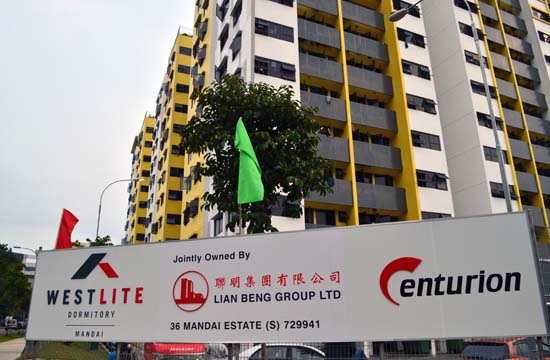 Westlite Mandai: A 6,300-bed workers' dormitory 55% owned by Lian Beng Group and 45% owned by Centurion. NextInsight file photo » Centurion has a decent trailing dividend yield of 5.6% and rising revenue and profitability over the past three years. Puzzling why the market does not accord more respect to it?

RHB Research reckons that Centurion is facing headwinds from a growing supply of dormitory beds in Singapore, and a slowdown in demand for dormitories in Malaysia where its manufacturing sector has weakened.