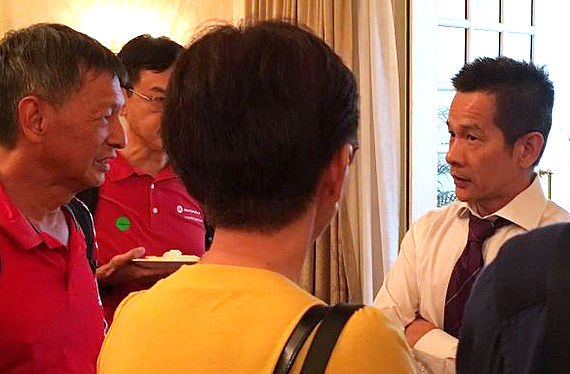 @ AGM: Shareholders chat with Riverstone CEO Wong Teek Son. Photo: The Little Snowball


Time & date: 2 pm, 18 April 2016.
Venue: Raffles Hotel



AT THE Riverstone AGM, we benefited a lot from listening to Mr Wong Teek Son, the Founder and CEO of Riverstone Holdings, talk about the company's business going forward.

If you haven't read our previous articles My S.W.O.T Analysis For Riverstone Holdings (AP4) and Kenny's My Bull Case For Riverstone Holdings (AP4), please feel free to do so to gain a good understanding of what this company does and the potential it has.


10 Bite-Sized Takeaways
Business
Automation has allowed Riverstone to cut from 7 to 5 assembly line glove strippers.

Management reiterated that utilisation rate is high at 85-90%. Oversupply in the industry is not a big threat since the company focuses on specialization instead of volume.

Operations will continue to be kept in Malaysia because it is still the cheapest compared to Thailand or China.

On the Malaysian currency, Mr Wong doesn't see the ringgit appreciating anytime soon and instead of hedging, Riverstone uses the forward pricing method instead.

Compared to previous years when production capacity could not keep up with demand from clients, Riverstone now has to actively source for new clients for its ever increasing capacity.
Ongoing Plans
Currently the company is removing old lines in some of the older factories and replacing them with the new and more efficient lines.

The foray into the US market is not all rosy. Riverstone has to compete against Kimberly-Clark which has a more well-established foothold in the market.
Growth Plans
Riverstone continues to be well-positioned in its 5-year growth plans till 2018. Currently, there are no concrete plans after 2018.

The recent foray into the Mobile, Tablet and LCD manufacturing sector is proving to be quite exciting as the industry is moving from PVC gloves to nitrile gloves.

Riverstone is not considering M&A with UG Healthcare because of overlapping business, but Mr Wong did comment on the management as they have known each other when he first started.
♦ Extra Scoops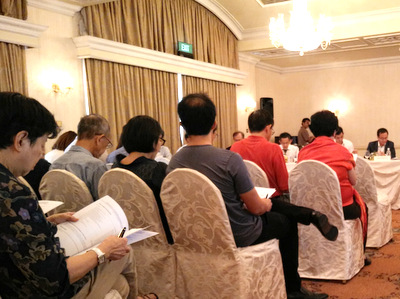 @ AGM photo by The Little Snowball.The general atmosphere during the AGM was largely positive and many shareholders thanked Mr. Wong and his team for the great business results.

Someone even commented that because of Mr Wong, many people have become quite wealthy as its share price took off.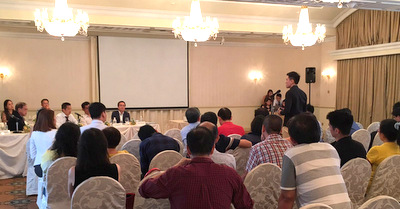 Photo: The Little Snowball.Mr Wong appeared to be a very candid CEO whom I really liked a lot! He was very open to questions, and shared his knowledge willingly when we spoke after the AGM.

After the AGM, we could get up close and personal with Mr Wong as we continued to ask him questions.

I feel more confident as a shareholder and am delighted to have a stake in such a wonderful business. Going forward, I do not foresee anything significant affecting the current growth plans of Riverstone Holdings.
This article was originally published on The Little Snowball, and is republished with permission.