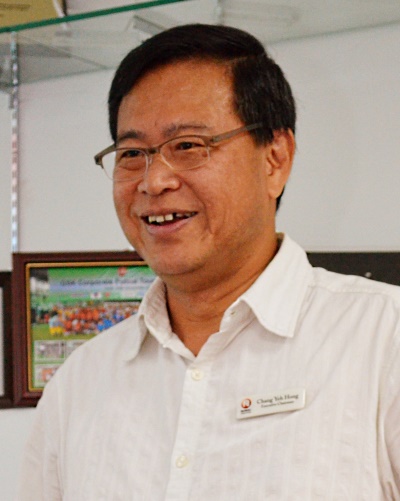 Executive Chairman Chang Yeh Hong. NextInsight file photo Many players exposed to the marine and offshore sector have been hard hit by the precipitous fall in oil price over the past 18 months, but Nordic Group has been distinguishing itself with a resilient and well-diversified business strategy.

Its wholly-owned subsidiaries, Multiheight Scaffolding and Austin Energy, have recently renewed key maintenance contracts with several repeat customers - oil majors in the petrochemical industry and a global healthcare company in the pharmaceutical industry.

The contracts are expected to contribute about S$7.7 million to Group revenue over one to two years.

These contract values are over and above the Group's order book of S$43.6 million (as at 24 November 2015).

Successful M&A strategy
Share price: 17.7ct

52-week Range

10.8 - 24ct

Market Cap

S$70.75 m

PE

7.46X

Dividend Yield

2.27%
Maintenance contracts from Multiheight Scaffolding and Austin Energy are excluded from the Group's order book announcements as they are contracted at unit rates, i.e., without a lump sum value.

Multiheight Scaffolding provides metal scaffolding solutions to the onshore oil and gas, petrochemical and marine industries. Its services include design, erection, modification, dismantling, sales and rental.

Austin Energy specialises in thermal insulation, fireproofing and fire protection services in the petrochemical, pharmaceutical and offshore industries.

The Group has a strategy of sustaining its earnings momentum by acquiring synergistic businesses that enhance its range of products and services, enable it to foray into new markets as well as strengthen its existing customer base.

In 2011, it acquired Multiheight Scaffolding, the resident contractor for major local and multinational companies in the onshore oil and gas industry and one of the top 3 scaffolding solutions providers in Singapore.

The acquisition of Austin Energy (completed on 2 June 2015) has made its mark. The Group posted a 35% year-on-year increase in gross profit to S$6.2 million for 3QFY2015, mainly due to contributions from Austin Energy.

In addition to the renewed contracts, the two subsidiaries are currently negotiating with customers in the petrochemical and pharmaceutical industries on the renewal of other maintenance contracts.