ROXY-PACIFIC HOLDINGS, an established property and hospitality group with an Asia-Pacific focus, announced a 52% growth in revenue for the nine months ended September 30, 2015 ("9M2015"), to S$379.6 million from a year ago.




"Our investment in the Goulburn Street office building in Australia has continued to contribute strong rental income to our Property Investment segment and we look forward to further strengthening our recurring income stream with the opening of our 81-room hotel in Kyoto by end-2015.


"W
e continue to prudently seek opportunities locally. With our recent acquisition of the Sea Avenue site, we plan to develop 25 very exclusive residential units. Concurrently, we continue to work with reputable partners to diversify our portfolio, both geographically and across sectors, seeking acquisition and investment opportunities that offer high yield potential."
--

Teo Hong Lim, Executive Chairman and CEO of Roxy-Pacific (photo).
Net profit after tax rose 45% to S$72.8 million.

Revenue from the property development and property investment segments grew, partially offset by a decrease in revenue from the Hotel Ownership segment.

Similarly, the Group reported stronger revenue of 31% to S$87.6 million for the three-month period ended September 30, 2015 ("3Q2015").

Net profit rose 7% to S$13.3 million in 3Q2015.

As at Sept 30, 2015, the Group's balance sheet remained healthy with cash and cash equivalents amounting to S$304.2 million and a net debt-to-ANAV ratio of 0.5.


Segmental Performance
Roxy-Pacific's Property Development segment revenue that constituted 89% and 83% of the Group's turnover in 9M2015 and 3Q2015, respectively, was lifted 61% in 9M2015 and 40% in 3Q2015. This was mainly due to revenue recognition especially from the completion of a commercial project, Centropod@Changi.

Based on the units sold from its ongoing development projects, the Group has a total of S$412.0 million of revenue to be progressively recognised from 4Q2015 to FY2018.

Roxy-Pacific recently announced its acquisition of a freehold residential site in Singapore at Sea Avenue for S$21.5 million. It was its first Singapore landbank purchase since 2013.

LAND BANK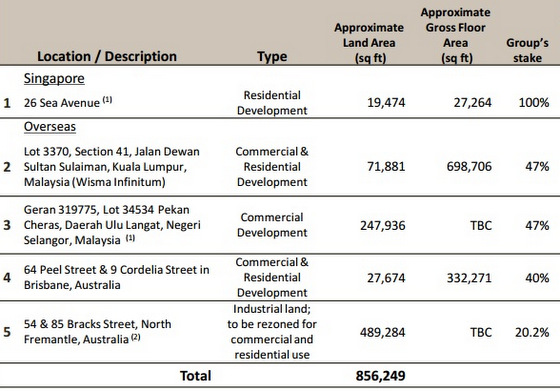 1) Pending completion of acquisition to take place during the year.
(2) The properties are currently zoned as "Industrial" by the relevant Australian authorities. Upon the completion of the rezoning for commercial and residential use of the Bracks Street Property, a decision will be made by the joint venture on the use of the property.


Grand Mercure Roxy Hotel: S$171.0 average room rate in 9M2015.
Roxy-Pacific's Hotel Ownership segment revenue made up 9% and 13% of the Group's turnover in 9M2015 and 3Q2015, respectively.
Revenue for the segment slid 8% in 9M2015 to S$33.3 million and 7% in 3Q2015 to S$11.6 million.
The Grand Mercure Roxy Hotel managed to maintain a healthy average occupancy rate (AOR), average room rate (ARR) and revenue per available room (RevPar) in 9M2015 of 89.7%, S$171.0 and S$153.3 in 9M2015, respectively (9M2014: AOR: 91.2%; ARR: S$186.1; RevPar: S$169.7).

The Property Investment segment revenue that contributed 2% of the Group's turnover in 9M2015 and 4% in 3Q2015 was boosted 167% and 21%, respectively, mostly due to office rental income earned from the Goulburn Street office building in Australia.

The Group's other operating income in 9M2015 rose 48% to S$7.6 million from S$5.2 million in 9M2014, mainly due to unrealised foreign exchange gains and higher interest income, partially offset by lower fair value gains on investment property.

Share of results from associates decreased 24% to S$9.2 million in 9M2015 in the absence of profit recognised from the sale of strata retail floors in 8 Russell Street building in Hong Kong; the Group has successfully sold all 21 strata retail floors in 1H2015.