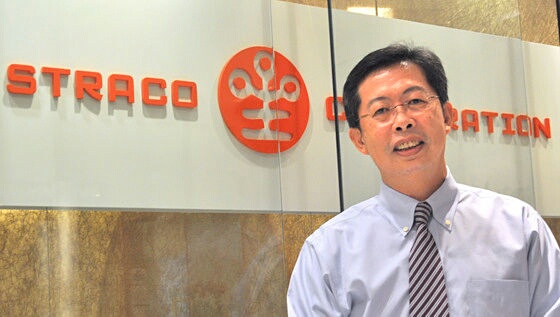 Amos Ng, CFO of Straco Corporation, in his office in International Plaza in Anson Road. He has been with Straco since Sept 2000.
Photo by Leong Chan Teik

STRACO CORP recently reported that in 1H2015, the Singapore Flyer's revenue was $17.78 million, and the Flyer was profitable, thank you.


1H2015
(S$'m)
1H2014
(S$'m)
% change
Group revenue

54.54

34.34

58.9

Net profit attributable to shareholders

19.14

13.74

39.4

Earnings per share (S cts)

2.25

1.62

38.9
It may still surprise some investors that the Flyer has turned profitable ever since Straco completed its purchase at the end of Nov 2014. Prior to that, the business was burdened with financial troubles and was placed under receivership.

In a discussion with Straco CFO Amos Ng last week, we learnt that Straco has turned the business around simply by "going back to the basics" -- resulting in lower interest cost on borrowings and on insurance premiums, and improved margins on its ticket sales to travel agents.

There is big upside from here as Straco has (undisclosed) plans for a makeover which it has submittted to the relevant government bodies for their blessings.

The plans are aimed at significantly increasing visitor numbers to the Flyer, which Straco and its 10% JV partner (WTS Leisure) bought for S$140 million.


"We took over the business, the assets, and there is no liability, and we were starting afresh," said Mr Ng.



Straco took on a 7-year term loan of S$84 million from DBS Bank to part-finance the purchase of the Flyer. The initial interest rate is less than 2% p.a. but it is expected to creep up.





In contrast, the previous owner of the Flyer had borrowed a higher sum of S$140 million and at a much higher interest rate. The interest burden contributed to the owner's financial woes.



As for the Flyer's insurance coverage, Straco did a comprehensive review of the coverage (against business interrruption, public liability, terrorism risk, etc) and has been able to secure coverage at a lower premium.



Tackling another front, Straco reviewed the bulk sale of tickets to travel agents,

slashing the validity period of such tickets (from six months to one month) and the discount. With the help of other factors, such as change in the mix of walk-ins and group visitors, the Flyer's ticket yield rose by over 30%.





As a concession, Straco did not require the travel agents to continue to pay upfront for the tickets since the company enjoyed strong cashflow from its aquarium businesses in China.





"That's how we have changed some of the processes. It's not rocket science but just going back to the basics by drilling down to your cost items," said Mr Ng.

Beyond that, Straco has been working out a plan to revamp the Flyer. There will be Flyer 2.0, quipped Mr Ng.

And with a "well-known architect" already on board, Straco is in talks with government agencies on its vision to revamp -- over about two years -- the facade, amenities and accessibility of the Flyer. There will be lesser space for retail and more for F&B outlets, and there will be a new mid-sized attraction.

If the new attraction attracts about a third of the people who visit the Flyer (1.4 million last year) and pay an additional $10 each, that would be an additional revenue of $4-5 million.

(For perspective, the Flyer can be expected to generate about $35 million in revenue in 2015 if one extrapolates its 1H2015 revenue).

The revamp may cost about $30 million over a period of two years, with work being done in phases.

Giving a profile of current Flyer visitors, Mr Ng said that 7 out of 10 are tourists. And he expects a dip in visitors to the Flyer this year with a slowdown in the economies of China and others.



Other topics covered in our discussion with Mr Ng:
*
Shanghai Ocean Aquarium:
Will the 13-year-old asset
need to be revamped? New exhibits are introduced every two-three years but unlike, say, parts of hotels, the aquarium does not need to be torn down for a makeover. Back-end support systems such as pumps are replaced as and when necessary.
*
Underwater World Xiamen
: Visitor numbers -- and profitability -- have dropped because of new restrictions placed on visitor numbers to Gulangyu Island on which it is located. To mitigate that, the aquarium has extended its operating hours, rejuvenated its exhibits and stepped up marketing efforts.

(Straco bought the aquarium for $12.5 million in 2007. Considering its current valuation and the cash generated by the business, Straco has reaped a whopping 10-fold return to date, according to Mr Ng.)
* Revision in ticket prices for SOA and UWX
: Straco's plan to revise prices at the end of this year has been put on hold. A central government directive has dissuaded major tourist attraction operators to hold back on any increase in admission prices.