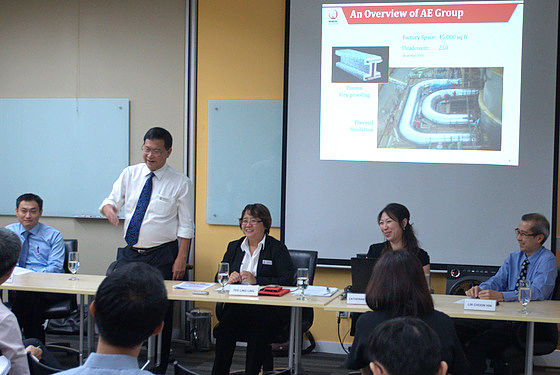 Nordic's executive chairman, Chang Yeh Hong (standing), gives a presentation on Austin Energy. With him are (L-R): independent director Hew Koon Chan, CEO Dorcas Teo, financial controller Catherine Thung and executive director Eric Lin. Photos by Leong Chan Teik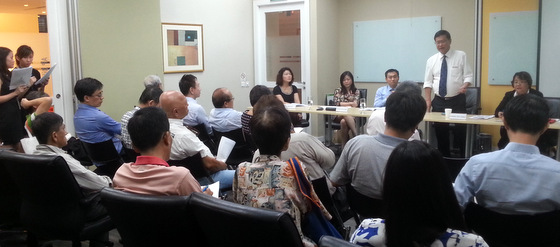 Time & date: 2 pm, 27 May 2015
Venue: Wilkie Edge



AUSTIN ENERGY, whose proposed acquisition by Nordic Group was the subject of the EGM, has raked in S$4-5 million in net profit a year on average in the past five years.

And the margin was good.

This can be seen in its 2014 performance: Austin Energy reported $6.3 million in net profit on revenue of $28.9 million.

If this is maintained, Austin Energy's contribution to the Nordic Group will be significant, considering that Nordic's net profit in 2014 was $7.9 million.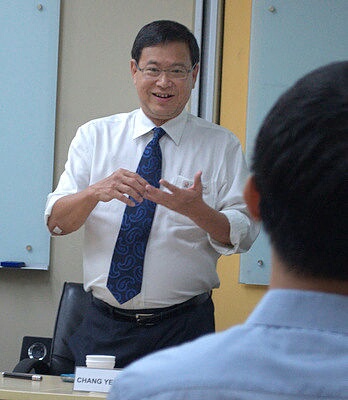 Chang Yeh Hong owns 51% of Nordic, which currently has a market cap of S$76 million.
Photo by Leong Chan TeikNordic chairman Chang Yeh Hong, however, is holding out for much more.

"We will make Austin even stronger with complementary services from Multiheight Scaffolding," he said.

The strong synergy is not difficult to see: The scaffolding services that Multiheight provides for petrochemical companies in Singapore are needed before companies like Austin Energy can move in to provide thermal insulation services for facilities such as storage tanks and piping.

Post-acquisition, Multiheight and Austin Energy can submit job quotes jointly to potential clients -- at more competitive rates, which result in a higher chance of success, said Mr Chang.

"Multiheight Scaffolding is a resident contractor for Chevron and Exxon Mobil for their maintenance programmes. For their next insulation contract, we propose to bring in Austin Energy," he added.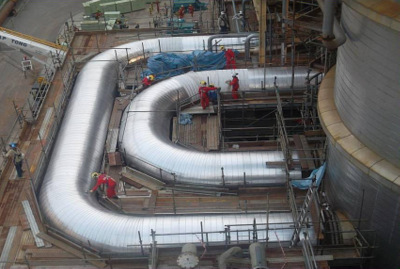 Austin Energy is one of the top 3 players in the insulation business for petrochemical companies. Photo: Company.In addition, together they can win clients who previously did not consider Multiheight Scaffolding as it did not provide the complementary insulation service.

While 30% of Austin Energy's revenue now is derived from maintenance work (the rest being project based), it will strive to achieve a 50-50 mix, just as Multiheight Scaffolding has achieved post-acquisition, said Mr Chang.

Maintenance work provides steady recurring income but lower margins compared to project-based work which is one-off in nature.

7.4% dividend yield

"We will transform from a shipbuilding focus, a marine and oil & gas focus into a more stable business, which is why we have recently announced that we will now be paying at least 40% of our earnings as dividends," said Mr Chang.

Theoretically, based on a consolidated earnings per share of 3.5 cents (ie FY2014 earnings of Nordic and Austin Energy), a dividend payout of 1.4 cents a share would translate into a yield of 7.4% (based on a recent stock price of 19 cents).

After an hour-long Q&A session and a Powerpoint presentation by Mr Chang, Nordic shareholders approved the acquisition which cost $26 million in cash, or an acquisition PE of about 4X.

Nordic is borrowing $20 million and coming up with $6 million of its own money. This raises its gearing from 0.48 to 0.85. "We are comfortable with it as Austin is a company that's generating cash," said Mr Chang.

Citing Nordic's purchase of Multiheight which was partially funded by a $27-million bank loan, Mr Chang said that it took only four years to repay the loan from Multiheight's cashflow.

"Hopefully, it will be the same with Austin Energy -- maybe we can give it three years."

Austin Energy and Multiheight share another thing in common: they are among the top three companies in their respective industries in Singapore.

If Austin Energy is such a good business, asked shareholder Mano Sabnani, why did the controlling family sell it? Mr Chang said being aged 65 was a major consideration as well as his children not wishing to take over the business.

Austin Energy has been run by a Singaporean MD, who is in his 40s, and he has signed a three-year service agreement to continue his employment post-acquisition.

For the Powerpoint materials used at the EGM, click here.