AT TIONG SENG'S 3QFY2014 results briefing yesterday (Tues), CEO Pek Lian Guan provided an update on the Group's PRC real estate projects.

The Group suffered a net loss attributable to shareholders of S$4.9 million for 3QFY2014, largely due to a provision of S$18.5 million for the fall in value of its development properties in China.

Housing sales in China in the first three quarters of this year fell 10.8% to Rmb 4.05 trillion but the good news is: China policy makers have taken action to ease the slump.

For example, China's central bank said last month that it is injecting Rmb 200 billion into the banking system to support the slowing economy.

It has also urged banks and financial institutions to accelerate the housing loan process.

Some Chinese cities now allow buyers of second homes to qualify for preferential rates and terms enjoyed by first-time buyers as long as existing mortgage loans have been paid off.

These latest developments have led Moody's Investor Service to predict a stronger 2HFY2014 for property developers in China.

"We are expecting increases in market prices for PRC residential properties next year," said Mr Pek.

Sales from development properties contributed 6.2% to Group revenue, and grew 14.5% to reach S$30.2 million, with segment gross margin at 0.9%.


Maintaining momentum in construction

Recognition of construction contracts, which contributed to 92.5% of 3QFY2014 Group revenue, grew 15.4% year-on-year to S$450.5 million with segment gross margin at 7.3%.

"Profitability in the construction sector has been affected by manpower shortage but we have benefited from our precast technology that reduces the use of labour," said Mr Pek.



The Group has an order book of S$1.4 billion as at 4 November which was boosted by the following major recent contracts:

>> S$316 million JV contract for the construction of Great World Station and tunnels for Thomson Line (announced on 27 May)
>> S$107 million contract for Stamford Diversion Canal phase 2 (announced on 30 September)
>> S$276 million contract for an executive condominium in Choa Chu Kang (announced on 4 November)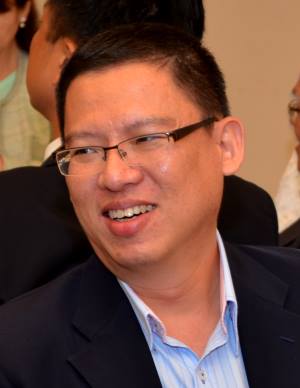 CFO Ken Choo. NextInsight file photoBelow is summary of questions raised at the results briefing on Tuesday and the replies provided by the CEO as well as by CFO Ken Choo.

Q: Why have your staff costs come down?

We reclassified our people according to technical competencies. As a result, we trimmed away some fat built up as a result of the ramp up in our output in the past few years. There was a 10% reduction in headcount even though our revenue increased.

Q: Will the higher foreign worker levy that took effect from July affect you?

This affects the sub-contractors more than us and has been priced in over the past 2 years. The cost hike over the past few years was also due to materials price increase.

We expect manpower cost to come down with lower construction demand. HDB is trimming down the size of construction contracts that it will award this year.

Q: Is HDB work taking up most of the labour supply?

Yes. Last year, HDB built about 30,000 housing units compared to about 10,000 units by the private residential sector. We are already seeing HDB tender pricing becoming more competitive as more contractors bid for a smaller pie.

Q: What percentage of your revenue comes from HDB projects?

About 20 percent. A decrease in HDB demand is good for us as it takes off some cost pressure.

Q: What are your major development projects?

In Suzhou, we have launched 30% of our Tranquility Residences project. The remaining 70% will be launched next year. In Tianjin, our Equinox project has 7 phases. We are constructing phases 2 and 3 currently. In Cangzhou, our Sunny International project has 4 phases - all will be recognized by next year.
Tiong Seng's Powerpoint materials for its 3Q2014 results briefing can be found on the SGX website.