Excerpts from analyst's report

Yeak Chee Keong, CFA Maybank Kim Eng analyst:(left)



§ 3Q14 net profit of USD5.7m in line.
§ Expect credit issues for customers in 4Q14. Cut FY14E-16E EPS by 3-8%.
§ Maintain HOLD with lowered DCF TP of SGD2.98, from SGD3.16.

Bigger installed base…
3Q14 net profit of USD5.7m, up 84.6% YoY but down 33.6% QoQ, met market and our expectations. 9M14 net profit rose 20.1% YoY to USD23.3m. This forms 74% of our FY14E forecast and 76% of the market's.

Some 35% of 9M14 revenue was recurring. Seven more GalaxyTM systems were deployed in 3Q14 vs 2Q14's 19 and 3Q13's five. This brought its installed base to 183 units. 3Q14 gross margins of 69.9% were down from 2Q14's 71.6% and 3Q13's 72.6% due to its product mix.

…but lesser credit till early 1Q15
3Q14's lower QoQ sales were blamed on: 1) India's seasonal slowdown during Diwali; 2) fewer rough diamonds in the pipeline owing to fewer sights; and 3) customers' credit crunch as banks curtailed their lending to the diamond industry.

While the first two were seasonal, the credit issue was not and could extend till early 2015. Sarine also said rough and polished prices have started to diverge for certain categories. This resulted in 10% unsold rough diamonds in the latest sight. More positively, Sarine LightTM and Sarine LoupeTM have been well-received. They should contribute more than 5% of revenue from FY15E.
We cut FY14E-16E EPS by 3-8% as equipment spending could be curtailed in 4Q14-1Q15. Accordingly, our DCF-based TP falls from SGD3.16 to SGD2.98 (WACC 9.6%, LTG 2%). Current valuation is fair.

Maintain HOLD pending better credit conditions for the industry, faster penetration for Sarine's GalaxyTM, Sarine Light
TM
and Sarine Loupe
TM
and new game-changing products.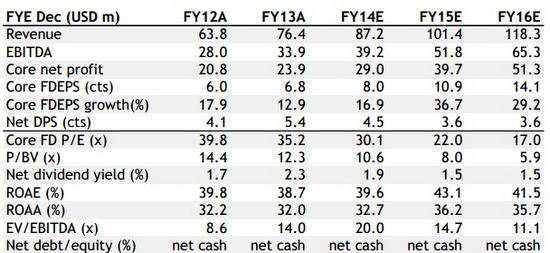 Full report here.