Time and Date: 10.30am, 27 Oct 2014.
Venue: Raffles Country Club


Photos courtesy of Mervyn Sim, who contributed this article to NextInsight. He is Vice President, Equity Sales at Maybank Kim Eng Securities Pte Ltd.

IT WAS MY third consecutive year going to Oxley's AGM. Joining me were about 20 other shareholders who made the long journey to the west -- Raffles Country Club.

When asked why he chose such a remote location for the AGM, Oxley Executive Chairman & CEO Ching Chiat Kwong said the company had been holding it there for a few years already and every year, the company had landmark news to announce. With water and hills in the background, it's a scenic location too.

Ching confidently fielded questions from the floor, which focused chiefly on Oxley's overseas projects.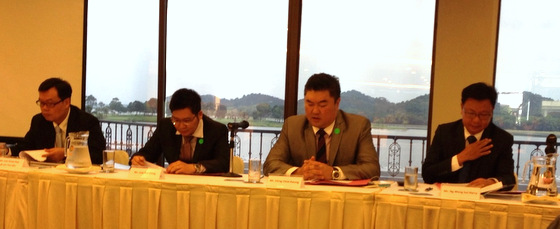 L-R: Lim Yeow Hua (Independent Director), Low See Ching (Deputy CEO), Ching Chiat Kwong (Chairman & CEO), Harry Ng (Lead Independent Director)

Q: Last year, you bought the Royal Wharf land from Ballymore, and subsequently you brought them in as a partner. What is their contribution to the project? And do they get a share of the profits?

Ching: Ballymore has been the owner of the land for the last 10 years. They had applied for planning permission which they have gotten. During the tender by NAMA, which is the National Asset Management Agency in Dublin, we got the tender so we thought it would be wise if we actually engage them to manage the project for us because they know the planning very well.

And also it makes sense for Oxley to engage somebody very experienced and who is the second largest developer in London. Ballymore has the ability and capability of handling the project of 3,400 units in the 40-acre land. By bringing them in, we have executed the project very fast. Because of team effort, we launched the project 3 months after we secured the land. They don't share any of the profit, we pay them a management fee in percentage which is very normal in the London context. If we didn't hire Ballymore, very likely we will also hire an external project management team to handle.

Q: Can I clarify Royal Wharf's gross development value (GDV)? According to DMG's report dated 21 Aug, GDV is GBP1.6b. But the Straits Times article dated 22 Aug, I think they made a mistake by putting the GDV as GBP31.6b.

Ching: We can't clarify as these are their independent reports, but GBP31.6b is impossible. So it is very likely to be closer to GBP1.6b. It may be more than that depending on the next few phases of launch that we are planning subject to market conditions. But London is in a sweet spot now for this sort of quantum of apartments and we are in at the right time again.

Q: Royal Wharf is doing very well, I'm aware of that, but Malaysia seems to be facing some headwinds. Two weeks ago, there was an article in The Edge Malaysia about your KLCC project. It says that in May you submitted plans for two 83-storey buildings and they were rejected. In August, you submitted a plan for a 53- and a 64-storey building and it too was rejected. Given that other developers manage to get approval for such high buildings, why were your applications rejected?

Ching: What I can reveal is that it is about testing the boundaries. When we got the land from the owner-trustee, we got the agreement that we will complete the land purchase within a year. He is also aware that we are testing the boundaries. This means that we are trying to achieve a greater height and larger plot ratio. When we get a rejection letter, normally they will tell us what is allowable and what is the problem with the plan. We submitted the second one but we realised that it will likely be rejected again and we withdrew it. So now we are preparing to submit the actual one which will likely get the approval, with conditions.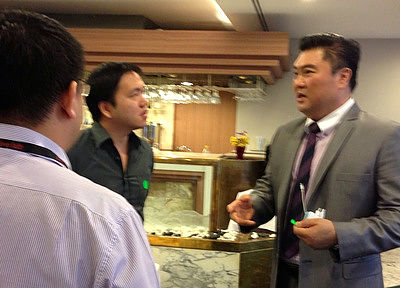 Oxley CEO Ching Chiat Kwong speaking with shareholders after the AGM.We are completing the land purchase in January next year. Before that, we hope we will get the approval. In KLCC, now you can't get a similar plot of land. Since we have a huge piece of land in a landmark area, we better make it a high project. And of course the rail is reaching there soon in about 5 years.

Q: Last month, Selangor introduced some new property guidelines: For foreigners buying in Selangor, the minimum purchase price has been increased to RM2m. Will your Beverly Heights and Section 16, Petaling Jaya projects be affected by this new rule?

Ching: It has not been approved by the State Assembly yet. This is just a suggestion by the previous Mentri Besar who is the Chief Minister. And the new Mentri Besar is deliberating it and from what I understand, they are canvassing opinions from developers in Selangor and so far it is very negative for this policy to pull through and they are trying to moderate it. So far there is no rule enacted to say that foreigners can only buy a RM2m apartment. I don't think it will be enacted.

Q: Is there any update on your proposed restructuring and potential listing of Oxley International?

Ching: We are thinking more than that. Every time we have an exercise we have to announce it but that dosen't mean it will come as things change along the way or new concepts come along that we think will enhance the value of Oxley or the company to be listed. So we think that at this moment it is not the correct path. We may think of more channels to make it work better.

Q: Can you share your thoughts on going to Cambodia? Why was it chosen as you don't have much prior experience there?

Ching: Development is about progress in a country. Personally, there are certain things I will look at such as, is the country doing quite well, the middle class is growing and many other factors. I do some research, asking agencies there to show me the numbers such as the spending power, the car population, the middle-age group, and I feel that it is an up-and-coming country, also because the ASEAN will be enacted next year and Cambodia will receive a lot of help from all the ASEAN countries. So we decided to participate in the first project where Oxley did not contribute to the land price.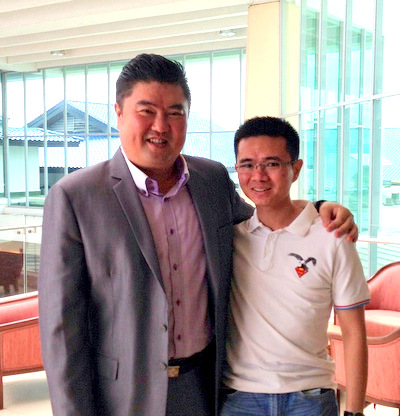 Oxley Chairman Ching Chiat Kwong with shareholder Mervyn Sim.We were given development rights. So, we were thinking, why not? Our concept works, we sold nearly 1,000 units, 80% of the residential, and we have enough money to do the construction. We even enticed Shangri-La to do a MOU with us to maybe run one of our 6-star hotels in Cambodia. This shows that our take on Cambodia is coming through and we anticipate it will become better in the next 3 years and things will definitely change as a lot of foreigners are there now.

Q: In the future do you see yourself going to more First World countries or countries like Cambodia? How do you balance that?

Ching: Oxley is about looking at different phases of development in each country and taking the opportunity when it comes and we can see that it is coming and we will be the first mover. So far it has worked very well and we are not restricting ourselves to say Europe or Malaysia. We will continue to put in money and develop if the buying power is there.

Q: What is the value of your units sold but which have not been recognised in the accounts?

Ching: We announced on SGX that we have $2.6b of revenue not recognised yet. That's for Singapore. Overseas has not been counted in yet. This shows that there will be progressive recognition and overseas projects will start coming in later so that should give you a comfort level that we are doing not bad.

Recent stories:

Terence Wong: I am buying OXLEY @ 49% discount to RNAV