ASDEW ACQUISITIONS founder and controlling shareholder Alan Wang has paid S$4,017,341.80 for 4,997,000 HanKore Environment Tech Group shares (0.9788%) on 2 October, increasing his interest to 71,610,700 shares (14.028%).

Mr Wang's current stake of 14.0% is close to what HanKore executive chairman, David Chen, holds (16.5%).

Hankore's third largest shareholder is Fidelity, with a stake of 7.3%.




Share purchases by Alan Wang, adjusted for Hankore's 1-for-10 share consolidation effective from 22 May 2014.
The deep-pocketed investor has been accumulating Hankore shares from the open market over the past six months, forking out some S$23 million for more than 5% of the waste and wastewater treatment systems specialist firm.

Mr Wang, who originally came from Penang, was a director of Kim Eng Holdings Ltd from 1995 to 2004.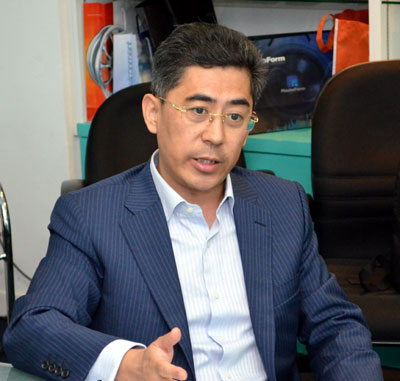 Executive chairman David Chen currently holds 16.5% of Hankore. NextInsight file photo Mr Wang's share accumulation runs contrary to negative market sentiment that has led to a recent sell-down on Hankore shares.

On 2 June 2014, Hankore said that it will fork out about S$1.2 billion via share issue for its reverse takeover by China Everbright International Limited (CEI).

1,940,269,305 Hankore shares will be issued to CEI, a dilution amounting to almost 4 times its existing issued share capital.

Investors sold down the stock by close to 30% over the past 4 months, from S$1.10 to 80 cents, for a number of reasons, possibly including.

First, the asking price by CEI of S$1.2 billion translates into significant dilution to the interest of existing shareholders.

Secondly, the prospective change in fair value of warrants and contingent consideration shares pursuant to the RTO also resulted in Hankore incurring a loss of Rmb 114.7 million for the financial year ended 30 June 2014 (FY2014).

If these fair value losses and other one-off expenses had been excluded, it would have posted a profit before tax of Rmb 84.0 million, which is 35.1% higher than its normalised profit in FY2013.

After all, FY2014 group revenue had increased 63% year-on-year to Rmb 522.2 million.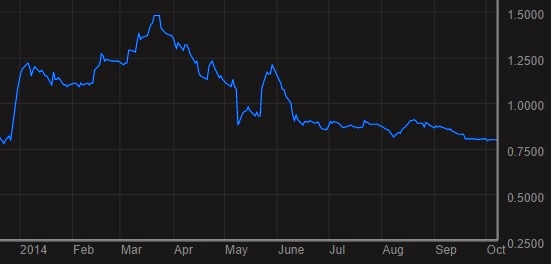 Hankore's stock price closed at 80 cents on 8 October. Bloomberg price history adjusted for Hankore's share consolidation in late May.
CEI intends to utilize Hankore as its sole platform for its water treatment business, making the enlarged group one of China's largest wastewater treatment groups.

Hankore currently has 17 large scale municipal water/wastewater projects. Upon completion of the RTO, its asset base will expand to include the following.
>> A total of 32 waste-water treatment plants with a designed capacity of 3,400,000 tons per day
>> 4 reusable water projects with a designed capacity of 62,000 tons per day
>> 1 waste-water source heat pump project which services an area covering 125,000 meters
>> 2 completed Build-Transfer projects with a designed capacity of 110,000 tons per day
>> 56km pipeline network
>> 10 pump stations with an investment scale equivalent to 250,000 tons per day

If the RTO is approved by shareholders, CEI will own 78% of Hankore and rename it as China Everbright Water Limited.


Recent story: HANKORE Target $1.23; VALUETRONICS, 63.7 Cents