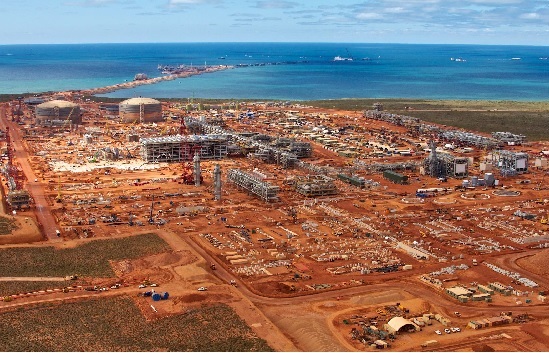 Ausgroup is about to venture out of its existing capabilities in fabrication, construction, insulation, and maintenance for infrastructure in marine & offshore / mineral resources.
Above: Ausgroup's scaffolding service at the Chevron-operated Gorgon project. Company photo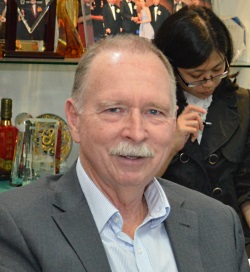 "Timing is everything and now is the right timing," said AusGroup CEO Stuart Kenny, refering to economic opportunities at Melville Island that are a spill-over from Port Darwin's rapid growth. Photo by Sim KihAusGroup has entered into a deal that will extend its capabilities in the marine & offshore, oil & gas industry to include the operation of a port, a marine supply base, a chartering fleet and workforce training.

AusGroup is a solutions provider for fabrication, construction and integrated services for oil & gas, mineral resources and infrastructure development.

It signed a sale and purchase agreement on 22 July to acquire from Ezion Holdings 100% of Ezion Offshore Logistics Hub Pte Ltd and 90% of Teras Australia Pty Ltd for S$55 million.

Ezion Offshore Logistics Hub will operate a port and marine supply base out of Melville Island, which is part of the Tiwi Islands, 80 km to the north of Darwin, capital to Northern Territory, Australia.

"Port Melville will serve as Australia's gateway to Asia," said AusGroup CEO Stuart Kenny at a briefing.

"Port Melville will primarily focus on being an international fuel supply, storage and distribution center to relieve the reliance on Port Darwin," said Mr Kenny.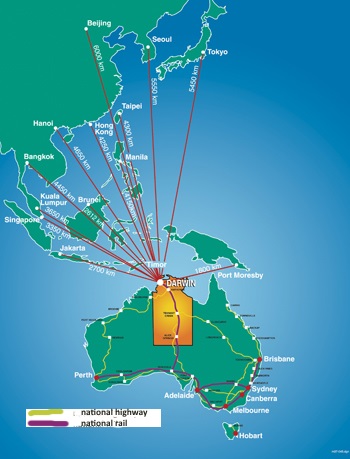 Port Melville is near Port Darwin, which is directly connected to major shipping routes to Asia. Map from Maritime WorldAs Port Darwin is a shallow-water port, it easily becomes congested during times of high freight traffic.

As the most northern port of Australia, Port Melville is key to Australia's strategic economic development as an export centre and regional freight hub.

There are high barriers to entry to the port business.

Although Northern Australia comprises close to half of the continent, it has limited deep-water access to a large coastline (from Karratha to Darwin).

Port Melville is the only gazetted natural deep water international port in Northern Australia.

Its proximity to oil & gas fields in Timor Sea positions it as a strategic supply base for the oil & gas sector in the region.

Supplies include fuel, water, crew changes and equipment.

Expansion of the region's mining sector will also increase demand for export traffic at the Port Melville.

The acquisition targets have a lease with Tiwi Land Council to use the site at Melville for a port.

The port will be operated by Ezion Offshore Logistics Hub (Tiwi), providing administrative, storage and logistics support to vessels deployed for oil & gas projects in the region.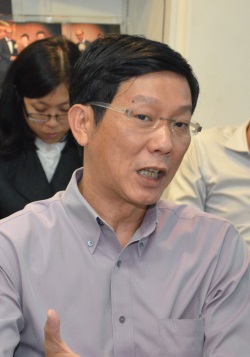 Ezion Holdings' director of special projects, Eng Chiaw Koon, was appointed as an AusGroup non-executive director this month.
Photo by Sim KihThe second acquisition target, Teras Australia, provides ship chartering services and maritime training to indigenous workers.

10% of Teras Australia will be held by Aboriginal Maritime Pty Ltd.

Aboriginal Maritime will train indigenous aborigines for employment in various industries in response to the call by the Australian government for resources companies to give jobs to indigenous peoples.

The acquisition targets are start-up companies with a combined net loss before tax of S$7.2 million for the year to 30 June 2014.

The purchase consideration of S$55 million will be satisfied by S$14 million in cash and the issue of 92,155,541 new AusGroup shares at 44.49 cents each.

The consideration shares represent 12.4% of AusGroup's enlarged share capital post acquisition.


Recent story: TECHNICS Acquires Ship Repair Companies; Former Aqua-Terra CEO Is AusGroup Director