Excerpts from Voyage Research's report
Voyage Research raises Roxy-Pacific's fair value to 70 cents
Analyst: Liu Jinshu (left)

Roxy-Pacific Holdings Limited (Roxy) reported net profit of S$92.2m for FY13, outperforming our forecast by an impressive 16%.

The strong performance was driven by faster than expected completion of projects as revenue also exceeded our forecasts by 16%.
FY14 is set to be an even stronger year for Roxy due to the Hong Kong project and the completion of Centropod.

We expect the company to report PATMI of S$119m in FY14F, growing by about 30% compared to 2013.


Spreading Wings Overseas: Roxy has been looking at overseas projects for some time, starting from the 47% stake in the Kuala Lumpur project in Jul 2013 and the more recent 30% stake in the Hong Kong investment property.

Going forward, we may see the company participating or entering into projects in Australia, where the company has already spent some time studying opportunities.

Moving Towards Faster Growth: With Roxy expanding into overseas markets and thus widening its scope of possible projects, we actually are of the view that the company can potentially grow faster than before.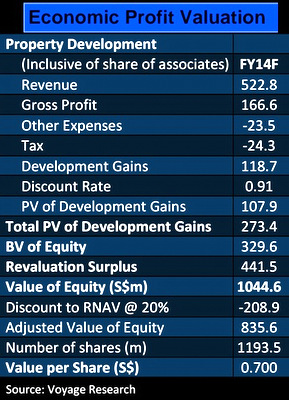 Moreover, the company has been recognizing revenue from existing projects at a faster pace in 2013, which will reap capital for the company's reinvestment purposes.

As such, we view announcements of new projects as potential price catalysts going forward; and that Roxy's ability to secure new projects may not have been fully factored into its share price.

Valuation: We amended our valuation of Roxy to take into account gains from the acquisition of the Hong Kong property, estimated to be about S$45m to S$48m (after tax and costs).

We also raised our discount to RNAV from 15% to 20%, to factor in a slower Singapore property market.

The net impact is still a positive increase in valuation to S$0.700 versus S$0.685 previously.

Including the 1.913 S cents of dividends for FY13, our valuation implies an upside of 25% based on the 18 Feb close of S$0.575.


For the full Voyage Research report, download it at the Roxy-Pacific website.

Roxy-Pacific stock has turned out to be a 5-bagger over the past 5 years. Chart: FT.com

Recent stories:

ROXY-PACIFIC: 9th Consecutive Year Of Record Profit, Heading For No. 10?