NINTH CONSECUTIVE year of record profit -- that's what Roxy-Pacific Holdings achieved in 2013 when it recorded net profit of S$92.2 million, a 58% increase year-on-year.

In contrast, 9 years ago, in 2004, it achieved only $1.5 million profit.

Will the music continue this year? The odds look good on the following basis:



1

. The big picture is, it has S$922.4 million of revenue to book between 1Q2014 to year 2017 from its pre-sold property development projects.

Out of this, there will be $141.4 million revenue to book all at one go likely in 4Q of this year after the attainment of T.O.P (temporary occupation permit) of a single commercial project, Centropod@Changi.

In the mean time, there will be residential projects which Roxy will recognise revenue on a progressive basis, according to the stages of completion.

But a key to whether 2014 will be the No.10 record profit year is the timing of the T.O.P. of Centropod@Changi.

If it materialises in 4Q, the aggregate revenue from property development is likely to surpass the $321 million booked in 2013.

2. Over and above this, there is a surprise earnings boost from the recent and very quick sale of 14 floors of a commercial asset in Hong Kong.

Roxy-Pacific and its 70%-JV partner, CLSA Capital Partners, had completed the acquisition of the asset less than a month ago.

The gross profit attributable to Roxy is estimated by analysts to be S$60 million -- which is a significant amount.

3. The HK commercial asset will deliver yet another earnings boost if and when the remaining 7 floors are sold, possibly this year.

All these floors currently make up the Shama Serviced Apartments sited on 8, Russell Street in the Causeway Bay area.

Roxy and its JV partner will do A&A (addition & alteration) works to convert the floors into retail space before handing over to the buyer (whose identity has not been revealed), likely in 2H this year. The profit is likely to be accounted for in 4Q.






Roxy-Pacific executive chairman and CEO Teo Hong Lim shed more light on the HK property divestment, and the company's overseas intentions, at last Friday's briefing on the 2013 results: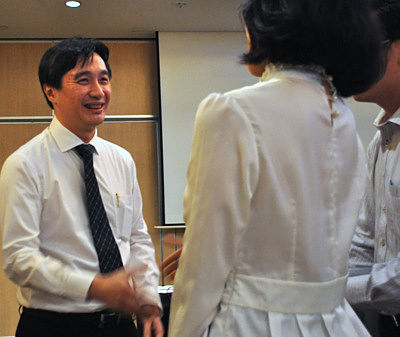 Roxy-Pacific executive chairman and CEO Teo Hong Lim.
Photo by Leong Chan Teik1. Ten floors of the Hong Kong property were marketed and drew an oversubscription rate of 12X. Another 4 floors were next released at a higher price. The average is just below HK$30,000 psf.
Currently, another 3 floors -- the highest in the building - are up for sale.

The last phase would be to sell 4 floors at the lower levels.
Mr Teo said the property has the rare attribute of being of 999-year leasehold and its address (8, Russell St) is a "nice number".
Though operating as serviced apartments, it can be converted into retail space which can fetch higher commercial value. Indeed, in 2012, retail space on the ground floor of Russell Street commanded the highest rental psf in the world.
Is this a one-off opportunity?
Mr Teo said the deal was one of only a few in Hong Kong in the past year that crossed the HK$1.5 billion mark. "It's not easy for Singapore developers to penetrate the Hong Kong market and it's not something that you could search and find."

Asked about the likelihood of other overseas projects, Mr Teo said Roxy-Pacific had done "enough groundwork" and is looking for opportunities in Australia, London and Phuket.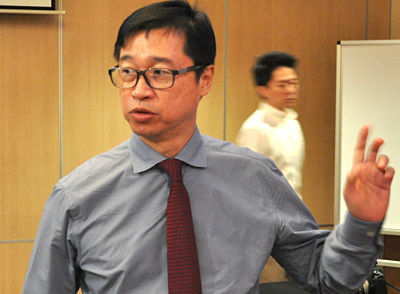 Roxy-Pacific MD and executive director Chris Teo is primarily responsible for its hotel business.
Photo by Leong Chan TeikThe operating rules overseas are sometimes different from those in Singapore.

He cited the fact that in London and Australia, where the land cost is lower than in Singapore, developers do not collect progress payments (unlike in Singapore), resulting in higher funding requirements and higher debt levels for the developers.

Over in Phuket, Roxy-Pacific is considering investing in assets such as hotels for recurring income.

(Roxy-Pacific is no stranger to the hotel business, as it owns the Grand Mercure Roxy Hotel in Singapore which contributed $46.4 million to the group revenue, and $31 million in gross profit, in 2013).

"We have done enough groundwork. In fact, in the last few months, we have done some negotiations."

In part 2 later this week, our report will carry the discussion (from last Friday's results briefing) on the new dynamics of the Singapore property market and Roxy-Pacific's plans.
Recent story: ROXY-PACIFIC wins S$60-m profit on quick sale