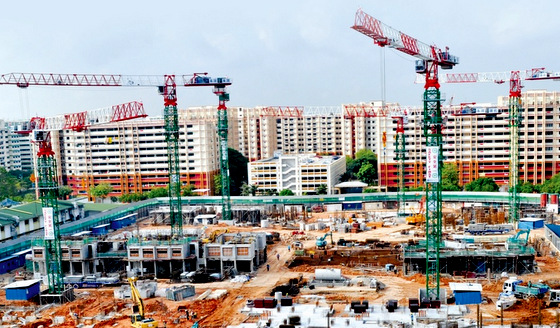 Yongmao's tower cranes at a HDB site. The tower cranes are immobile when deployed at a site, unlike crawler cranes. Photo: Company

TOWER CRANES made by Yongmao Holdings currently are hard at work in various HDB construction sites in Singapore.

The widespread use of its products in Singapore makes Yongmao an unusual S-chip company as few other, if any, S-chip peers derive meaningful sales from Singapore.

Yongmao, in fact, says it is the largest supplier of new cranes in Singapore with a market share of about 30%.

It asserts its presence in Singapore with an office in Ubi Ave 4 and employs nearly 20 staff -- mainly engineers, technicians and salesmen.

Singapore accounted for RMB127.9 million, or 19%, of Yongmao's revenue in FY13, up sharply from 12% in FY12.

It's a notable amount, considering that Yongmao's cranes are sold at premium prices and that there are stringent safety and quality criteria governing the use of such construction equipment in Singapore.

The Ministry of Manpower (MOM) in Singapore inspects the cranes locally after they have been certified in China by a MOM-appointed third-party inspector, TUV of Germany.

Yongmao's design and manufacturing capabilities were attested to by the fact that the company was the first Chinese tower crane manufacturer to qualify for CE Marking certification for sale in Europe.

In Singapore, Yongmao sells the cranes it manufactures in China to companies such as Tiong Woon Corporation which, in turn, rent them out to contractors.

Establishing a presence in Singapore was a highlight of a business transformation largely deriving from macro events.

Starting from FY08, Singapore and Southeast Asia became increasingly significant to Yongmao because its previous key markets -- Middle East, Europe and the US -- suffered a collapse in demand for construction after the global financial crisis flared up in 2007.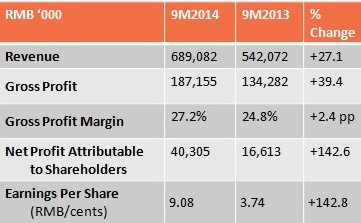 How China became No.1 market

Yongmao looked also to its own domestic market, China, which somewhat surprisingly had not been its focus and had contributed only about 25% (in year 2008). A key reason is the relatively favourable payment terms that its customers in export markets gave.

Driven by rapid urbanisation projects, China has since become its top contributor, accounting for 66% of revenue in FY13.

Notably, its business in China is buoyed by Singapore-listed Tat Hong Holdings, which owns a 23.95% stake in Yongmao, and buys cranes from Yongmao for leasing to contractors in China. Yongmao also sells directly to some end-user contractors in China.

With its stable China and Asian business -- and a pick-up in the US and European markets -- Yongmao is poised for a sterling set of results in the current FY, of which the first 9 months have delivered a 143% jump in net profit to RMB40.3 million (see table).

Its 9-month sales have already exceeded the highest full-year sales of (RMB 673m) achieved in FY13.

Yongmao's profitability will get further help in the future when a restructuring exercise is completed involving its stakes in several rental companies that were formed in China with Tat Hong. One outcome is, the performance of these rental companies would not be consolidated into Yongmao's books. In the 9MFY14, these associates contributed RMB1.2 million of losses.

Yongmao management gave a results briefing and corporate presentation to analysts and fund managers last week -- their first in a long time.

Here are the questions and answers.



Q: Revenue in 9MFY14 increased by 27%. Was it driven by ASP (average selling price) increase or the number of cranes sold?

CFO Yap Soon Yong: It was a combination of both factors.

Q: How much were you able to increase your ASP?

CFO: It depends on the projects and the type of cranes. The bigger tonnage cranes required at nuclear power plants, shipyards, LNG plants, etc are sold at better margins. The price of cranes can range from 600,000 RMB to 20 million RMB each.

Q: Trade and other receivables have gone up a lot in the 9MFY2014. Is there a concern about that?

CFO: In China, we sell to Tat Hong, big contractors and those which are state-owned enterprises. In Singapore, we sell also to the bigger players. The higher receivables are in part due to higher sales and partly due to slower collection in December as China's credit lending slows down.

Q: Trade and other receivables stood at RMB342 million as at end Dec 2013. In the balance sheet, there's also "amounts owing by related parties" of RMB125 million. The amount is quite big relative to your turnover...

CFO: Those "amounts owing to related parties" are sales to Tat Hong. In China, our sales used to be funded by bank borrowings but in the last quarter, instead of us getting money soon from the banks, we have to grant our customers longer credit terms.

In China, the market is competitive - one major player doesn't require downpayment and its repayment terms is over 2 years. Our debtor days are 180-200 days. But not everyone is like us as we have a premium brand and R&D. That's why we prefer export markets because the customers give us LCs (letters of credit).

Q: The 3Q profit was affected by higher admin expenses. Was it due to year-end bonuses?

Finance manager Soh Yeng: In a gist, the higher admin expenses were due to the two new HK subsidiaries which are in the rental business.

Q: Your deferred income has come down. Is that good?

CFO: For those not familiar with our business, we recognise sales on a deferred basis. The bank provides a loan to our customer; it is like hire purchase, and we recognise revenue based on what the bank has collected in installments from the customer. In the past few months, because of a negative case involving a major manufacturer in China, our bank stopped this arrangement. Our accounts receivables have gone up in part because of that, and affected our cashflow.






Q: What is the production capacity of your factories?



CFO

: The Beijing factory has delivered on average close to 300 cranes of various sizes while the old Fushun factory, 200-300. The new Fushun factory has modern manufacturing processes, robotic-welding arms and conveyor-belt spray-painting, etc. We are still fine-tuning the process but we expect productivity will go up.



Q: What's the order momentum from your customers?

Executive director Sun Tian: In China, it's stable but the economy is not booming as it was in the past. We are not really affected though because we focus on the bigger cranes and the premium projects, the skyscrapers, etc. Those affected are the makers of the smaller cranes.

Q: Do you have an order book?

CFO: When we used to sell in large quantities to Europe and Middle East, customers gave us orders 3-6 months in advance. But the Chinese market doesn't work like that. Customers tell us that they have put down our brand in tenders and their orders for our cranes are contingent on the success of their bids.

Q: Is your production faster than many peers'?

Executive director: Yes, for the smaller cranes we can complete production in 1 month. The big ones take 3-6 months. Our peers may take 1-2 months longer.

Q: How much new technology goes into your cranes -- or is this a relatively stable product?

Executive director: The technology doesn't change as rapidly as mobile phones and computers. But cranes can be improved in terms of their noise level, lifting capability and power consumption, and can be designed to be more transportable. Every year, we have at least 2 new crane models. We now have nearly 60 models.



Q: Can you tell us more about your new venture in HK and Macau?

Executive director: We have JV companies doing rental of cranes there.
CFO: In HK, we co-invested with a very experienced person in the industry who wants our cranes. He had on hand a Macau casino construction project. HK and Macau are the only markets where we do rental.
Executive director: Our HK company is now the third largest crane rental company in HK. The rental business should be good in the next few years -- there will be strong construction demand in HK as the government is building a lot of public housing.

Q: What's your dividend policy?

CFO: Our management views that we should give dividends every year unless we make losses. Since listing, only in FY 2011 and FY2012 we didn't give dividends as the economy was not good and we made losses in one of the years.

Q: Is there any seasonality in your business?

Executive director: In the Jan-March quarter, because of the Chinese New Year holidays, production will be affected but not sales as sales is always ahead of production.